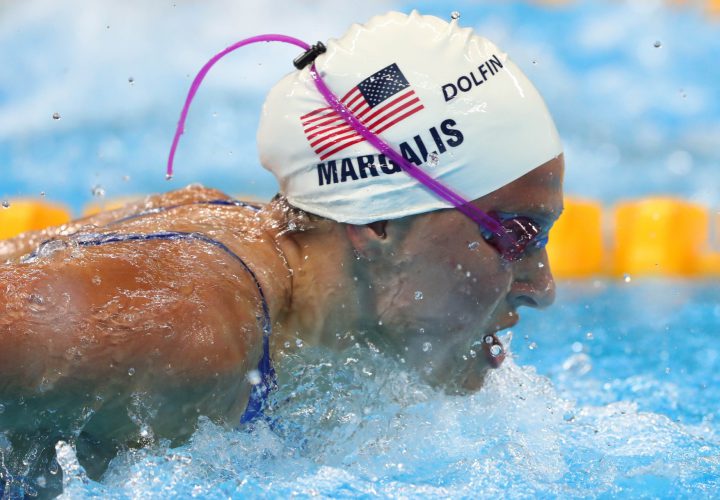 Photo Courtesy: Rob Schumacher-USA TODAY Sports

Editorial Coverage Sponsored By FINIS
Heat sheets for the third night of Olympic semifinals and finals are now available here. Check out Swimming World's predictions for tonight's action here.
Tonight Katie Ledecky (USA) will dive into semifinals of the one individual event where she could truly face competition: the 200 freestyle. Emma McKeon (Australia) and Sarah Sjostrom (Sweden) are tonight's second and third seeds.
After getting out touched in the 400 freestyle on night one, China's Sun Yang will be seeking gold in the men's 200 freestyle final. His seed time (1:44.63) is nearly a second ahead of the next best, though Connor Dwyer (USA), Kosuke Hagino (Japan), Paul Biedermann (Germany), and Aleksandr Krasnykh (Russia) all enter within a quarter second of each other in the mid 1:45 range.
In the women's 100 backstroke final the young Kathleen Baker of the United States has been on fire since prelims. She'll swim next to Katinka Hosszu (Hungary) who has already established herself as a force through the first five sessions of swimming.
The men's 100 backstroke final will see Americans Ryan Murphy and David Plummer in the top two spots, separated by a mere hundredth.
Lilly King (USA) and Yulia Efimova (Russia) will finally go head to head in the medal hunt in the women's 100 breaststroke. World record holder Ruta Meilutyte (Lithuania) is also in the mix.
With top swimmers cruising through prelims of the men's 200 butterfly, the intensity could increase tonight as Laszo Cseh of Hungary will swim in the opening heat and his teammate Tamas Kenderesi will face Michael Phelps (USA) and Chad le Clos (South Africa) in the second semifinal.
Tonight will wrap up with the women's 200 IM semifinals. Hosszu will be on her second race of the night. The Hungarian set the Olympic record this morning and separated herself from the field.