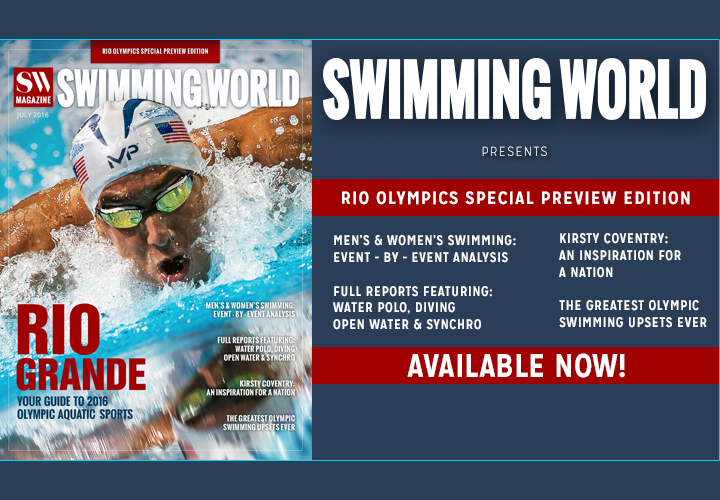 Editorial Coverage Sponsored By FINIS
Swimming World is proud to present the Exclusive 2016 Rio Olympic Preview issue! This downloadable Olympic Preview issue includes full schedules for all five aquatic sports, exciting photos, USA team rosters, medal predictions and overviews for each swimming event at the upcoming Games.  Also included are athlete features and a countdown of our All-Time Top 9 Olympic Upsets.  All FREE for a limited time!!
Current subscribers can visit the Swimming World Vault to download the issue now! Non-Subscribers can download for FREE for a limited time by Clicking Here
Purchase a 1 year subscription and download more issues from the Swimming World Vault, plus get the following:
Use Coupon Code: Rio2016 and save 25%
A monthly print copy of Swimming World Magazine in the mail for 1 year!
Free download of the next 12 issues and the past 12 issues of Swimming World Magazine!
Free download of next 24 issues and the past 24 issues of Swimming World Biweekly!
Free download of next 4 issues and the past 4 issues of Swimming Technique Magazine!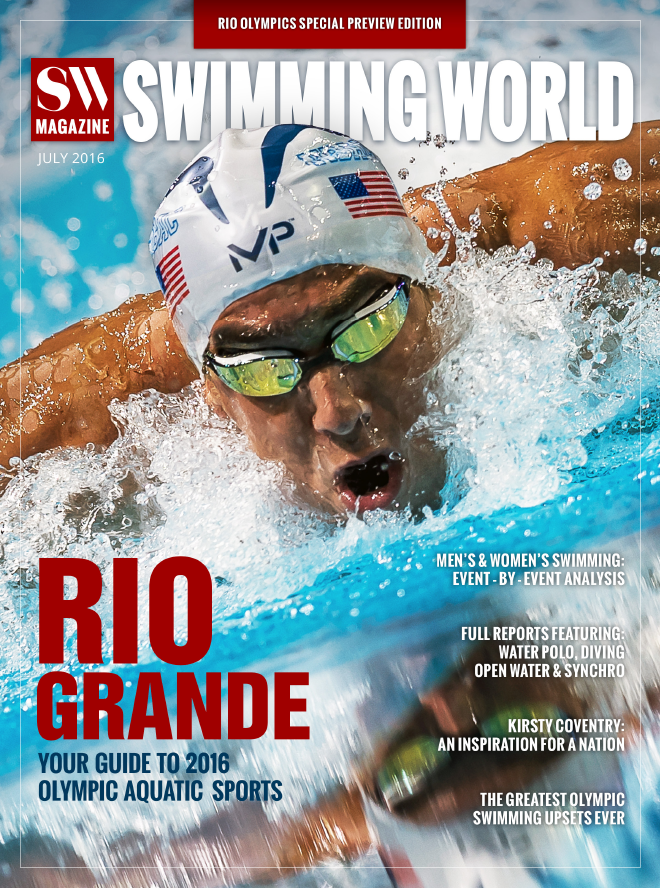 FEATURES
012 KIRSTY COVENTRY: AN INSPIRATION FOR A NATION
by Wayne Goldsmith
Kirsty Coventry, who competed in her first Olympics in 2000 at Sydney, will be representing Zimbabwe in Rio de Janeiro for her fifth straight Olympic Games. Now 32, Coventry recently reflected on her remarkable swimming journey that has resulted in her being tied with Hungary's Kristina Egerszegi for the most individual Olympic medals won by a female athlete.
016 TOP 9 OLYMPIC UPSETS
by Chuck Warner
Beginning with its November 2015 issue and running through July 2016, Swimming World Magazine counted down its top 9 upsets in the individual events in Olympic history–with an emphasis on the last 50 years.
016 – #9 "Iron Mike" Burton
018 – #8 Sylvia Poll
020 – #7 Anthony Nesty
022 – #6 Katie Ledecky
026 – #5 Doug Russell
028 – #4 Sandy Neilson
032 – #3 Felipe Munoz
034 – #2 Misty Hyman
036 – #1 Laurie Lawrence & Lucky Lane 6
039 2016 OLYMPIC PREVIEW: SWIMMING (EVENT BY EVENT)
by David Rieder with assistance from Taylor Brien, Annie Grevers, Brent T. Rutemiller and Michael J. Stott
039 – Women's Swimming
055 – Men's Swimming
071 OLYMPIC PREVIEW: OPEN WATER
by Annie Grevers
072 OLYMPIC PREVIEW: WATER POLO
by Annie Grevers
074 2016 OLYMPIC PREVIEW: DIVING
by Annie Grevers
075 2016 OLYMPIC PREVIEW: SYNCHRONIZED SWIMMING
by Annie Grevers
COLUMNS:
008 OLYMPIC SCHEDULE: AQUATIC SPORTS
Swimming (Aug 6-13)
Open Water (Aug 15-16)
Diving (Aug 7-20)
Water Polo (Aug 6-20)
Synchronized Swimming (Aug 14-19)
076 2016 U.S. OLYMPIC TEAM ROSTER
080 PARTING SHOT