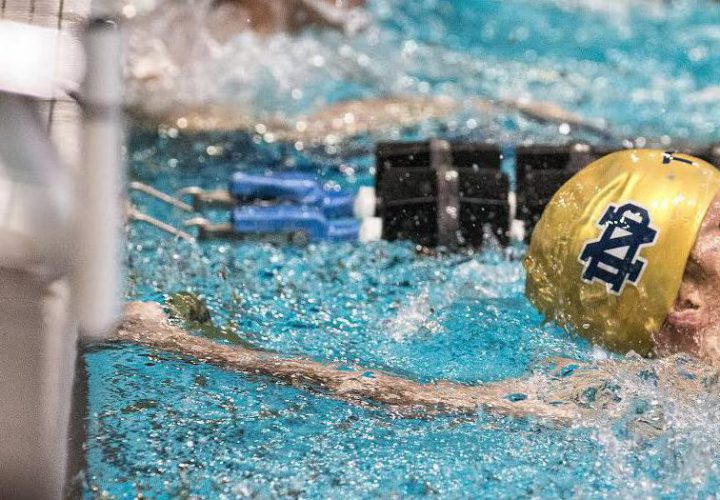 Photo Courtesy: Notre Dame
Agon is the proud sponsor of all high school coverage (recruiting, results, state championships, etc.) on SwimmingWorld.com. For more information about Agon, visit their website AgonSwim.com.
To report a college commitment, email HS@swimmingworld.com. Join Swimming World's Watch List
NEW COMMITS: The University of Notre Dame has two new verbal commitments for the men's class of 2022. Zachary Smith and Andrew Winton have both announced their intentions to swim for the Fighting Irish beginning next fall. They will move to Indiana next fall along with Josh Bottelberghe and Max Miranda.
Zachary Smith
Smith is from Tuscaloosa, Alabama where he swims for Crimson Tide Aquatics. He is a senior at Holy Spirit Catholic High School.
Smith's best times include:
50 Fly 21.75
100 Fly 47.80
200 Fly 1:47.10
50 Back 22.69
100 Back 48.48
He wrote,
"At the University of Notre Dame, I will be making my dreams a reality. I cannot wait to call South Bend my new home; over the next four years, I will be attending one of the greatest academic schools in the country and be a member of an unbelievable swim team. The culture and tradition in the pool and around campus were unbeatable. I believe the sky is the limit here, and I can not wait to start this new chapter in my life. GO IRISH!"
Andrew Winton
Winton is from Suwanee, Georgia. He attends Collins Hill High School. At the 2017 Georgia 6-7A state championships he was runner up in the 200 IM and third in the 100 breaststroke.  Winton trains with Swim Atlanta.
His top SCY times are:
200 IM 1:47.48
400 IM 3:49.58
200 Breast 2:00.83
100 Breast 55.69
50 Breast 26.40
He wrote of his decision,
"I'm honored to be joining the Notre Dame family. I share the commitment to their core values of Integrity, Accountability, Teamwork, Leadership in Mission and Leadership in Excellence. The support of the coaches, professors, and support staff at Notre Dame will afford me the opportunity to excel both academically and athletically. One of the most outstanding attributes that sets Notre Dame apart is the strength of its global alumni and their commitment to the students, community and family. I'm grateful for this opportunity and look forward to working hard and contributing to the continuing success of the Men's Swim & Dive team. #GoIrish"