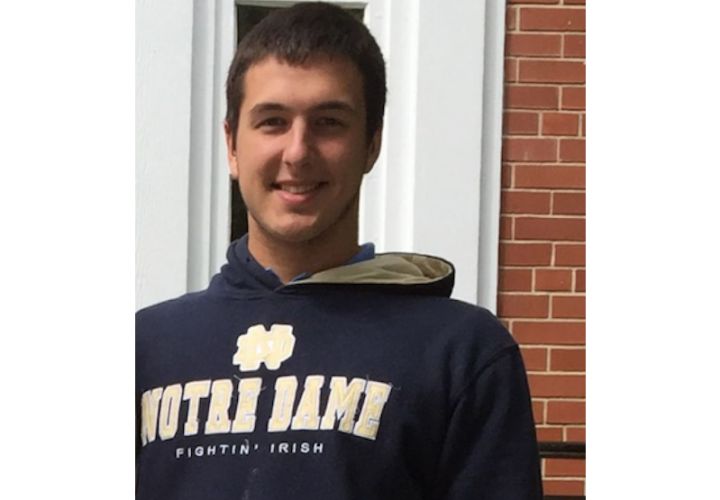 Photo Courtesy: Max Miranda
Agon is the proud sponsor of all high school coverage (recruiting, results, state championships, etc.) on SwimmingWorld.com. For more information about Agon, visit their website AgonSwim.com.
To report a college commitment, email HS@swimmingworld.com. Join Swimming World's Watch List
The University of Notre Dame has received a verbal commitment from Max Miranda to join the Class of 2022. Miranda swims for Bluefish Swim Club where he is a strong IMer and all around quite versatile swimmer. The East Greenwich, Rhode Island native attends Suffield Academy.
Among his best SCY times are:
200 Fly 1:46.87
200 IM 1:49.45
400 IM 3:50.55
200 Free 1:39.16
500 Free 4:24.41
1000 Free 9:17.89
Miranda shared,
"The Notre Dame swimming program is everything that is right about college swimming. The team, led by progressive and insightful coaches, is a close-knit family that pushes and challenges each other in the pool and the classroom. In addition to the swim team, Notre Dame has a top-notch undergrad business program, great support for student-athletes, amazing student life, and a beautiful campus. Everything done at Notre Dame is done to make progress, which is why I am so excited to be a part of ND's class of 2022. Go Irish!"
Miranda arrives with conference scoring ability in three different events. At the 2017 ACC Championships Miranda would have been a C finalist in the 200 butterfly. Sophomore Matthew Grauslys and freshman Aaron Schultz were also B and C finalists in the event. Miranda will be able to train with that duo when he arrives in South Bend. Miranda would also sneak into the C final of the 400 IM and 500 freestyle.
The women's team has received a verbal commitment from National Age Group record holder Bayley Stewart.
To report a college commitment email HS@swimmingworld.com.