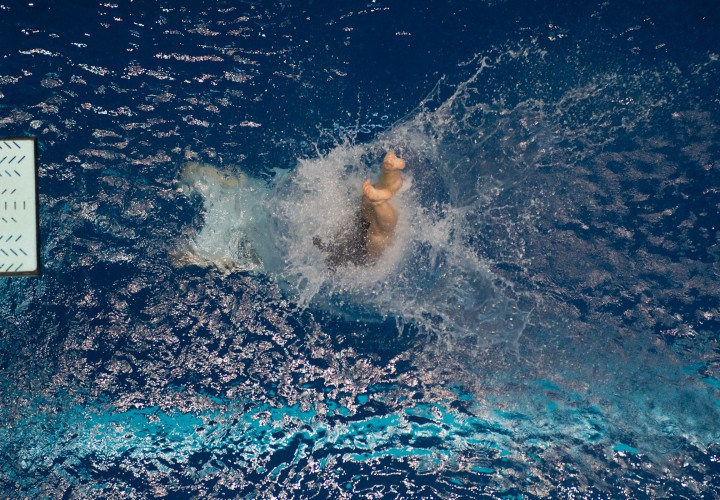 Photo Courtesy: Matthew S. DeMaria
Editorial content for the NCAA Division I Championships is sponsored by Nike Swim. For full Swimming World coverage, check out our coverage page.
Purdue's Steele Johnson claimed Purdue's third men's one-meter diving title at the NCAA Division I Men's Championships.
Johnson collected a total of 468.15 points for the win to join David Boudia (2010, 2011) as fellow Purdue winners of the one-meter event.
Miami's Samuel Dorman placed second with 457.30 points, while 2013 champion Kristian Ipsen of Stanford took third overall with 449.45 points.
Indiana claimed fourth and fifth as James Connor (437.85) and defending champion Michael Hixon (430.90) picked up big points for the Hoosiers.
Texas' Cory Bowersox snared points for the Longhorns in the team-title race with a sixth-place tally of 420.00.
  1 Johnson, Steele     Purdue             400.00     468.15         20  
  2 Dorman, Samuel      Miami (FL)         379.95     457.30         17  
  3 Ipsen, Kristian     Stanford           421.85     449.45         16  
  4 Connor, James       Indiana            403.95     437.85         15  
  5 Hixon, Michael      Indiana            400.00     430.90         14  
  6 Bowersox, Cory      Texas              391.10     420.00         13  
  7 Herrera, Briada     Miami (FL)         389.00     397.85         12  
  8 Quintero, Rafae     Arizona            388.75     347.70         11
  1. Texas                             131   2. California                         85
  3. Florida                            84   4. Michigan                           75
  5. Southern Cali                      65   6. Stanford                           57
  7. Alabama                            47   8. Arizona                          44.5
  9. Auburn                             39  10. Georgia                          35.5
 11. Missouri                           35  12. NC State                         31.5
 13. Miami (Fl)                         29  13. Indiana                            29
 15. Purdue                             20  16. Georgia Tech                       14
 17. Univ of Utah                     12.5  17. UNC                              12.5
 19. Tennessee                          12  19. Unlv (M)                           12
 21. Ohio St                             9  21. Louisville                          9
 23. Wisconsin                           6  24. Texas A&M                         4.5
 25. Minnesota                           4  26. Northwestern                        2
 26. South Carolina                      2  28. Florida St                          1
2015 NCAA Division I Men's Swimming & Diving Championships, Live Results – Results