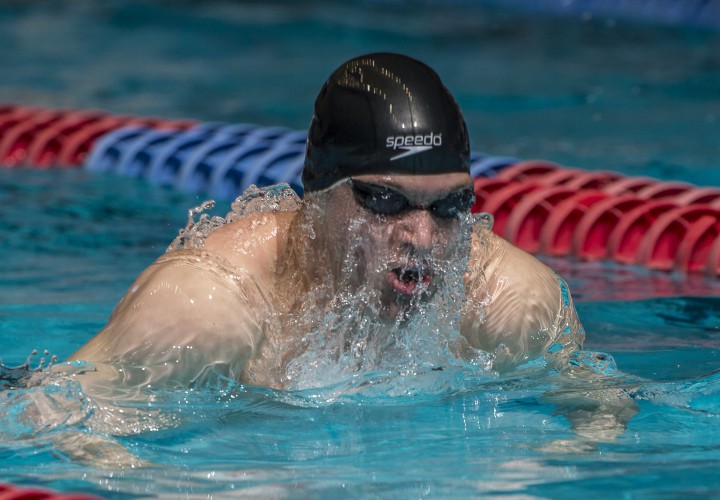 Photo Courtesy: Peter H. Bick
Editorial content for the NCAA Division I Championships is sponsored by Nike Swim. For full Swimming World coverage, check out our coverage page.
California's Ryan Murphy, Chuck Katis, Justin Lynch and Tyler Messerschmidt set the American record in the 200-yard medley relay to start the NCAA Division I Men's Championships.
Murphy (20.82), Katis (22.64), Lynch (20.33) and Messerschmidt (18.61) clocked a sizzling time of 1:22.40 this morning to down the American record.
That's the fastest breaststroke split in history for Katis.
California held the previous American mark with a 1:22.83 from the 2014 NCAA Championships with Murphy, Katis, Tony Cox and Messerschmidt in that event.
Michigan still holds the NCAA and U.S. Open mark with a 1:22.27 from the 2013 NCAA Championships.
Southern California's Luca Spinazolla, Morten Klarskov, Dylan Carter and Santo Condorelli claimed second this morning with a 1:23.90, while Alabama's Connor Oslin, Anton McKee, Brett Walsh and Kristian Gkolomeev qualified third in 1:23.96.
Texas' Kip Darmody, John Murray, Joseph Schooling and Brett Ringgold earned the fourth seed in 1:24.00.
  1 California                    1:24.15    1:22.40Aq      
     1) Murphy, Ryan SO               2) r:+0.30 Katis, Chuck SR      
     3) r:+0.26 Lynch, Justin FR      4) r:+0.16 Messerschmidt,yler JR
             10.40        20.82 (20.82)
           30.77 (9.95)       43.46 (22.64)
           52.63 (9.17)     1:03.79 (20.33)
         1:12.46 (8.67)     1:22.40 (18.61)
  2 Southern Califor              1:24.39    1:23.90 q      
     1) Spinazzola, Luca SR           2) r:+0.25 Klarskov, Morten JR  
     3) r:+0.17 Carter, Dylan SO      4) r:+0.24 Condorelli, Santo SO 
             10.48        20.99 (20.99)
          31.70 (10.71)       44.99 (24.00)
           53.83 (8.84)     1:05.02 (20.03)
         1:13.83 (8.81)     1:23.90 (18.88)
  3 Alabama                       1:24.43    1:23.96 q      
     1) Oslin, Connor SO              2) r:+0.24 McKee, Anton SO      
     3) r:+0.18 Walsh, Brett JR       4) r:+0.15 Gkolomeev, Kritian SO
             10.56        21.24 (21.24)
          31.87 (10.63)       45.12 (23.88)
           54.22 (9.10)     1:05.63 (20.51)
         1:14.28 (8.65)     1:23.96 (18.33)
  4 Texas                         1:23.88    1:24.00 q      
     1) Darmody, Kip SR               2) r:-0.13 Murray, John JR      
     3) r:+0.39 Schooling, Joseph FR  4) r:+0.40 Ringgold, Brett FR   
             10.65        21.37 (21.37)
          32.08 (10.71)       44.96 (23.59)
           53.93 (8.97)     1:04.84 (19.88)
         1:13.84 (9.00)     1:24.00 (19.16)
  5 Louisville                    1:25.06    1:24.01 q      
     1) Tarasevich, Grigory SO        2) r:+0.03 Dahlia, Thomas SR    
     3) r:+0.18 Quallen, Josh SO      4) r:+0.07 Carroll, Trevor SO   
             10.80        21.64 (21.64)
          31.91 (10.27)       44.98 (23.34)
           53.78 (8.80)     1:05.08 (20.10)
         1:13.87 (8.79)     1:24.01 (18.93)
  6 Florida                       1:24.95    1:24.14 q      
     1) Blyzinskyj, Jack SO           2) r:+0.07 Munch, Ricky SR      
     3) r:+0.21 Dressel, Caeleb FR    4) r:+0.24 Main, Corey JR       
             10.71        21.50 (21.50)
          31.94 (10.44)       45.02 (23.52)
           54.01 (8.99)     1:05.12 (20.10)
         1:14.13 (9.01)     1:24.14 (19.02)
  7 Auburn                        1:24.91    1:24.18 q      
     1) Patching, Joe SO              2) r:+0.24 Duderstadt, Mihael SO
     3) r:+0.25 Mendes, Arthur JR     4) r:+0.25 Darmody, Kyle SO     
             10.71        21.61 (21.61)
          31.95 (10.34)       44.92 (23.31)
           53.97 (9.05)     1:05.25 (20.33)
         1:14.13 (8.88)     1:24.18 (18.93)
  8 Tennessee                     1:24.09    1:24.33 q      
     1) Lehane, Sean JR               2) r:+0.10 Stevens, Peter FR    
     3) r:+0.18 Thulin, Jacob SR      4) r:+0.09 Tillman, Troy SR     
             10.81        21.69 (21.69)
          31.70 (10.01)       44.59 (22.90)
           54.05 (9.46)     1:05.56 (20.97)
         1:14.35 (8.79)     1:24.33 (18.77)
2015 NCAA Division I Men's Swimming & Diving Championships, Live Results – Results