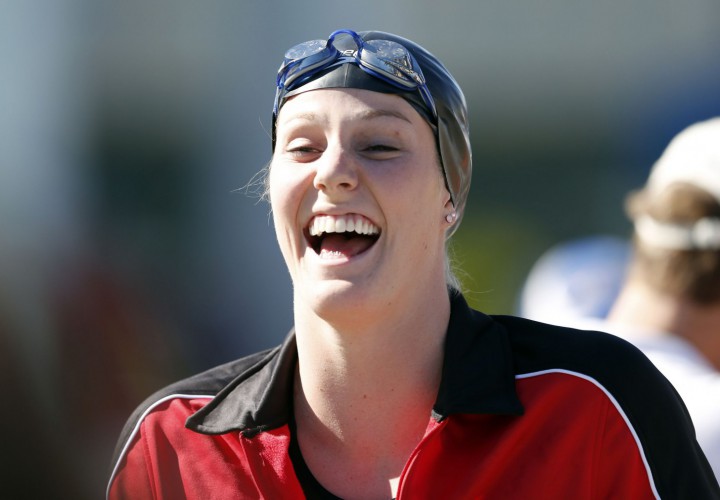 Photo Courtesy: Robert Stanton/USA Today Sports Images
Coverage of the 2015 FINA World Championships is sponsored by Wylas Timing. Visit our coverage page for more.
Of all the concerns Missy Franklin had before and during her 100 backstroke prelim swim at the FINA world championships, slipping on the start was not one of them.
"When we were in the ready room, (I said to my competitors), 'You guys, we don't even have to worry about whether or not we're going to slip. This is great!'" Franklin said after posting the fifth-fastest time in the heats.
Listen To Interview On Swimming World Radio

The alleviation of her fears came from the introduction of the backstroke starting wedge, which made its official competition debut late last year after a few months of tests around the world. The device slips into the water and offers a non-slip surface to swimmers on the start of backstroke races. The device is removed by an official immediately after the race starts.
The world championships marked her first major meet using the backstroke wedge, and she said it helped her in more ways than just keeping her feet steady at the start.
"More than the physical component, the mental emotion of not having to worry if you're going to slip is a whole weight off your shoulders," Franklin said.
Franklin is the defending world champion in the 100 backstroke, and she's aware that the competition is tougher in 2015. Including longtime rival Emily Seebohm, rising star Mie Nielsen and Madison Wilson, the field will not make it easy for Franklin to stand at the top of the medal podium again.
But she said she wouldn't want the race to be an easy one.
"It's a really tough field, and it's always an honor to race them," Franklin said. "It would be boring if people were in the same position all the time (as the favorite). It's constantly changing, and it's constantly in flux."