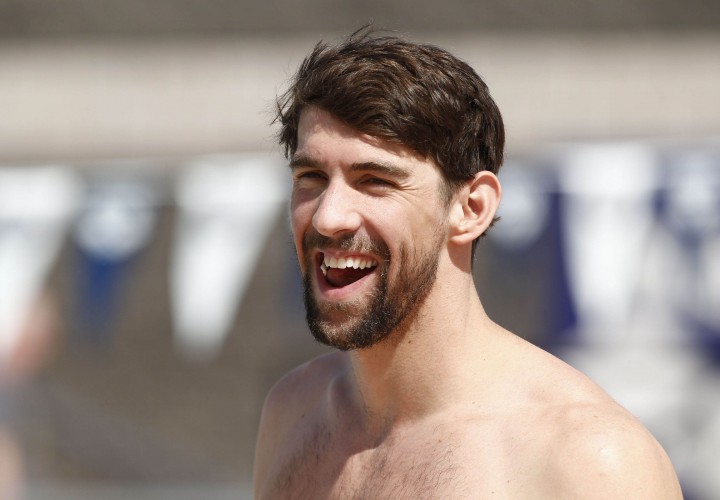 Photo Courtesy: Arizona Republic-USA TODAY Sports
Editorial content for the 2015 Arena Pro Swim Series Santa Clara is sponsored by Arena. For full Swimming World coverage, check out our coverage page.
Michael Phelps has been working hard in the past month, but not just in the pool. In June, he focused a lot of his energy toward helping more inner-city Baltimore youth learn to swim as part of Water Safety Month.
Through his "im" Foundation and the partnership with the Boys & Girls Clubs of Baltimore, Phelps was involved in several learn-to-swim sessions at the Meadowbrook Aquatic Center, the same pool where he learned to swim and currently trains in pursuit of another Olympic berth. Ten people drown every day in the United States, according to the Centers for Disease Control and Prevention, but Phelps' work – and the work of others such as the USA Swimming Foundation – is on its way to getting that number to zero.
During a recent press conference before the start of the Arena Pro Swim Series in Santa Clara, Calif., Phelps spoke more about his passion for water safety. Below are his complete comments:
"With Water Safety Month being past us, more people in this world need to know about what it is and the problems we face with water safety. There are so many kids losing their lives to drowning. Through online donations, we were able to open up more "IM" programs in Boys and Girls Clubs in the city of Baltimore. We raised over $30,000 from a couple donors, and I think over the years, everybody needs to get involved in this. More athletes need to get involved in this. More adults, more kids, more media, everybody needs to get involved. This is a passion of mine that needs to keep growing.
"A lot has happened since Charlotte training-wise but also outside the pool. Something that's always exciting for me is being able to work with the inner-city kids. There are kids from those Boys and Girls Clubs that were able to come to Meadowbrook (Aquatic Center) and have a swim lesson with us. There were a couple parents that didn't want their kids to get in the water because they were deathly afraid of it. The kids and parents walked out with the biggest smiles on their faces because the children learned how to swim.
"This July is World Summer Games for the Special Olympics (in Los Angeles), and we were able to have about eight adults come and swim and spend the day together. Those are the cool things that I'm able to do. Being able to take that time is something that's an honor for me to be able to be a part of. I'm going to fly out and help at the World Summer Games. There are a lot of people that can do a lot of different things to help us. We've had a good run."
Michael Phelps and Bob Bowman press conference in Santa Clara

USA Swimming public service announcement featuring Bob Bowman and Michael Phelps