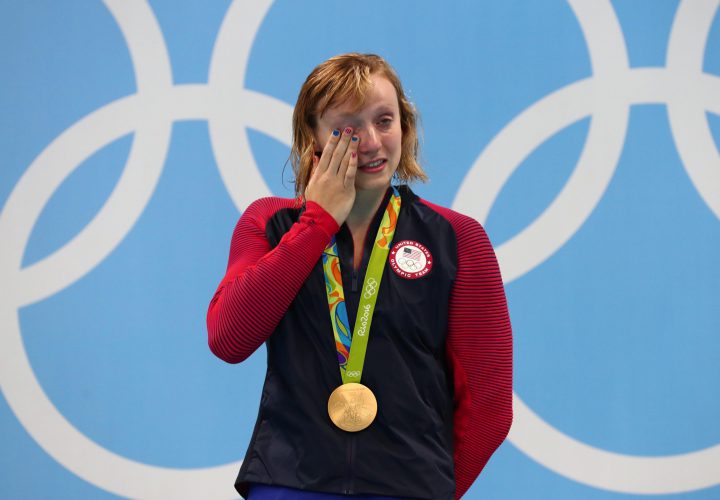 Photo Courtesy: Rob Schumacher-USA TODAY Sports

Editorial Coverage Sponsored By FINIS
By David Rieder.
Katie Ledecky had pulled it off. She led wire-to-wire in the final of the women's 800 free and won the race by more than 11 seconds over silver medalist Jazz Carlin. Ledecky's time was 8:04.79, crushing the world record of 8:06.68 that she set in Austin, Texas, seven months ago.
And then it was done—Ledecky had become just the second woman to sweep the 200, 400 and 800 free at an Olympic Games, matching the feat fellow American Debbie Meyer pulled off at the 1968 Games in Mexico City.
Ledecky pumped her fist and celebrated as the rest of the field made their way past the red lane line buoys that marked 15 meters to go. Such had become the routine when Ledecky has won one of her seven individual world titles or set one of her 13 world records.
But then, as she climbed out of the pool, walked through the mixed zone and then accepted her gold medal—her fourth of the Games—Ledecky started to reflect, and her eyes welled.
"The memories mean a lot more than the medals to me," she said, "and the last four years have been incredible."
All of the sudden, the oft-excited but rarely-emotional Ledecky burst into tears.
The composure that had become the norm for Ledecky, beaming or bummed, was gone. Typically well-spoken, Ledecky struggled to blurt out short phrases as she worked to compose herself.
Her journey to the Rio Olympics had been massively successful. It was also over.
That campaign began after the London Olympics, when the then-15-year-old shocked the world to win gold in the 800 free. She swam the second-fastest time ever that night, an 8:14.63, and broke Janet Evans' 23-year-old American record of 8:16.22 in the event.
On that day, the world learned Ledecky's name, but it was not until a year later that her legend was born. That happened on the first day of the World Championships in Barcelona when Ledecky broke 4:00 in the 400 free for the first time, winning a World title that—hard as this may be to believe—she was not favored for.
Ledecky set her first world records that week, first in the 1500 free and then in the 800 free, where she clocked 8:13.86.
It was after that meet that Ledecky and coach Bruce Gemmell met to plan the next three years, the lead-up to the Rio Games. Gemmell had only coached Ledecky for one year at that point, taking over the training of the 15-year-old Olympic gold medalist from Yuri Suguiyama, who had left to join the men's coaching staff at Cal.
Ledecky and Gemmell picked out times in the 400 and 800 free that they figured were attainable by the time 2016 rolled around. Of course, if anyone who would have learned of those goal times three years ago would have considered the duo crazy.
Since then, the margins of victory have ballooned, and the records repeatedly crushed—Ledecky has now broken 13 world marks in her career between the 400, 800 and 1500 free—in locales as ranging from Shenandoah, Texas, to the Gold Coast, Australia, and now, to Rio de Janeiro, Brazil.
Ledecky never lost a race 400 meters or longer during that span since London, but all of those were just stepping stones to the historic performance she just uncorked in Rio.
It all started almost a week ago, when Ledecky took on the added duty of anchoring the American women in the 400 free relay prelims. She split a 52.64, so impressive that she was promptly asked to reprise the role in the evening's finals, and she brought the Americans home to a silver medal.
The next day came Ledecky's nearly-five-second victory in the 400 free. Her world record of 3:58.37 was clearly toast—she had just fallen short of the mark in the prelims, clocking an Olympic record-time of 3:58.71 while not giving full effort—but the concept of a performance in the 3:56-range seemed to be little more than a joke. Ledecky promptly posted a 3:56.46.
Then there was the 200 free, expected to be Ledecky's one real challenge in Rio as she faced off with 100 fly gold medalist Sarah Sjostrom. And a challenge it was—Ledecky had to dig deep, and she admitted afterwards she nearly threw up on the last lap, but she had enough to hold off Sjostrom by three tenths of a second.
Ledecky's time of 1:53.73 was merely the third-best of all time.
The women's 800 free relay figured to be a runaway for the United States, and it was—as soon as Ledecky entered the pool for the anchor leg and did her thing, splitting 1:53.74.
Last of all was the 800 final, where Ledecky defended her title, and everything came full-circle. Except that she dropped 10 seconds in that four-year span.
The goals times that Ledecky and Gemmell had set four years ago? 3:56 in the 400 and 8:05 in the 800—one matched and one surpassed. A plan executed to utter perfection.
And then came the tears.
"I've had a lot of fun—I don't know why I'm crying!" Ledecky said. "There were nights when I would go to bed and think about this day and how much fun I've had these past four years, and I would start crying right then. I just wanted to make this week count and have fun with it."
In the pool, she converted on every opportunity, but that's not what stands out the most to Ledecky.
Ledecky remembers highlight moments like watching on television in the athlete's village as future Stanford teammate Simone Manuel won gold in the 100 free Thursday night. Hours later, when Manuel returned to their shared room, Ledecky was still awake.
"I opened the door to the room, and she got up and gave me a hug," Manuel said. "She was like, 'I wasn't going to fall asleep until I gave you a hug.' And that really meant a lot to me. She didn't have to say much after that, because her staying up meant enough in itself."
"I woke up with a sore throat from this morning from screaming at the TV," Ledecky said. "It's just been a heck of a week, and I'm glad to be a part of it. It's a team that I'm always going to be really close with."
With her racing duties done for the Olympics, Ledecky will take a break from training and reset. She will migrate west from the Washington, D.C., area to enroll at Stanford after delaying that transition for one year to focus on Rio. Ledecky figures to be in peak form once again at the NCAA Championships next March with a fresh set of goals and the path forward to the Tokyo Games in 2020 clearly spelled out.
Much will be different in seven months' time—Gemmell, who Ledecky calls a "great friend," will no longer be her primary coach, and she will live somewhere besides with her parents for the first time ever. Transitions can be stressful, even painful, but Ledecky will grow from the experience.
This chapter of Katie Ledecky's swimming career—one hell of a chapter—has ended, but when she enrolls at Stanford next month, a new one begins. Chances are, Ledecky will never break another world record by more than a second, but this is far from the last we've seen of her.