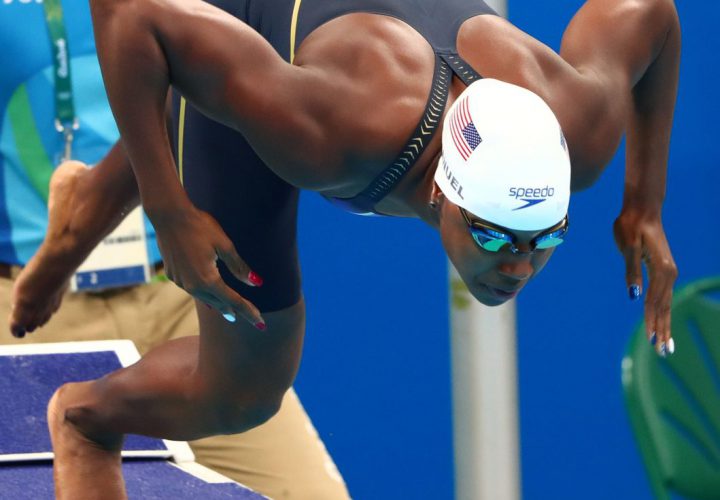 Photo Courtesy: Erich Schlegel-USA TODAY Sports

Editorial Coverage Sponsored By FINIS
By Annie Grevers, Swimming World Staff Writer
Simone Manuel doesn't want to be known as "Simone the black swimmer". Not because she is the least bit ashamed of her African American heritage; she just doesn't want her skin color to be such a novel trait in her beloved sport of swimming.
"The title of 'black swimmer' suggests that I am not supposed to win golds or break records," Manuel said. "But that's not true because I train hard and want to win just like everyone else."
Right now in the world, the name Simone Manuel is very firmly cemented to the phrase "first female African American swimmer to win an individual Olympic gold medal".
In one of the most shocking races of the Rio Games thus far, 20-year-old Manuel and 16-year-old Penny Oleksiak of Canada charged past world record-holder Cate Campbell to tie for the win in the 100 meter freestyle. Their time of 52.70 set a new Olympic record.
You could almost hear the collective gasp of spectators around the globe, watching two first-time Olympians eat up the most dominant freestyler in the world in the final 10 meters. I covered my mouth, mirroring the stunned reaction of the two gold medalists. The camera panned from Manuel to Oleksiak; the commentators were confused for a moment. "It's a dead heat!!" one Aussie commentator suddenly exclaimed on the live stream.
In less than 53 seconds, Manuel kicked through a barrier she did not necessarily think about before her race. She maybe didn't even ponder the significance of what she had done as she pulled herself out of the pool. But she had known she had a mighty purpose in the swimming world from a young age.
The Manuel household in Sugar Land, Texas was one that insisted each child take swim lessons. Sharron Manuel, Simone's mom, said that in the Houston area, there's no tolerating the sweltering summers without taking plunges in the pool. She wanted to make sure all of her kids could safely cool off.
Two boys came before Simone. The brothers have been a source of inspiration for their confident, hard working younger sister. Both of the boys started out on a neighborhood swim team, but eventually moved on to run up and down a basketball court instead of swimming laps in the pool. The Manuel boys both played college basketball, following in their father, Marc's, footsteps.
Simone stuck with the vat of chlorinated water. "She always had a natural affinity for the water," Sharron said.
The lack of diversity in the sport of swimming was noticed, but not emphasized in the Manuel home. It wasn't until Simone was 11 years old that she started to notice the rarity of African Americans in the sport she'd chosen.
"She came to me one day and asked me why she didn't see many others like herself in the sport of swimming," Sharron recalls. "I didn't have an answer for her immediately so I said, 'That's a good question. I don't know– let's look it up.'"
Sharron researched the sport and took note of the few African Americans who were involved in swimming. "For her, that was the moment when she realized she had a bigger role to play in what she was doing with the sport of swimming," Sharron said.
There were times when the environment on the pool deck was "uncomfortable" territory for the Manuel family because of their race. Sharron made certain her daughter knew whose opinions mattered early on.
"We have always encouraged Simone and talked to her about doing what she's doing because she loves it, not putting other people's expectations on herself. If they have a problem with her, then that's their problem, don't make it hers," Sharron said. 
As Simone progressed in the sport, her obligation to make a mark for herself, her family, her faith, and her heritage took hold. Sharron and Marc have always kept an open dialogue with their kids, frequently reminding them their identities are rooted in far more than their sport and their race.
"We've always told her that her value is in who she is as a person, not just because her skin color," Sharron said. "Her skin color is the way it is because that's the way God made her. But it is her responsibility to do what she can with the gifts he has given her."
Manuel took to Twitter shortly after winning her surprise Olympic gold and cited the very responsibility her mom spoke of: "It is an honor to represent the USA! God is working in me! I am so blessed and grateful. Thank you all so much for your support."
After her historic performance, Manuel seemed to be speaking directly to young African American kids who may have never contemplated diving into the sport of swimming:
"I definitely think it raises some awareness and will get them inspired. I mean, the gold medal wasn't just for me. It was for people that came before me and inspired me to stay in the sport. For people who believe that they can't do it, I hope I'm an inspiration to others to get out there and try swimming. You might be pretty good at it."
Maritza Correia and Cullen Jones were two athletes who made Simone believe she might be "pretty good" at swimming. Correia was the first black woman to make an American Olympic team. She and her relay mates won silver at the 2004 Athens Games. Jones has a total of four Olympic medals from the 2008 and 2012 Games.
One of Manuel's best friends is fellow Olympian and Stanford Cardinal teammate Lia Neal, who is of African American and Chinese descent. Neal has collected a bronze and silver from relays at the 2012 and 2016 Olympic Games. Neal and Manuel made history by becoming the first African American duo to make the same U.S. Olympic swim team.
Being the black swimmer to break this barrier wasn't on Manuel's radar. It actually felt like an added responsibility for the 20-year-old who longed for the focus to be on her swimming race, not her skin color.
"It is something I've definitely struggled with a lot," Manuel said. "Coming into the race, I tried to take weight of the black community off my shoulders. It's something I carry with me. I want to be an inspiration, but I would like there to be a day when it is not 'Simone the black swimmer.'"
For now, Simone is carrying the label "Simone the black swimmer" with dignity, knowing that her influence in this Games could just be the pebble dropping into the pool. The ripple effect of her name noted with her race will undoubtedly catch the attention of a new audience; a minority audience that may now feel the pool is a welcoming place. That the sport of swimming is a far cry from the days of segregation, when neighborhood pools were only open to whites.
"When she was about 15 we started talking about how swimming wasn't going to be just about her," Sharron said. "There would be a point in her life when the swimming would be more than just for her, she would share that gift with the world and it would carry a message." 
Message sent and received. Not with Simone Manuel standing on a soap box, but with Simone Manuel exercising her God-given gift in the pool. Black girls can swim. And they can swim lightning fast. So why not dive in? Simone and the sport of swimming are eager for the day when African Americans are no longer a tiny slice of the swimming population. I hope the same number of little girls donning leotards acting out a perfectly executed Simone Biles floor routine is matched by girls donning swim suits and the fierce pre-race face of Simone Manuel.