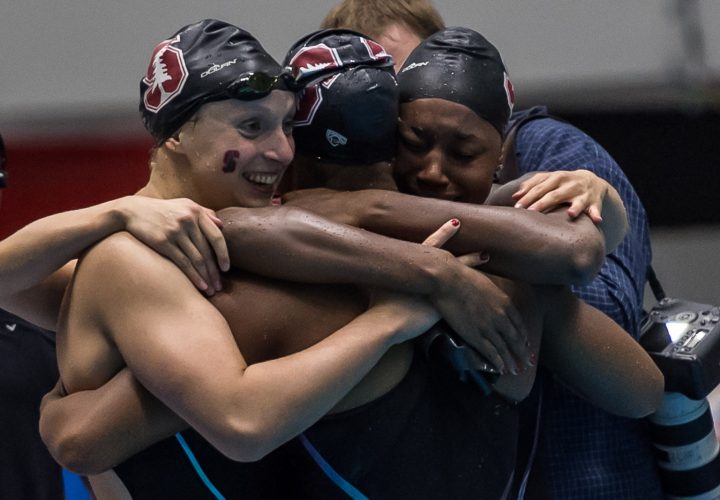 Photo Courtesy: Peter H. Bick
This week's Performance Of The Week, sponsored by LumaLanes, goes to the 400 freestyle relay team of Simone Manuel, Katie Ledecky, Janet Hu, and Lia Neal at this week's NCAA Division I Nationals in Indianapolis. The foursome went 3:07.61 to reset the Meet, U.S. Open, American, and NCAA records in the event en route to their first NCAA team title since 1998.  
There were plenty of fast swims to choose from across Division I and III NCAA meets, and there were plenty of individual swims that are noteworthy in their own right. But this relay, while ridiculously fast and impressive in it's own right, deserves special recognition because of the way it capped off the team's first NCAA title in 19 years.
Fresh off her own American and NCAA record in the 100 free earlier in the night, Manuel led off the relay in the second fastest 100 freestyle ever (46.02) before handing the relay over to Ledecky, who had won the 1650 in the second fastest time ever earlier in the session. Katie put up a personal best split of 47.59, a half second faster than her best split from Pac-12's where she didn't have any swims on the last day. Third was Hu in 47.63, with senior Neal bringing the relay home in a 46.37 to win the event and officially seal the deal on Stanford's NCAA title.
Stanford's relay was unique not only because of who was on it (how often do you have three Olympic medalists on a relay together?), but how the team approached it. Speaking to press following the meet, Stanford Head Coach Greg Meehan said he had talked to Manuel, Ledecky, and Hu before the relay and told them they needed to perform on that relay for senior Lia Neal. Meehan credits Neal's commitment to their program out of high school as "legitimizing" their program, and that Lia deserved to end her NCAA career with what he calls a "storybook ending."
The relay had a freshman, sophomore, junior, and senior on it, and Meehan's advice and the women's performances after it encapsulates the focus on team that got Stanford to this moment. On that relay, those four women were swimming, and winning, for each other, a perfect expression of the emotional, mental, and physical investment they had all made to the program.
Congratulations Simone Manuel, Katie Ledecky, Janet Hu, and Lia Neal on earning Swimming World's Performance of the Week!
Special Thanks to LumaLanes for sponsoring Swimming World's Performance of the Week.
Learn More About LumaLanes