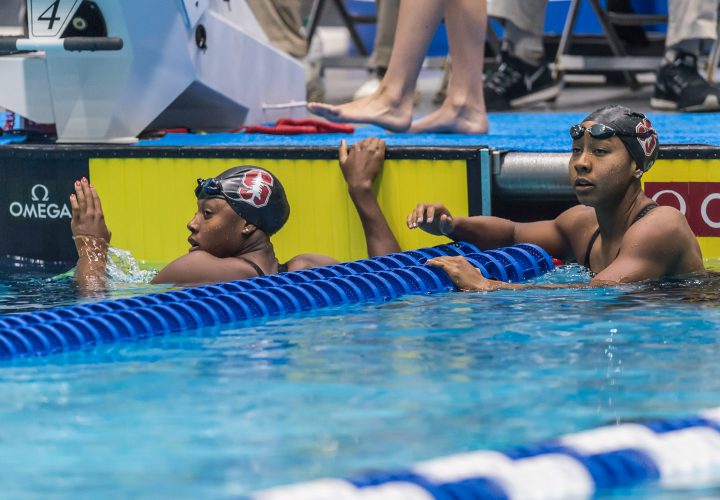 Photo Courtesy: Peter Bick
NCAA DI editorial coverage is proudly sponsored by Adidas. Visit adidasswimming.com for more information on our sponsor. For all the latest coverage, check out our event coverage page.

CLICK FOR FULL RESULTS
One year ago at this meet, Stanford left the 400 free relay in dismay. The team finished in fourth place, not gaining enough points to overtake Georgia. They sat and watched as the Bulldogs celebrated their national title. This time around in 2017, Stanford is the one celebrating with a national title as they won the 400 free relay in a new American, NCAA and US Open record with a 3:07.61. Simone Manuel (46.02), Katie Ledecky (47.59), Janet Hu (47.63) and Lia Neal (46.37) swam on the relay that broke their own record from the Pac-12 Championships last month. Stanford has won its first national title in women's swimming and diving since 1998.
Georgia swam to second place in the relay at 3:08.97 with Olivia Smoliga (46.70), Veronica Burchill (47.42), Meaghan Raab (48.12) and Chantal Van Landeghem (46.73), solidifying their fourth place position by a half point over Texas. The Longhorns ended up winning the B-final and needed Georgia to place third or worse if they were going to finish in the top four overall for the first time since 2001. But alas, Georgia ended up second and the Bulldogs have place in the top four for seven straight years now.
California finished in third with a valiant 3:09.08. NC State, Louisville, Wisconsin and Texas A&M also placed in the top eight. Texas A&M placed third in the meet overall for the highest finish in school history.
This is the 12th time Stanford has won the 400 free relay. The Cardinal joined the teams from 2015, 2014, 2012, 2010, 1997, 1996, 1995, 1994, 1992, 1987 and 1982 as champions in that relay.
Event 21  Women 400 Yard Freestyle Relay
==================================================================================
         NCAA: N 3:08.51  2/25/2017 Stanford
                          S Manuel, K Ledecky, J Hu, L Neal
         Meet: C 3:08.54  3/21/2015 Stanford
                          L Neal, J Hu, L Engel, S Manuel
     American: A 3:08.51  2/25/2017 Stanford
                          S Manuel, K Ledecky, J Hu, L Neal
    U.S. Open: O 3:08.51  2/25/2017 Stanford
                          S Manuel, K Ledecky, J Hu, L Neal
         Pool: P 3:09.40            Georgia
    School                        Prelims     Finals NISCA Points
==================================================================================
                                === A - Final ===                                 
 
  1 Stanford                      3:10.83    3:07.61N  600   40  
     1) Simone Manuel SO              2) r:0.35 Katie Ledecky FR      
     3) r:0.27 Janet Hu JR            4) r:0.31 Lia Neal SR           
    r:+0.69  22.18        46.02 (46.02)
        1:08.89 (22.87)     1:33.61 (47.59)
        1:56.21 (22.60)     2:21.24 (47.63)
        2:43.44 (22.20)     3:07.61 (46.37)
  2 Georgia                       3:10.54    3:08.97P  588   34  
     1) Olivia Smoliga SR             2) r:0.19 Veronica Burchill FR  
     3) r:0.29 Meaghan Raab JR        4) r:0.26 Chantal Van Langhem SR
    r:+0.72  22.22        46.70 (46.70)
        1:09.06 (22.36)     1:34.12 (47.42)
        1:57.14 (23.02)     2:22.24 (48.12)
        2:44.54 (22.30)     3:08.97 (46.73)
  3 California                    3:11.75    3:09.08P  588   32  
     1) Amy Bilquist SO               2) r:0.48 Kathleen Baker SO     
     3) r:0.25 Abbey Weitzeil FR      4) r:0.27 Farida Osman SR       
    r:+0.72  22.72        47.55 (47.55)
        1:10.33 (22.78)     1:35.27 (47.72)
        1:57.45 (22.18)     2:22.20 (46.93)
        2:44.38 (22.18)     3:09.08 (46.88)
  4 Southern Cali                 3:11.28    3:10.07   579   30  
     1) Louise Hansson FR             2) r:0.23 Kirsten Vose SO       
     3) r:0.11 Stanzi Moseley FR      4) r:0.17 Anika Apostalon SR    
    r:+0.73  22.65        47.07 (47.07)
        1:09.65 (22.58)     1:34.79 (47.72)
        1:57.30 (22.51)     2:22.90 (48.11)
        2:44.95 (22.05)     3:10.07 (47.17)
  5 NC STATE                      3:11.56    3:10.31   579   28  
     1) Alexia Zevnik SR              2) r:0.21 Ky-lee Perry FR       
     3) r:0.18 Lotta Nevalainen SR    4) r:0.29 Courtney Caldwell SO  
    r:+0.71  23.28        47.79 (47.79)
        1:09.91 (22.12)     1:35.25 (47.46)
        1:57.89 (22.64)     2:23.17 (47.92)
        2:45.65 (22.48)     3:10.31 (47.14)
  6 Louisville                    3:12.61    3:11.97   564   26  
     1) Lainey Visscher FR            2) r:0.30 Mallory Comerford SO  
     3) r:0.26 Casey Fanz FR          4) r:0.31 Nastja Govejsek FR    
    r:+0.62  23.07        48.24 (48.24)
        1:10.38 (22.14)     1:34.62 (46.38)
        1:57.68 (23.06)     2:23.13 (48.51)
        2:46.16 (23.03)     3:11.97 (48.84)
  7 Wisconsin                     3:12.91    3:12.94   555   24  
     1) Chase Kinney SR               2) r:0.03 Emmy Sehmann SO       
     3) r:0.32 Marissa Berg JR        4) r:0.19 Cierra Runge SO       
    r:+0.71  23.00        48.48 (48.48)
        1:10.85 (22.37)     1:36.20 (47.72)
        1:59.59 (23.39)     2:24.96 (48.76)
        2:48.08 (23.12)     3:12.94 (47.98)
  8 TAMU                          3:12.43    3:13.32   552   22  
     1) Beryl Gastaldello JR          2) r:0.37 Kristin Malone JR     
     3) r:0.44 Claire Rasmus SO       4) r:0.31 Sarah Gibson SR       
    r:+0.64  22.99        47.83 (47.83)
        1:10.87 (23.04)     1:36.26 (48.43)
        2:00.08 (23.82)     2:25.44 (49.18)
        2:48.35 (22.91)     3:13.32 (47.88)
 Combined Team Scores - Through Event 21                      
 
  1. Stanford                        526.5   2. California                        366
  3. Texas A&M                       292.5   4. Georgia                         252.5
  5. Texas                             252   6. Louisville                      194.5
  7. NC State                          194   8. Indiana                           185
  9. Southern Cali                     176  10. Minnesota                         168
 11. Michigan                          159  12. Virginia                          149
 13. Missouri                          135  14. Kentucky                          106
 15. Wisconsin                          98  16. Arizona                          89.5
 17. UNC                                73  18. Auburn                             55
 19. Ohio St                            52  20. UCLA                               48
 21. Northwestern                       40  22. Tennessee                          35
 23. Purdue                             33  24. Umbc (W)                           30
 25. Miami (Oh)                         29  26. Iowa                               26
 27. Nevada                             25  28. Florida St                         24
 29. Arizona St                         22  30. Denver                             20
 31. Virginia Tech                      18  32. Florida Int'l                      16
 33. Nebraska                           15  34. Lsu                                14
 35. Cincinnati                         12  36. Boise St                           10
 36. Penn St                            10  38. South Carolina                      8
 39. Miami (Fl)                          5  39. Air Force (W)                       5
 41. Pittsburgh                          4  41. Florida Gulf                        4
 43. Alabama                           3.5  44. Notre Dame                          2
 44. San Diego State University          2  44. Massachusetts                       2
 47. Duke                                1  47. Drexel                              1
 47. Rutgers                             1