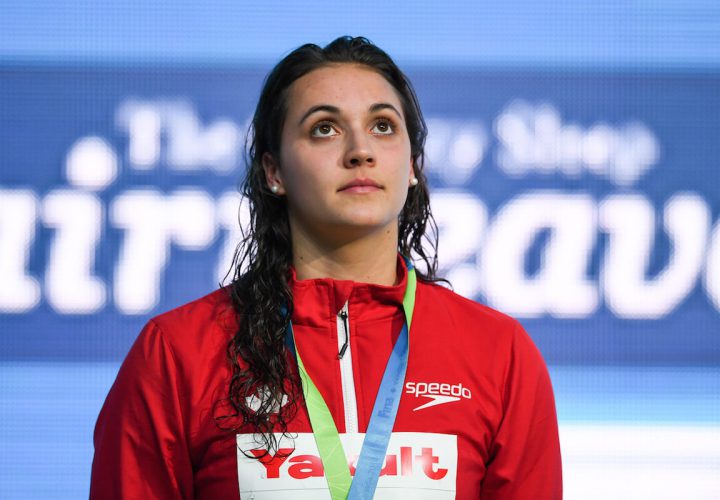 Photo Courtesy: Swimming Canada/Kevin Jarrold
Editorial content for the Commonwealth Games coverage is sponsored by TritonWear. Visit TritonWear.com for more information on our sponsor. For full Swimming World coverage, check event coverage page.
This week's Performance Of The Week, sponsored by LumaLanes, goes to Kylie Masse for her huge swim in the 100 back this weekend at the 2018 Uster International Meet in Zurich, Switzerland.
The 22-year-old World Champion and world record holder posted the fastest time so far in 2018 in the 100 back, touching the wall in 58.54 to become the first woman under the 59 second mark this year.
Masse is coming off a record breaking 2017 that saw her take down Gemma Spofforth's world record in the 100 back, one of the oldest suited records that was still on the books. After just missing the world record in semi-finals Masse broke through in finals, setting a new world mark in 58.10 to become the fastest woman in history and becoming Canada's first female World Champion.
Swimming less than half a second off her world record in early February shows Masse isn't slowing down, and with the 2018 Commonwealth Games just a few months away expect all eyes to be on Masse to see if she can that record even lower.
Congratulations Kylie Masse on earning Swimming World's Performance of the Week!
Special Thanks to LumaLanes for sponsoring Swimming World's Performance of the Week.
Learn More About LumaLanes