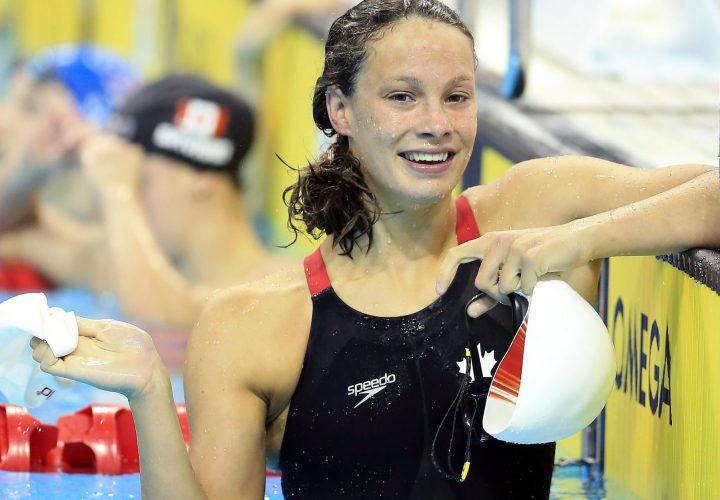 Photo Courtesy: Vaughn Ridley/Swimming Canada
The 2018 Uster International Meet took place in Zurich, Switzerland this weekend with some of Europe's speediest swimmers in attendance. The Long Course Meters meet was staged as an opportunity for swimmers from all around the globe to gauge their progress leading into this summer's Pan Pacific Championships.
On the men's side some notable performances were seen in the sprint events, especially on the men's side with Japan's Shinri Shioura taking a victory in the 50 free with a quick time of 22.51. Great Britain's Benjamin Proud touched second in a 22.54 while Andriy Govorov out of the Ukraine nabbed the bronze in a time of 22.80.
Shioura also took the gold in the 100 free on day one of the meet, setting a new meet record in the event with a quick in-season time of 48.89. Belgium's Pieter Timmers took second there in time of 49.08 while Hungary's Nandor Nemeth took third with the last sub-50 second time in 49.90.
Great Britain's Proud would go on to win the men's 50 fly in meet record fashion by posting a 22.96, ahead of Govorov who swam a 23.07. Hungary's Laszlo Cseh took the bronze in the event with a 23.92.
Kristof Milak out of Hungary took the men's 200 fly in a new meet record time of 1:57.66 while fellow countryman Cseh took the silver in a solid 1:59.05. Cseh was able to hold off Milak across the 100 fly by posting a 52.58, to Milak's 52.63.
The Hungarian's continued to roll on the men's side with youngster Nandor Nemeth posting a new meet record in the men's 200 free in a quick 1:50.02.
Daniel Cross also joined the meet-record breaking club by doing so in the 100 back with a 55.50. Cross held off Benedek Kovacs who posted a 55.80.
During the women's meet we saw several athletes post meet record times across many different events. Canada's Penelope Oleksiak started her win streak with the 100 fly by posting a meet record time of 58.05.
Oleksiak would go on to win and set meet records in two more events, the 100 and 200 free. In the 100 distance, the Canadian sprint star swam a 53.93, ahead of France's Marie Wattel. Olesiak took the win in the 200 as well with a 1:57.79.
Wattel also nabbed a pair of wins and meet records in the 50 free and 50 fly. In the freestyle race Wattel posted a 25.15 ahead of Olesiak who swam a 25.38, while in the butterfly she posted a 26.03, also ahead of Olesiak who touched in 26.11.
Canadian Kylie Masse earned a pair of wins in the sprint backstroke events, where she set a meet record in the 100 distance by swimming a 58.54.
Hungary's Liliana Szilagyi posted a new meet record in the 200 fly in a solid time of 2:09.35 while Maria Ugolkova took the win in the 200 IM in a time of 2:14.32.
For complete results of this weekend's competition, click here.