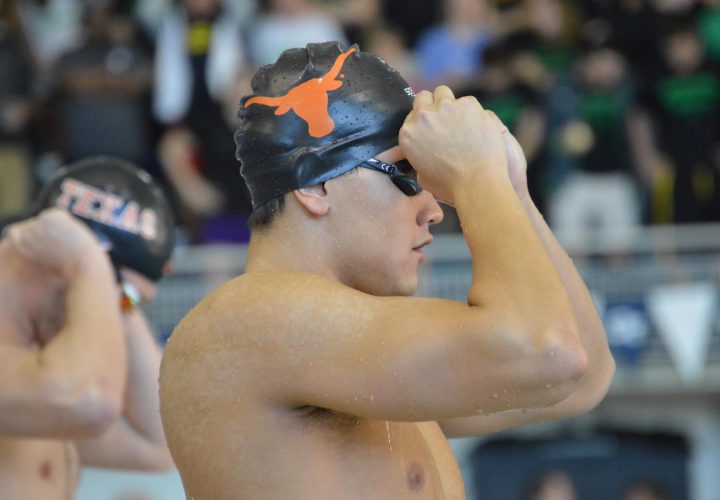 Photo Courtesy: Caroline Kosciusko
This week's Performance Of The Week, sponsored by LumaLanes, goes to Joseph Schooling for his dominating win the 100 butterfly at the 2017 Austin Speedo Sectionals. Schooling's swim vaulted him to the No. 2 time in the world so far this year and set up what is sure to be one of the most exciting races at World Championships in just a few weeks.
Touching the wall in 50.96, Schooling slashed nearly a second off of his 2017 best of 51.82 to move to the #2 spot in the world. Splitting the race 23.76/27.20, Schooling also cut more than half a second off his best-ever in-season time, which stood at a 51.58 from just a year ago in the lead-up to the 2016 Rio Olympics where he would win gold in this event.
What is really significant about this swim is the match-up that is likely to happen in Budapest between Schooling and Caeleb Dressel, the man with the fastest time in the world this year. Schooling's former Bolles teammate threw down an impressive 50.87 at U.S. Nationals last week to lead the world in the event, faster than anyone else aside from Schooling swam at last year's Olympics in Rio.
This won't be the first time Dressel and Schooling swim head to head in the 100 butterfly this year. The two went head to head at NCAA's back in March, with Dressel taking down the defending champion en route to a new American and NCAA record.
While short course may play slightly to Dressel's advantage with his dominance in the sprints, when comparing the two athlete's most recent long course 100 butterflies Dressel's advantage actually came in his second 50 (27.00 to Schooling's 27.20). A couple more weeks of rest is likely to give Schooling a stronger finish, but regardless this should still be a race down to the wire in Budapest.
Schooling has already been vocal this year about gunning for Michael Phelps' world record following his short break after the Rio Games, and his 50.96 is just one more reason to look forward to the 100 butterfly at World Championships.
Congratulations Joseph Schooling on earning Swimming World's Performance of the Week!
Special Thanks to LumaLanes for sponsoring Swimming World's Performance of the Week.
Learn More About LumaLanes