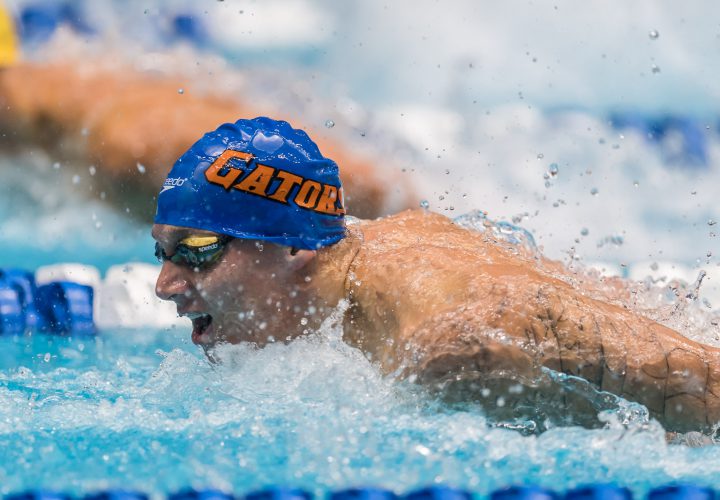 Photo Courtesy: Peter Bick
NCAA DI editorial coverage is proudly sponsored by Adidas. Visit adidasswimming.com for more information on our sponsor. For all the latest coverage, check out our event coverage page.
CLICK HERE FOR LIVE RESULTS
Outside of NC State's 800 free relay win, there has not been a big upset on the weekend. That lasted until Friday night when Florida junior Caeleb Dressel dethroned two-time defending champion and Olympic gold medallist in Texas junior Joseph Schooling. Dressel also broke Schooling's NCAA record along with Tom Shields' American Record with a 43.58 thanks to a monster last turn.
Schooling finished second in the race after having the early lead with a 43.75, the second fastest time in history. Schooling was going for his third win in a row to be the seventh to win at least three 100 fly titles. But alas, Dressel over-swam him the last 25. Texas senior Jack Conger finished third with a 44.35, remaining the fifth fastest performer in history. NC State's Ryan Held, Cal's Zheng Quah, Indiana's Vini Lanza and Missouri's Andrew Sansoucie also competed in the A-final. California's Matthew Josa was disqualified in the race.
Florida now has five NCAA titles in the 100 fly. Dressel joins Marcin Cieslak (2014) and coach Anthony Nesty (1990-1992) as winners for the Gators.
 Event 9  Men 100 Yard Butterfly
=========================================================================
         NCAA: N 44.01  3/25/2016 Joseph Schooling, Texas
 Championship: C 44.01  3/25/2016 Joseph Schooling, Texas
     American: A 43.84  12/16/2016Tom Shields, California
   U. S. Open: O 43.84  12/16/2016Tom Shields, California
         Pool: P 44.44  3/24/2017 Jack Conger, Texas
    Name                 Year School            Prelims     Finals Points 
=========================================================================
                       === Championship Final ===                        
 
  1 Dressel, Caeleb        JR Florida             44.49      43.58A  20  
    r:+0.62  20.70        43.58 (22.88)
  2 Schooling, Joseph      JR Texas               44.97      43.75O  17  
    r:+0.59  20.39        43.75 (23.36)
  3 Conger, Jack           SR Texas               44.44      44.35P  16  
    r:+0.65  20.55        44.35 (23.80)
  4 Held, Ryan             JR NC State            45.21      44.92   15  
    r:+0.64  20.57        44.92 (24.35)
  5 Quah, Zheng            FR California          45.27      45.06   14  
    r:+0.61  20.93        45.06 (24.13)
  6 Lanza, Vini            SO Indiana             45.47      45.52   13  
    r:+0.72  21.31        45.52 (24.21)
  7 Sansoucie, Andrew      SR Missouri            45.45      45.76   12  
    r:+0.61  21.52        45.76 (24.24)
 -- Josa, Matthew          JR California          45.31         DQ  
      Non-simultaneous touch
    r:+0.63  21.17           DQ (24.28)
 Men - Team Rankings - Through Event 9                  
 
  1. Texas                           281.5   2. California                        183
  3. Florida                         174.5   4. NC State                          144
  5. Indiana                           134   6. Stanford                          127
  7. Univ of Georgia                   124   8. Missouri                         83.5
  9. Auburn                           76.5  10. Southern Cali                      75
 11. Louisville                       63.5  12. South Carolina                     49
 13. Arizona State                      40  14. Michigan                           39
 15. Purdue                             33  16. Alabama                            32
 17. Texas A&M                          23  18. Tennessee                          22
 18. Wisconsin                          22  20. Ohio St                            17
 21. Virginia Tech                      15  22. University of Miami                14
 23. Arizona                          12.5  24. Lsu                                12
 24. Notre Dame                         12  26. Florida State                       7
 27. Harvard                             6  27. UNC                                 6
 29. Kentucky                            4  29. Northwestern                        4
 31. Penn St                             2  31. Hawaii                              2
 31. Penn                                2  34. Pittsburgh                          1