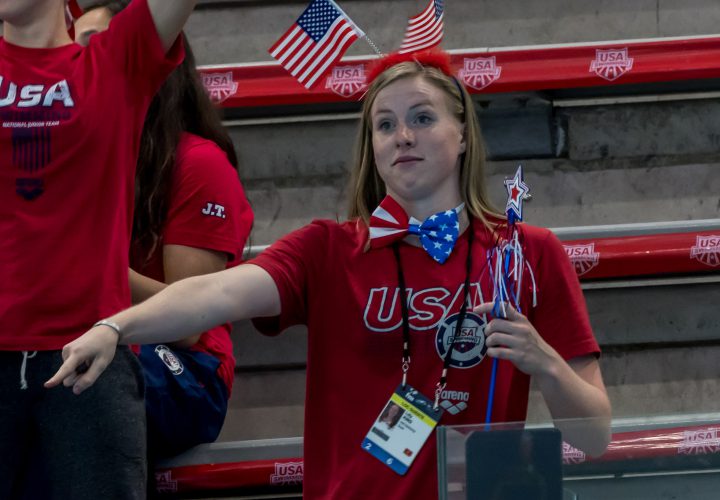 Photo Courtesy: Peter H. Bick
By David Rieder.
Lilly King blends in well with the U.S. National Junior Team. She's no taller than most of the girls on the team—and only two years older—and she has been donning just as much Team USA gear. Sunday evening, she was sporting a headband with two American flags attached.
Plenty of senior National Team members have made one-day or two-day appearances in the American team cheering section, but King has been there for three of the five finals sessions so far at the World Junior Championships.
"I'm only an hour away," said King, a junior at Indiana University in nearby Bloomington. "It's a lot of fun just to be here.
"I didn't get to sit in the stands very much in Budapest (at the World Championships), so I get to hang out and cheer for Team USA and just get to know the Junior team a little bit better and hopefully develop that National Team-Junior National Team relationship that I had when I was coming up through the system."
King has been enthusiastic and engaged the entire time. When she spoke with Swimming World Sunday afternoon before the fifth night of finals, King was carrying two plastic bags from Party City, each of them bulging with red, white and blue Americana gear.
She has fully embraced the opportunity to be a guiding figure for these teenagers, and she's tried to take advantage of her age and down-to-earth personality to connect with them on an intimate level.
"I think part of that is showing them that I'm human and I'm not like this figment of their imagination that they only see on TV," King said. "Just kind of show them why I'm the way I am and how to go through big meets."
King has watched Regan Smith, her teammate at the World Championships last month, blast her way to gold in the women's 100 and 200 back. What impressed King the most was how Smith kept her composure and comfort through the enormity of the World Championships.
"She's already so professional, and she's 15 years old, can't even drive a car yet," King said. "Being able to go through these meets and swim race after race after race and continue to swim well is really great."
King knew some of the Junior team members from previous trips they'd been on together—including Smith from Budapest and Michael Andrew from the Short Course World Championships—but there are none she is more familiar with than Emily Weiss.
Weiss, a 16-year-old from Muncie, Ind., broke out with a gold medal in the women's 50 breast final Thursday night. Her relationship with King goes back much, much further.
"When I met Emily, I'm pretty sure she was 12. I was 15 or 16," King said, explaining that she was helping out with an Indiana state performance camp when she came across another fast breaststroker.
"I knew who she was—she was really fast. She knew who I was, so we really clicked pretty early on," King said. "We've just been following each other throughout this journey, her throughout my journey and me throughout hers."
King referred to Weiss as "my little sprinter" and "my mini-me," explaining that while Weiss is a natural talent at the 50-meter race but still working on her endurance for the longer events, just like King was at that age. Their swimming is not the only thing King and Weiss have in common.
"She acts like me, she swims like me," King said. "She tweeted right before, 'Ready for a World title.' I was like, 'She's going to win tonight.' She puts her money where her mouth is."
Weiss, finished for the meet except for a possible leg on the U.S. women's 400 medley relay during the final morning of prelims, was up in the stands with King Sunday as the American team won three medals, one of each color.
At the end of the session, the video board inside the IUPUI Natatorium panned to King. Still wearing the headband with the two flags, she stuck her tongue out and showed some dance moves as girls on the U.S. team watched on.
King could very well have been one of the Junior team members. No one that didn't recognize her would have been able to spot the difference.