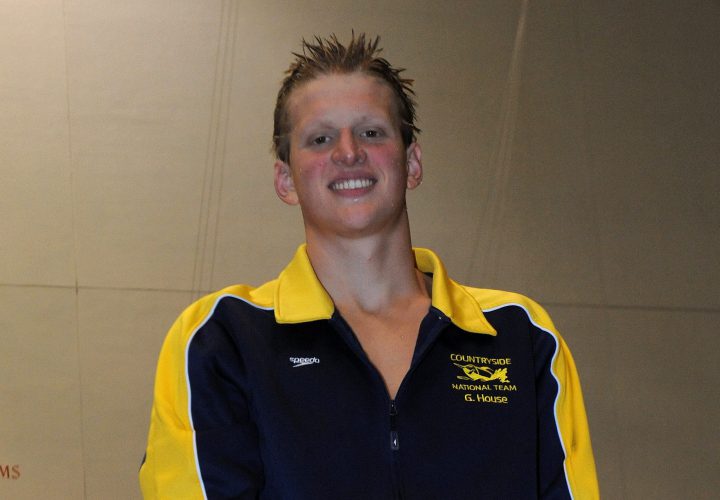 Photo Courtesy: Mike Comer/ProSwimVisuals.com
On night three at the 2017 Short Course YMCA Nationals in Greensboro, NC three more YMCA National marks fell.
Austin Katz of Sarasota added to his medal haul with a win in the 100 backstroke. The Texas bound senior touched in 47.06, sliding just .02 under the YMCA National mark of 47.08 set by Daniel Hein last year. Fifteen year old Brendan Burns of Upper Main Line challenged Katz before falling to second in 47.59. Grand Island Nebraska's Matthew Novinski finished third (48.26).
Courtney Harnish captured another YMCA National title, this time in National record fashion. Harnish used a strong back half to stop the clock in 1:45.14 in the 200 freestyle. That time was just faster than former York teammate Megan Small's 1:45.48 swum in 2015.
Westport/Weston's Sarah Grinalds was out quickly. Harnish reeled the 16 year old back in and Grinalds finished second (1:45.51). Bradford's Paige Hetrick (1:47.35) took bronze.
In the next event, another YMCA National mark came crashing down. As he did in the Ohio high school season, Grant House dominated the 200 freestyle. The Countryside swimmer posted a 1:34.52, over a second faster than the 1:35.66 Ocean County's Zachary Molloy went in 2014. Ryan Waters of Somerset Valley stopped the clock in 1:36.29, just .01 ahead of Hank Siefert of Coffman Family YMCA in 1:36.30.
Hometown swimmer Heather Sigmon of the Greensboro YMCA won the women's 100 backstroke. The soon to be Virginia Tech Hokie stopped the clock in 52.82. Butler's Camryn Forbes was runner up in 53.94. Finishing third was Emma Seiberlich of Phoenixville.
Mary O Soule of Western North Carolina led start to finish in the women's 400 IM. While the field came back on the UNC commit in the final 100 yards, she held on to win in 4:15.86. A pair of 15 year olds followed: Sunbury's Abigail Doss and Sarasota's Emma Weyant. Doss powered forward on the breaststroke leg and came home strong to out touch Weyant 4:17.24 to 4:17.34.
Eau Claire Wisconsin's Paul DeLakis took a commanding early lead and held on throughout the race to win the men's 400 IM in 3:49.02. That was his second consecutive year winning the event. Wilton's Robby Giller finished second (3:50.50). Jackson Cunningham of Boise swam a 3:52.58 for third place.
The women of Fanwood Scotch Plains were under National Record pace through the 150 of the 200 medley relay. The team of Julia Stankiewicz, Rachel Maizes, Monika Burzynski, and Darlene Fung touched in 1:41.21 for first, a quarter second off the record.
Triangle Area bounced back from a relay DQ last night to claim second. Jordan Kohut, Maria Baric, Sam Medlin, and Brooke Morgan posted a 1:42.58. In third was Blue Ash's Emma Shuppert, Lanna DeBow, Megan Glass, and Emma Fortman (1:42.61).
The top heat of the men's 200 medley relay was a tight one. Birmingham's Oliver Cafferty, Lucas Kokubo, Alex Margherio, and Ryan Lawrence got to the wall first in 1:31.33. Sarasota's Katz, Brett Riley, Keanan Dols, and Matt Nutter were three tenths behind in 1:31.66. Just behind them was Lakeland Hills' Justin Yang, Chris Ruhnke, Matthew Luciano, and William Zhang (1:31.78).