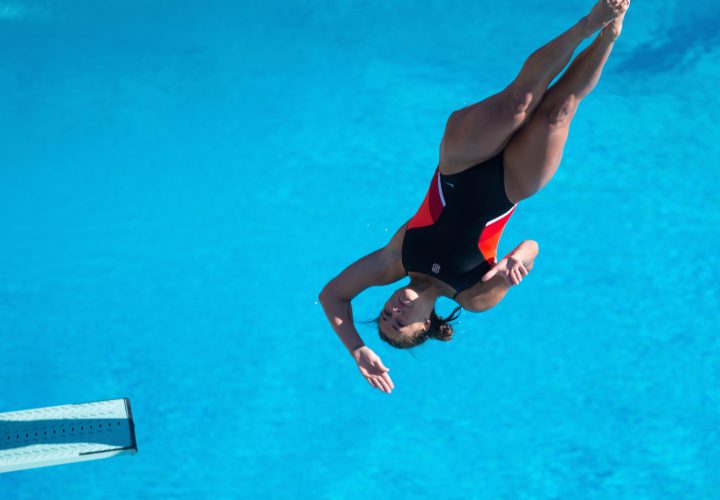 Kassidy Cook.
Photo Courtesy: Casey Valentine/isiphotos.com
By Dan D'Addona.

Kassidy Cook experienced the monumental high that comes with being an Olympian.
But when the diver returned to Stanford as a junior, following Rio, everything was a challenge.
Cook, now a senior, took the entire school year off to prepare for the Olympic trials, which paid off with her making the team. But getting back to college life was a huge adjustment.
"Coming back to school, and the academic load at Stanford, was a tough transition in the fall. I took a break until October after the Olympics. It was hard for me to find a rhythm and a balance in college," Cook said. "One of the biggest difference was my sole focus was diving, I didn't have to worry about academics. I took a year off of school as well. When I am back, I am a student-athlete and I want to excel academically as well as in athletics. I was stressed about everything and the expectations. I got my head into it as a competitor. It wasn't as successful as the year before, but under the circumstances, I am proud of my performance. It was a time crunch learning new things and readjusting.
"It was a better post-Olympic year than I could have asked for."
Cook ended up a double All-American, finishing third on 3-meter and eighth on 1-meter, and helped Stanford win the national championship.
"It was super exciting. It was a special experience. It is always fun to win, but our team is also very close. To be there for the first national championship in 17 years was really special. Going into the last couple events, we knew we had a really good chance of winning, but we didn't let that get to our heads.
"The momentum was unreal."
This year, Cook again had to deal with some adjustments, this time with her body. She had been dealing with shoulder pain and then, to top it off, was hit by a car while riding her pike. She leads the Cardinal into this week's Pac-12 Championships.
"I got hit by a car on my bike. That could have been part of it. I was super sore for a month. I had a shoulder surgery (to correct a torn labrum) in the summer. Most of this year has been focused on me rehabilitating. So I just started diving again in January. It is going to be a time crunch to get back to form by Pac 12s and NCAAs," she said. "I had the surgery at the end of June. I spend 8 weeks in a sling. Then I started to do a bit of therapy and light weights. It is first about range of motion. That was about a 3-month ordeal to get a good range of motion. Then I started building strength once I got to school."
Then it was the adjustment of launching herself into the water at high speeds, as well as getting back to the form that led her to an NCAA runner-up finish on 1-meter in 2015 (and another third-place finish on 3-meter).
"You are going into the water at 35 miles per hour with your arms overhead. That is a lot to get ready for," she said. "It is like when a pitcher comes back from a surgery, you have to build up to that speed again. They don't throw 100 mph right away."
Cook has worked her way back. Her first big-time meet was the UCLA Diving Invitational and Cook got second on 3-meter.
"My goal, first and foremost, is the health of my body," she said. "I really do want to perform well because it is my last college season. I want to push the limits but be smart about it. I think I can still qualify for NCAAs and score some points for my team. But I am trying to take it one day at a time. The season goes by really fast."
It is the same for her total career.
It has already been nearly two years since Rio, where she finished 13th on 3-meter. She was an alternate in 2012.
"It was a super awesome experience, once-in-a-lifetime. I know I could have competed better,but sometimes I let the nerves and the pressure of the Olympics get to me a little bit. But I wouldn't have traded that experience for anything. I learned a lot as an athlete. I know there is really high expectations for Americans to come home with a medal. I got asked that a lot. They almost seem disappointed when you say no. But that expectation lights the fire. I do want to be a medalist one day," Cook said. "It is still up in the air. I have to listen to my body after the surgery. Of course, I would love to have another Olympic experience. That is the goal."
The goals are different in her final college season.
"Diving is a super individual sport, but when you are with the swimmers, you feel like you are a part of something way bigger. It makes it so much more fun," she said. "It is crazy to be surrounded by this elite talent. We have gold medalists all over. It really motivates you. Everybody pushes each other. They encourage a strong team bonding. To be surrounded by that really puts your head in the right place. Right now, it is definitely about staying healthy. I am trying to learn a lot of things at once, so I have to keep my mind in the same place."
But no matter what happens, Cook will always remember being a part of a team packed with Olympians, national champions and All-Americans —  not just because of their talent, but because of how close the team has become in two years with nearly the same group of women.
"It is such an honor to be part of such a legendary team … an historic team. Probably one of the best to ever come through as a college team," she said. "I really want to take advantage of these last few meets and last few months. They will be some of the most memorable times in my life."