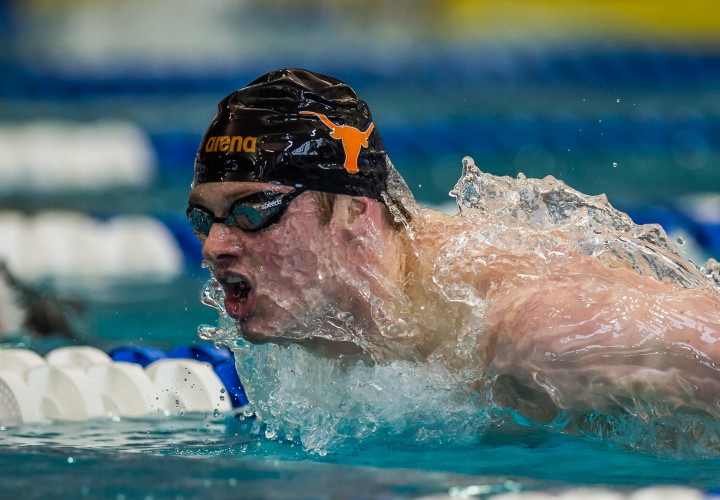 Photo Courtesy: Peter H. Bick
Editorial content for the 2017 Arena Pro Swim Series Santa Clara is sponsored by Arena. Visit ArenaUSA.com for more information on our sponsor. For full Swimming World coverage, check out our event coverage page. CLICK HERE FOR LIVE RESULTS
Men's 100 Fly
The men's 100 fly was a star-studded event complete with four 2016 Team USA Olympians.
NCAA All-Stars Jack Conger and Caeleb Dressel battled throughout the entire 100-meters, with Conger getting his hands to the wall a slim .05 seconds ahead of Dressel. Conger claimed gold with a 52.24, while Dressel grabbed silver with a 52.29. Conger's time ties him for 20th in the 2017 world rankings with Russia's Evgeny Koptelov.
Fellow Olympian and butterfly ace, Tom Shields, took third overall with a final time of 52.58, followed by Andrew Liang and his time of 52.98.
Gunnar Bentz finished fifth with a time of 53.03, just ahead of Tripp Cooper's 53.14.
Justin Lynch (53.20), Santiago Grassi (53.28), and Pace Clark (53.66) were seventh through ninth respectively.
                        === A - Final ===                         
 
  1 Conger, Jack P         22 Una Ncap-PV-        53.48      52.24  
                 24.71        52.24 (27.53)
  2 Dressel, Caeleb R      20 Bolles-FL-          53.34      52.29  
                 25.12        52.29 (27.17)
  3 Shields, Tom A         25 Cal-PC-             53.14      52.58  
                 24.68        52.58 (27.90)
  4 Liang, Andrew W        21 Un-Stanford-PC-     53.51      52.98  
                 24.96        52.98 (28.02)
  5 Bentz, Gunnar G        21 Georgia-GA-         53.37      53.03  
                 25.45        53.03 (27.58)
  6 Cooper, Tripp G        24 Una Txla-ST-        53.80      53.14  
                 24.68        53.14 (28.46)
  7 Lynch, Justin J        20 Cal-PC-             53.60      53.20  
                 25.04        53.20 (28.16)
  8 Grassi, Santiago       20 Argentina-          53.45      53.28  
                 25.05        53.28 (28.23)
  9 Clark, Pace T          22 Georgia-GA-         53.56      53.66  
                 25.19        53.66 (28.47)