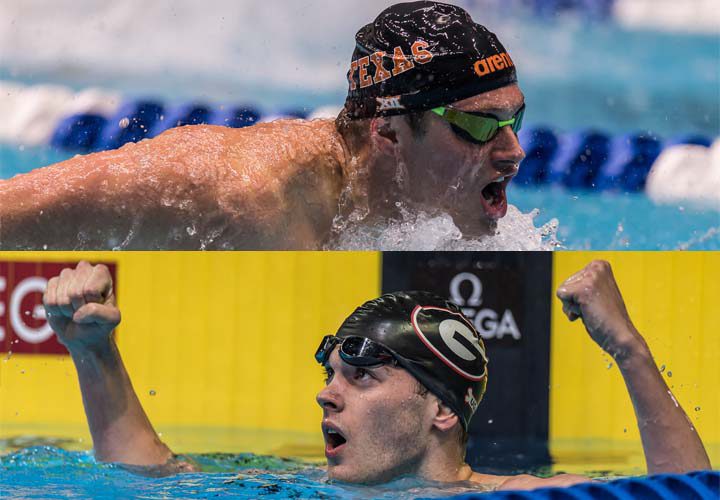 Photos Courtesy: Peter H. Bick
Editorial content for the 2017 Arena Pro Swim Series Santa Clara is sponsored by Arena. Visit ArenaUSA.com for more information on our sponsor. For full Swimming World coverage, check out our event coverage page. CLICK HERE FOR LIVE RESULTS
By David Rieder.
Last summer, Jack Conger and Gunnar Bentz each achieved their ultimate dream. By finishing third and fifth, respectively, in the men's 200 free final at Olympic Trials, they two booked their spots in Rio on the 800 free relay. Although neither was selected for the finals quartet, they each received a gold medal for their efforts on the prelims relay.
But when they returned home to the United States one week later, their names were known across the country for reasons that had nothing to do with their actual performances in the pool.
Conger and Bentz were present for the infamous gas station incident in Rio that took place hours after the Olympic swimming competition ended in Rio. Days later, while much of the country was excoriating Ryan Lochte for lying about the incident and then quickly leaving the country, Conger and Bentz were pulled off a U.S.-bound airplane to be questioned by Brazilian authorities.
In the end, USA Swimming handed Conger, Bentz and Jimmy Feigen four-month suspensions. The penalty was much less stiff than Lochte's 10-month ban but still put a black mark on an amazing accomplishment—winning an Olympic gold medal.
But neither Conger nor Bentz actually missed any competition time. By the time the sanctions were announced in early September, both were back at their respective colleges and back in training.
The University of Texas fully supported Conger through the whole situation, and the University of Georgia backed Bentz, so both could compete as they normally would in NCAA competitions that were not USA Swimming-sanctioned affairs.
For Bentz, putting the situation behind him meant getting his life back to normal—and getting back to swimming. From the pool, Bentz figured, he wouldn't have to listen to any more chatter about the incident, and through training, he could prove himself all over again.
"If you just keep your head to it and keep training as hard as you can," Bentz said. "I think just keep your head down. We're staring at a black line for hours every day. Just keep staring at that black line."
Meanwhile, Conger realized that if he wanted to move forward in his career, he had to forget about what had happened in Rio. Sure, there were lessons to be learned from the incident, but dwelling on it could only cause more damage.
"If you dwell on a really big international thing like that, it's going to affect you for a really long time, and I didn't want it to affect me," Conger said. "I want to keep going best times. I want to be a leader on Worlds teams and qualify for many events. If I were to take that and kind of dwell on it, it would affect my performance and affect me mentally. I didn't want to have that happen."
Conger came off the Olympic year strongly motivated and not just because of what happened outside of the pool in Rio. Even after winning an Olympic gold medal, the highest award in the sport, he finished the year profoundly dissatisfied with his efforts in the pool. He had just missed earning a spot on the 800 free relay in finals, but it was his times in his best events at Olympic Trials that troubled him the most.
24 hours after making the Olympic team in the 200 free, he had finished third in the 200 fly in a time almost two seconds off his lifetime best. He finished the meet with a fourth-place finish in the 100 fly.
"I was pretty bothered by that," Conger said. "I wanted to try to make a statement, have the best swim I could have at NCAAs in the 100 and 200 (fly), kind of ride off that momentum and make sure I was in a good place for this year."
That he did, concluding his NCAA career with a stunning performance in the 200-yard fly, touching in 1:37.35 for the fastest time in history by more than a half-second.
Bentz, meanwhile,put together an excellent NCAAs of his own, recording all lifetime bests in finishing fourth in both the 200 and 400 IM and then third in the 200 fly.
This summer, Bentz just hopes to find a way onto his World Championships team. He knows his best chance at qualifying will again come as part of the 800 free relay—which Bentz finds somewhat ironic, considering he arrived at Georgia three years earlier as a breaststroke and IM specialist.
"I came to Georgia, started doing fly pretty well, and then free started to come along, too," he said. "I think it just shows we have an incredible coach (Jack Bauerle) and a great staff and training group. We all develop in different ways. Sometimes your body changes, and you can get better in different stuff."
At the ongoing Arena Pro Swim Series meet in Santa Clara, Calif., Conger has already put together a strong effort in the 100 fly, a 52.24 that ranks No. 2 among Americans this year, while Bentz has so far topped out with a fourth-place finish in the 200 free, where he finished in 1:49.54. But Bentz knows he tends to thrive when taper comes around, so he's not concerned three weeks out from the U.S. World Championship Trials.
"I love shaving, and I love tapering. It seems to click every time. Keep my mind on Indy, and I think it will be pretty good," Bentz said. "It takes a little bit of rest for me to get going."
So as with all the country's other elite swimmers, Bentz and Conger are all-in for Indianapolis and the World Championship Trials scheduled for June 27-July 1. Both more experienced than they were one year ago, they have good reasons to like their own chances of qualifying for another top-level international team.
The gas station incident? All but forgotten.
Watch video interviews with Jack Conger and Gunnar Bentz from the Arena Pro Swim Series meet in Santa Clara: