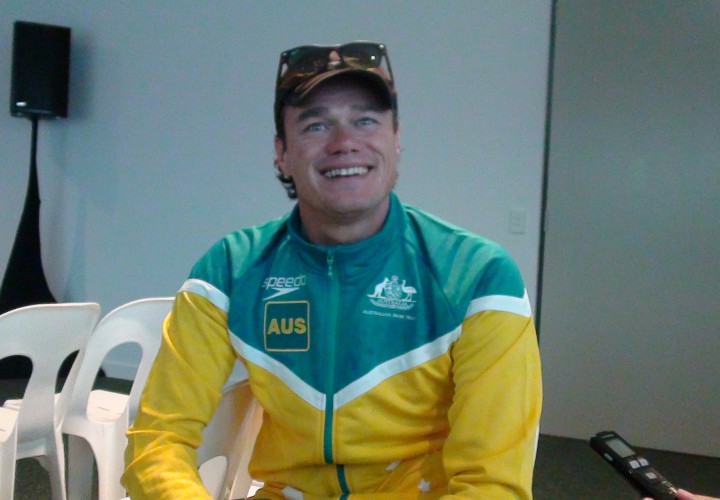 Photo Courtesy: SwimmingWorld.TV
Coverage of the 2015 FINA World Championships is sponsored by Wylas Timing. Visit our coverage page for more.
The Australian swim team left the FINA world championships in Kazan, Russia, with 16 total medals. Seven of them were gold, including wins in the 100 and 200 backstrokes from Mitch Larkin and Emily Seebohm, and a sweep of the sprint freestyles by Bronte Campbell.
The national team head coach, Jacco Verhaeren, wasn't consumed by the number of medals won or what rank the Australians took in the overall medal count. It was the times on the scoreboard and each athlete's progressions that mattered most to him.
"This sport is not about medal tallies," Verhaeren said. "This sport is about individuals that work really hard for their performances. The danger of medal tallies is that great performances disappear in a supposed fight between countries. And that fight doesn't exist."
Listen To Interview On Swimming World Radio

Verhaeren is approaching his two-year anniversary as the Australian head coach, and the program continues to grow. He travels across Australia on a regular basis to check in with coaches and athletes, and the attention to detail showed in Kazan with a large number of athletes posting times that put them on notice for next year's Olympics.
"I always feel you can only measure the strength of a team (when it is) under pressure," Verhaeren said. "I think this team in many ways … succeeded very well in that. It's always good if you see things that you can improve upon."
Larkin and Bronte Campbell were just two Australians who had major breakthrough performances, and Verhaeren said the potential for Bronte Campbell to succeed on the world stage had always been there, and sets Australia up for its best showing in the 100 freestyle in history – if Bronte and big sister Cate can both get on the medal stand in Rio de Janeiro.
"It's just phenomenal for a country to have such classy and exciting girls who can perform on this level," Verhaeren said. "We could see (Bronte's) performance coming, but you don't know where that leaves you on the podium."
As for Larkin, he's been showing the kind of improvement that suggested that 2015 would be the perfect year for his breakout swims in the backstroke events. Being guided by the man who led Stephanie Rice to glory at the 2008 Olympics has certainly helped.
"He (Larkin) is in a great program with Michael Bohl, who knows how to make champions," Verhaeren said. "He's an incredible hard and honest worker."