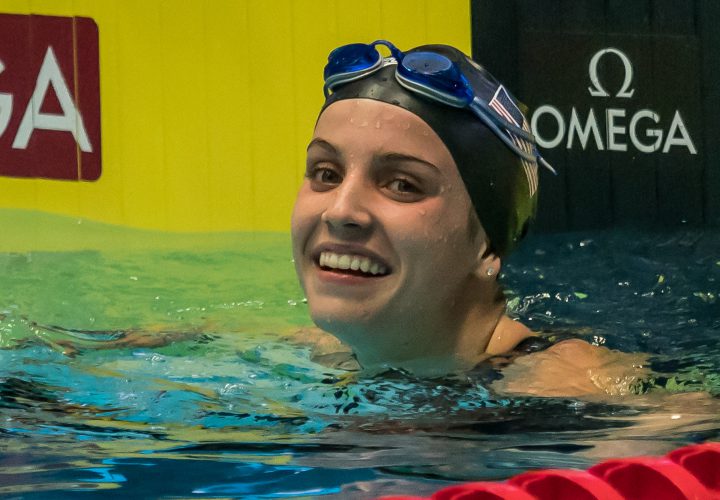 Photo Courtesy: Peter H. Bick
By David Rieder.
Just 15 years old, Regan Smith had made an exclusive team, the one consisting of only the two best swimmers in each event in the United States. She had admired the Katie Ledeckys and Simone Manuels of the world the way any teenage swimmer might—and now, all the sudden, she had become their teammate.
It's an opportunity few get at her age—in fact, in the previous decade, only Ledecky and Elizabeth Beisel had made a U.S. World Champs or Olympic team as 15-year-olds. And if Smith was star-struck or at any point overwhelmed, she sure didn't show it.
Smith had made the World Championships team in the women's 200 back, cutting a full second off her lifetime best to finish second behind Kathleen Baker at U.S. Nationals. She got to Budapest and kept getting faster, cutting her lifetime best a second and a half further and setting her first World Junior Record with a time of 2:07.19 in the semi-finals.
She ended up falling to eighth in the final, but from that entire World Championship experience, Smith gained incredible confidence and, in her own words, a sense of "belonging."
"Before Worlds, I honestly didn't speak on trips. I was so shy, so introverted. I wasn't very outgoing," Smith said. "On past trips and camps that I'd been to, I'd always felt like I didn't have a place. I was always scared I wasn't good enough. And then going to Worlds, it was so great. Everyone was so supportive of me, and I really felt like I was doing great things for Team USA."
"I think the experience was tremendous for her," Smith's coach, Mike Parratto said. "The team was great with her—they knew she was the youngest on the team. The coaches were very good, the entire staff. Many of the athletes took her under their wing and helped her with what their experiences were, which I think was very valuable."
All that, an opportunity she never thought she'd get. So convinced was Smith that there was no chance she could qualify for Worlds that she scheduled drivers' ed like any normal 15-year-old might for late July.
No, the meet Smith had her sights set on qualifying for was one much closer to home, the World Junior Championships in Indianapolis.
"I think her whole focus this summer was to try to make this team," Parratto said. The intention was to always come to the Junior World meet, be with the kids her own age, enjoy the experience. She knows a lot of these kids from being on the National Junior Team the last two years. I think this is ideally where she wanted to be and it was a bonus to make Worlds."
Smith's teammates this week in Indianapolis might be much more her contemporaries than those on the senior World Champs team last month, but she is still the second-youngest on the team, only older than distance swimmer Chase Travis.
At the World Championships, Smith was already good enough to make the final. At the World Junior meet, Smith has been the superstar, at least in the backstroke events.
In the 100 back, Smith battled Canada's Taylor Ruck stroke-for-stroke the entire race before edging just ahead in the final strokes. She got the win in 59.11, 0.12 ahead of Ruck and 0.17 faster than the Junior World Record that Ruck had set in the semi-finals.
How about some historic perspective? The time was a 15-16 National Age Group record, breaking the mark of 59.18 set by Missy Franklin—one year before she went on to win Olympic gold.
Oh, and about 40 minutes after the 100 back final, Smith swam even faster. Leading off the U.S. mixed 400 medley relay—and coincidentally, again swimming next to Ruck—she touched in 58.95. The time does not officially count as a FINA World Junior Record, since she was leading off a mixed-gender relay, but look at where that time stands.
In the world this year, eighth.
In history, 16th.
Among Americans all-time, fifth (behind Franklin, Baker, Olivia Smoliga and Natalie Coughlin)
Coughlin, remember, was the Olympic gold medalist in the event in both 2004 and 2008, and her all-time best was 58.94—just one hundredth quicker than the 15-year-old from Lakeville, Minn.
One day later, Smith again tackled the 200 back, a race where she entered with little chance of being beat. Her only competition: the clock, and specifically, one 16-year-old Australian.
Remember the World Junior Record that Smith set in the 200 back semi-finals in Budapest? Well, that lasted all of 24 hours, before Kaylee McKeown roared home on the last 50 meters in the final to finish in 2:06.76 and take down Smith's mark.
McKeown's record, Smith, admitted, was on her mind as she went into the 200 back final in Indianapolis.
"I knew that it would be a huge swim for me to drop even more than I did at Worlds," Smith said. "I didn't think it was out of the question, but I knew I'd have to do a really great swim to do that."
Smith attacked the race from the start and split 1:01.49 at the halfway point, a half-second quicker than she had swum on her way to her best time in Budapest. But she paid the price coming home and ended up finishing just a bit off her best in 2:07.45.
As Smith came in well ahead of the pack for gold, another young American was working some magic in the next lane over. Alex Sumner split 32.27 on the last 50, tops in the field, and pulled into the wall at 2:09.04, good for a silver medal.
As soon as Smith and Sumner saw the results, the two raced to the lane line separating lanes four and five to embrace each other. Smith screamed, "I'm so happy for you!"
"She's been killing it," Smith said of Sumner. "She's dropped, what, like two or three seconds in the summer alone. It was insane."
Smith still has the 100 fly, 50 back and a couple relays to go this week, but it's the 100 and 200 back that have turned her into the newest American teenage swimming darling over the past two months. And as for what she could potentially accomplish in those events over the next few years, setting limits seems foolish.
After all, she arrived at the same IUPUI Natatorium back in March for Sectionals with lifetime bests of 1:00.26 in the 100 back and 2:11.41 in the 200 back—excellent for a 15-year-old but not World Championship level, no way.
Well, then this summer happened. She admitted that she's trying not to think too much about expectations for the future, but Smith's stock in swimming has skyrocketed—and she doesn't turn 16 until February.
And like most 15-year-olds, she's pumped to be that much closer to getting her drivers' license. After postponing driving school for her trip to Budapest, Smith finished the course in the three weeks she was home before Junior Worlds. She called the experience of drivers' ed "soul-sucking," but she's eagerly anticipating taking a test for her permit when she gets home.
What's been happening in and around the pool, on the other hand, has been anything but soul-sucking. As she thought about what it meant to represent even the World Junior team, Smith kept pausing and reflecting back on how far she'd come, on how much she has drawn out of her swimming-related experiences over the last month.
She has come into her own as an elite swimmer but also as a confident young woman and as a leader.
Yes, as a leader. Even as one of the youngest on the World Junior team, she's made a point of being there whenever she can be for any of her teammates.
"All I want to do is be a good person, be a person who talks to people if they're nervous or if they're having a bad day or if they had a bad swim or something," Smith said. "I just want to be there for other people, and in the past I wasn't because honestly I was too scared to talk to other people, so that's really what I want to do now—talk to people and help them if I can."
As for what's happened in the pool, Regan Smith finally convinced herself this summer that, indeed, she's good enough—good enough, in fact, to swim with the best at the world.
And through Nationals, World Championships and now the World Junior Championships, she's done an incredible of convincing the world that she belongs.