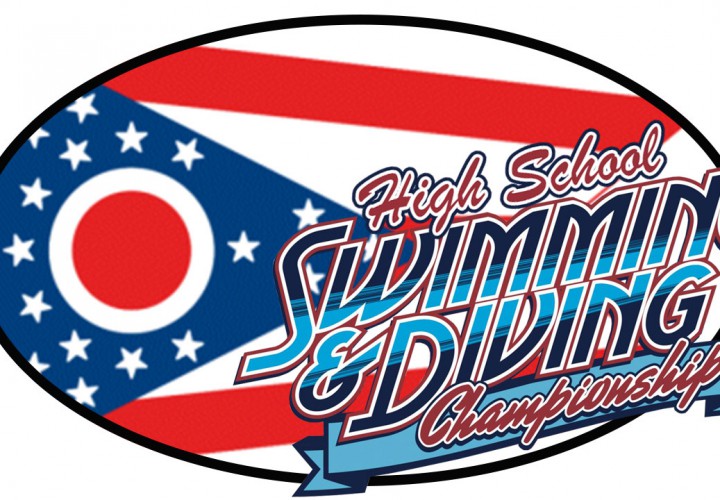 CANTON, Ohio, February 21. CONTINUING their remarkable streak, the Gates Mills Hawken Hawks gained their 16th straight Division 2 title–plus 18 out of 19–at the Ohio High School Division 2 Swimming and Diving Championships Feb. 20-21 at the C.T. Branin Natatorium in Canton. The Lumberjacks of Dayton Oakwood were successful in defending its boys championship.
Girls
The Hawks secured their 16th banner in a row with 217 points, ahead of another Gates Mills school, Gilmour Academy (193). Following closely in third was Dayton Oakwood (189), with Granville five points back (184). Cincinnati Mariemont grabbed fifth (147), one point ahead of Cole School for Girls (146) and Cincinnati Indian Hill (145).
Scoring individual wins for Hawken were sophomore Claire Doerr (500 free, 4:52.14) and freshman Crile Hart (200 IM, 2:02.96). Hawken also gained valuable relay points with third-place showings in all three relays (200 medley, 1:47.83; 200 free, 1:37.49; 400 free, 3:31.40).
Hannah Stevens, a Lexington senior who has committed to Missouri in the fall, set the only state record in the girls portion of the meet with her 53.87 in the prelims of the 100 back. That erased the 54.73 mark she set last year. She finished first in this year's finals with a 54.00. Stevens also captured the 100 free title with her 50.06.
Claire Gilmore, a junior at Mariemont, came within 15-hundredths of the 200 free state record set by Carrie Bencic last year (1:48.23) with her 1:48.38. Lima Shawnee's Emily Murphy closed out her high school career with a 22.95 triumph in the 50 free. Oakwood senior Lydia Pocisk, headed to Kansas next year, posted a winning 1:03.72 in the 100 breast.
Gilmour's quartet of junior Kiley Eble, senior Agnes Mirando, sophomore Abby Koerwitz and senior Macie McNichols combined for a 3:28.66 in the 400 free relay, coming just short of the state record in that event (3:28.52 by Hawken's 2012 team). The Gilmour quartet also grabbed the 200 free relay win in 1:35.65. Eble's 55.17 was good for first place in the 100 fly.
Granville's squad of seniors Keely Lovern, Kassandra Mestemaker and Sydney King, with junior Abby Stone swimming third, began the meet with a 1:44.93 winning effort in the 200 medley relay. Claire Schuemann from Archbishop Alter was the top diver, scoring 414.35 points.
Boys
The Oakwood Lumberjacks scored 174 points to put them ahead of Gates Mills Hawken (153), Cincinnati Wyoming (137), Cincinnati Seven Hills (127) and Cincinnati Indian Hills (98).
Oakwood was led by double event champion Brock Turner. The Stanford-bound senior set state records in both the 200 and 500 free (1:38.42 and 4:24.31). He erased Ian Stewart-Bates' 2009 time of 1:38.64 in the 200 and lowered his 2012 mark of 4:28.51 in the 500 free.Turner anchored Oakwood's 200 free relay (1:26.68) with junior Jackson Higgins, freshman Dutch Kipp and senior Andrew Krueger.
Turner also swam fourth in the Lumberjack 400 free relay with senior Wending Zhu, Higgins and Krueger. The quartet had a much tougher time of it, emerging just 2-hundredths ahead of the Seven Hills team of sophomore Matthew Marquardt, juniors Sean Gray and Pearce Kieser, and senior Paros Skoufalis (3:10.00 to 3:10.02). Skoufalos and Marquardt went 1-2 in the 100 back, ending up 3-hundredths apart (51.45 to 51.48).
Trevor Lake, a junior at Bay High School, swept the sprint free races. His 45.21 in the 100 free took out Tyler Bailey's 2009 mark of 45.44, and his 20.93 was the only sub-21 second swim in the 50 free. Cincinnati Wyoming senior Jonathan Rutter also grabbed two individual titles, posting victories in both the 100 breast (56.24) and the 200 IM (1:49.94). Next fall, Rutter will be swimming at Yale.
Versailles' Mitchell Stover, who will be attending Wright State next year, was tops in the 100 fly (50.15). University's Noah Sterling earned the diving title with 445.03 points.
Hawken's 200 medley relay of seniors Henry Senkfor, Elijah Spiro and Quinn McHale–with junior Stephen Pioro on the third leg–combined for a 1:35.06 triumph.
Results For: High School State Championships: Ohio Division 2