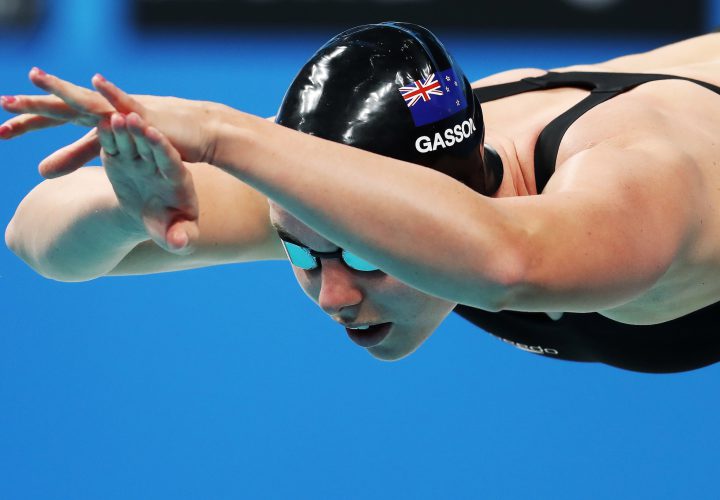 Photo Courtesy: Ian MacNicol, BW Media
Commentary by Dave Crampton, Swimming World contributor. 
Nearly 800 swimmers from multi world champions to young teens will contest the New Zealand Short Course championships at the Sir Owen G. Glenn National Aquatic Centre in Auckland from October 3.
Much of the focus will go on New Zealand-based swimmers who were at the World Championships in Budapest and excelled at the Commonwealth Youth Games. They will be led by world championships semi-finalist Bradlee Ashby, and Lewis Clareburt, the overall top swimmer at the Commonwealth Youth Games. They are 5th and 6th respectively in the Commonwealth in the 200m individual medley.
None of the New Zealand swimmers based offshore, including world championships finalist Corey Main – are swimming at these championships, and the country's most successful swimmer in recent years, Lauren Boyle, has retired.  
Also competing at her last big event before heading off to the US on scholarship will be former world junior record-holder Gabrielle Fa'amausili, and Helena Gasson, both who hold New Zealand records in their favoured events – 50m backstroke and 100m individual medley respectively.   
A Syrian swimmer based in Saudi Arabia is competing in his second national championships this year, after competing at the 2017 New Zealand Open championships. Eyad Masoud is registered with a New Zealand swimming club, and with FINA, thanks to the assistance of his coach David Wright, as swimming clubs in Saudia Arabia only register and allow locals to compete. War-torn Syria is too risky; few countries stamp visas in Syrian passports.
Others to watch include New Zealand record holders Bronagh Ryan (100m breaststroke) and Daniel Hunter (50m and 100m freestyle) who will be hoping to lower their national records in each.
At the recent World Cup in the Netherlands, Hunter swam 47.79 seconds in the 100m – the equivalent of a top 16 time at the World Short Course championships – and Ryan lowered her breaststroke record at a regional championship meet last month, clocking 1:07.79 seconds.
Multiple world champion Sophie Pascoe leads the contingent of para-swimmers for the meet. She won three gold medals and two silvers at the Rio Paralympics.  She is returning from Colorado Springs where she was preparing for the world championships in Mexico. They have now been postponed after the 7.1 magnitude earthquake on September 19.
The New Zealand Short Course championships run from Tuesday until Saturday with heats from 9am and finals from 6pm.