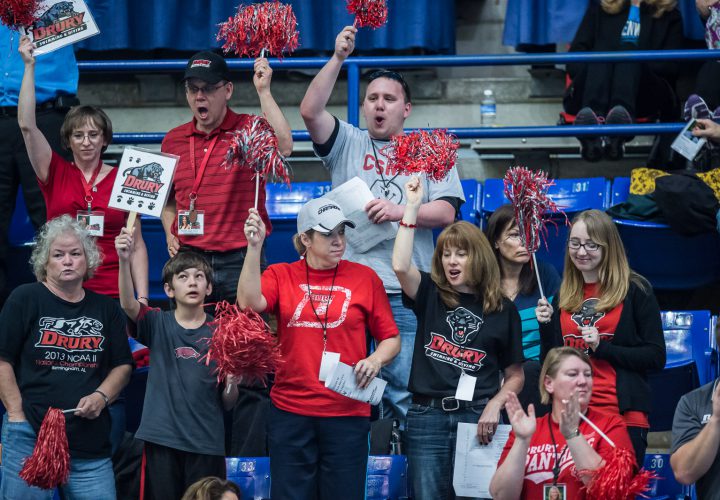 Photo Courtesy: Peter H. Bick
Drury finished their final two dual meets this week, facing a double header against two Division I schools as a final test before their conference meet and NCAA's. Check out the highlights below in this week's Division II Meet Recap.
Tampa vs. Florida Tech
The University of Tampa outswam fellow Sunshine State Conference school Florida Tech this weekend, with their #12 men winning 169-92 and their #15 women winning 159-102. The Tampa men won 11 of the 14 contested events, while the women won 8 of the 14 events. The meet served at Florida Tech's senior recognition meet and was their last dual meet before the Sunshine State Conference meet in three weeks.
Notable performance for the men included senior Martin Hammer, who won the 50 (20.39) and 100 (45.86) freestyles. He also led off their winning 200 free relay in a 20.47 to close the meet. Those 50 freestyles are some of Hammer's best in-season swims of his career and is his fastest he has been this season outside of the Spartan Invitational. That's a great swim for the senior who was fourth in the 50 free at NCAA's last year and can put him in a position to challenge for a spot in the top 3 this year. Freshman Brett Saunders won the 200 back (1:52.48) and 200 IM (1:55.38) and was part of a 1-2-3 sweep of the 100 backstroke.
On the women's side, junior Brittany Bayes did a distance double, taking the 1650 (17:56.53) and 500 (5:14.03) freestyles. Senior Marisa Barton won the 50 free (24.28) and was second in the 100 (52.96), both solid times for the All-American at this point in the year. Last year at this meet she was only 24.59 and 54.07 before going on to place second at NCAA's with a 22.88.
The Spartans will finish their dual meet season at Saint Leo University next week before the Sunshine State Conference Feb 16-19. You can see full meet results here.
Drury vs. Missouri State
The Drury Panthers split against Missouri State, with their #1 ranked women winning 129-108 and their men just falling to Missouri State 113.5 to 109.5. This was Drury's final home dual meet of the season before preparing for GLVC Championships and NCAA's.
For the Drury women, freshman Bailee Nunn continued her winning ways this season, taking victories in the 100 butterfly (54.39), 200 IM (2:02.12), and 100 breaststroke (1:02.80). That 100 butterfly time beat her own pool record and is a little over a second off of her top-ranked time of 53.16 from earlier this year. Senior Wen Xu also continued what has been a strong season for her, winning the 50 free in 23.00 and the 100 in 51.06. That 50 free time is .01 faster than her winning time from the GVLC Conference meet last year and shows she is set up to challenge her NCAA record of 22.36
The men's meet was a nail-biter down until the very end, but even with a win in the last relay Drury wasn't able to pull off the win. There were plenty of close races throughout the meet that could have handed Drury the win, most notably the 500 free where freshman Joan Casanovas was just touched out by Missouri State's Antonio Thomas, 4:26.53 to 4:26.61. Both times were under the existing pool record. The only double individual event winner for Drury was junior Rodrigo Caceres, who took both sprint free events (20.19, 44.90).
You can see full results from the meet here.
Drury vs. Mizzou
Drury followed up their meet against Missouri State with a dual against University of Missouri the following day. The Panthers weren't able to back up their performance from the previous day against the nationally ranked Mizzou team, with the men falling 139-92 and the women dropping the meet 145-83. Many of Drury's swimmers were placed in the same events as the day previous, and it was interesting to see how they responded to the multiple days of racing and the added component of travel.
There were plenty of bright spots for Drury that should give them a lot of confidence moving into conferences and NCAA's. Freshman Joan Casanovas, who was touched out the day previous in the 500 free, dropped four seconds from his time against Missouri State to win the event in 4:22.37. He also won the 1000 free in 9:11.55, a time that would have won against Missouri State by more than 5 seconds. Freshman Bailee Nunn and senior Wen Xu also both won a pair of events against Mizzou. Nunn won the 200 IM in 2:02.42, just a few tenths off her time from the day before, in addition to the 200 breaststroke (2:15.01). Xu again took both sprint free events, winning the 50 in 23.57 and the 100 in 51.52.
Full results from Drury's dual meet against Mizzou can be found here. That was Drury's final dual meet of the semester, with their next competition the GLVC Championships from February 8th – 11th.