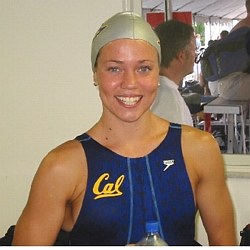 SANTA CLARA, California, June 24. BEING that more than a month remains before Summer Nationals, there were limited expectations for scorching-hot times from the Santa Clara International Swim Meet. After all, the majority of the competitors are in the middle of training, not expecting their top performances until August.
Apparently, Natalie Coughlin wasn't going to wait until later in the summer to impress. The five-time Olympic medalist from the Athens Games blazed a sensational time of 54.06 to win the 100-meter freestyle in dominant fashion on Friday night. Coughlin's time wasn't far off her American record of 53.99, set in 2002. Coughlin claimed victory over her Cal Aquatics teammate, Emily Silver (56.29).
Coughlin, though, didn't limit her evening to a sensational 100 freestyle as she later took top honors in the 100 butterfly with an eye-popping swim of 58.22. That outing broke the meet record of Inge de Bruijn, who went 58.87 in 2002. Dana Kirk was second in 1:00.06 and Mary DeScenza was third in 1:00.76.
Not surprisingly, the Club Wolverine boys put on a show, jumpstarted by the one-two finish of Klete Keller and Peter Vanderkaay in the 200 freestyle. Trailing at the 100-meter mark, Keller closed the gap on Vanderkaay during the final two laps and touched in 1:48.69, barely ahead of his teammate, who went 1:48.72. Keller and Vanderkaay were members of the American 800 free relay that won gold in Athens. Aussie Nick Ffrost was third in 1:50.28 and Great Britain's Simon Burnett was fourth in 1:50.50.
One event later, Michael Phelps unleashed a 4:11.40 effort en route to victory in the 400 individual medley. Phelps led from the start and posted a time that suggests the eight-time Olympic medalist could match the form he possessed in 2003 and 2004. Phelps was followed in second place by his Club Wolverine teammate, Erik Vendt. The Olympic silver medalist in the event, behind Phelps, Vendt was timed in 4:18.66, an encouraging performance considering he's just a few months into his return from retirement.
Another piece of the Wolverine puzzle was filled in by Davis Tarwater, who emerged on top of the 200 butterfly with a 1:58.68 effort. Aussie Josh Krogh was second in 1:59.86 and CW's Alex Vanderkaay placed third with a promising swim of 2:00.81. For the Club Wolverine women, Hayley Peirsol bested the field in the 400 freestyle as her effort of 4:11.00 was enough to hold off Kate Ziegler's 4:11.64. Peirsol's time also dipped under the meet record 4:11.15, set by Janet Evans in 1990. Australian Ashley McCleery was third in 4:13.32.
Once Nationals roll around, the women's breaststroke events figure to be intensely contested and the crowd out in California was treated to a sneak preview when Megan Jendrick and Tara Kirk tangled in the 200 breast. Jendrick, the 2000 Olympic champ in the 100 breast, prevailed in 2:28.36 with Kirk following closely in 2:28.56.
In the men's 100 breaststroke, world-record holder Brendan Hansen was edged at the wall by Australia's Brenton Rickard. Broken down from training, Hansen was timed in 1:01.64, just behind the 1:01.58 meet-record swim registered by Rickard. Hansen held the record of 1:01.80 from 2004. Third place went to Mark Gangloff in 1:02.09 and Scott Usher took fourth in 1:02.96.