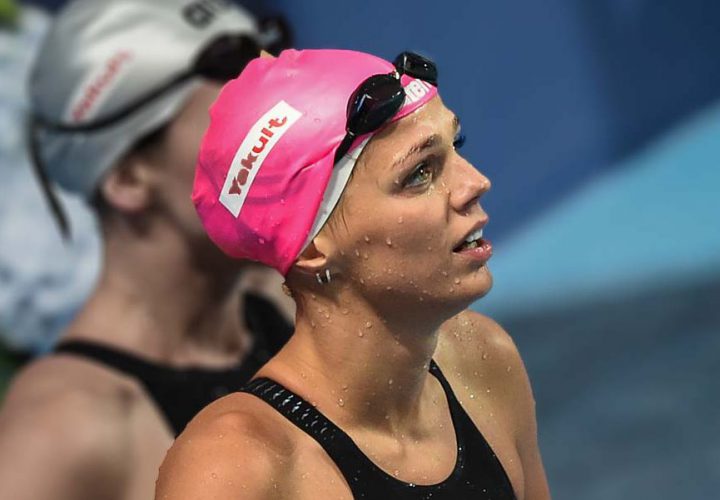 Photo Courtesy: R-Sport / MIA Rossiya Segodnya
By David Rieder.
When it comes to the women's breaststroke events this summer at the World Championships in Budapest, Yulia Efimova will be front and center. She has even earned the status of "favorite" in the 200 breast after she became the first woman to break 2:20 in the event this year at the Barcelona stop of the Mare Nostrum tour.
But wherever Efimova goes, controversy and attention will follow.
That all started in late 2013, just months after Efimova won World titles in both the 50 and 200 breast. She tested positive for 7-keto-DHEA during an out-of-competition drug test.
She claimed that it had all been a mix-up, a message lost in translation. At the time, Efimova did not know English well, having only recently begun training in the United States, and she claimed she misunderstood a salesperson at a GNC store when purchasing a supplement.
That product turned out to contain 7-keto-DHEA, and Efimova was suspended 16 months. The suspension was retroactively issued in May 2014, so Efimova was stripped of four short course world records from the previous fall. But FINA knocked the suspension down from a full two years, believing that Efimova had not intended to cheat.
So Efimova served her time and then returned to the sport in 2015. At the World Championships in Kazan, she won gold in the 100 breast.
But in the midst of her final preparations for the Olympics in Rio, Efimova was suspended again, this time after meldonium was found in her system. That decision was handed down in March, but Efimova claimed innocence. Since meldonium had just been added to the WADA banned list, there would be controversy.
Indeed, Efimova would eventually have her suspension lifted and then receive clearance to compete. But in July, after the McLaren report came out, she was again barred from the Olympics and lost her initial appeal, but she was allowed to swim last-minute, receiving final clearance during the Opening Ceremony—less than 48 hours before her 100 breast prelims race.
Then came Lilly King. After she finished barely ahead of Efimova for the top seed in both the prelims and semi-finals of the 100 breast, the two exchanged finger wags, and the ever-brash King made it known to the world that she thought she didn't think Efimova belonged at the Olympic Games.
"It is unfortunate that this controversy going on in the sport right now," King said. "It was the IOC's decision (to allow Efimova to compete), and I'm going to respect that decision, even if it's something I don't agree with."
One day later, in a hyped-up finals showdown, King won gold, beating Efimova by a half-second. In celebration, King slapped the water in Efimova's lane but did not offer any congratulations. Later that night, the two sat feet away from each other during an extremely awkward press conference and offered no apologies.
Was Efimova a cheater who did not deserve to be competing in the Olympics? Or was King perpetuating bad sportsmanship and tarnishing Efimova's legacy?
Efimova later took a silver medal in the 200 breast and went on to admit that it hadn't been an easy week with her last-minute clearance to compete and the drama with King.
In the months since Rio, Efimova has hardly been heard from outside the pool, but in it, she's made her intentions clear: She's gunning for gold this summer at the World Championships in Budapest.
Exactly how the 100 breast will shake out, it's too early to tell for sure. Wait at least until after U.S. Nationals later this month, where King and Olympic bronze medalist Katie Meili will compete for spots in Budapest.
In the 200, though, it's hard not to like her chances. Efimova's time from Barcelona was 2:19.83, two seconds faster than anybody else has swum this year. (British teenager Jocelyn Ulyett ranks second at 2:22.08.)
It's not like a ton of strong competition is waiting in the wings. Neither 2015 World Champion Kanako Watanabe nor 2016 Olympic gold medalist Rie Kaneto have competed this year, and world record-holder Rikke Moeller Pedersen hasn't broken 2:20 since 2014.
As for the Americans, Meili has been the best of the bunch this year, currently ranking fifth in the world at 2:23.18, but the women's 200 breast was the only swimming event, women's or men's, where no American made the final in Rio.
The gold medal, then, is Efimova's to lose.
And the more attention she creates for herself in the pool, the more negative attention she will get outside of it. She was booed heavily in Rio and could be booed again this summer in Budapest. Fans and pundits will undoubtedly label her a "cheater." Her races against King will be among the most anticipated of the week.
Yulia Efimova has won three World titles and two individual Olympic medals, but—fairly or unfairly—most of the attention she gets has little to do with any of those awards.
All commentaries are the opinion of the author and do not necessarily reflect the views of Swimming World Magazine nor its staff.