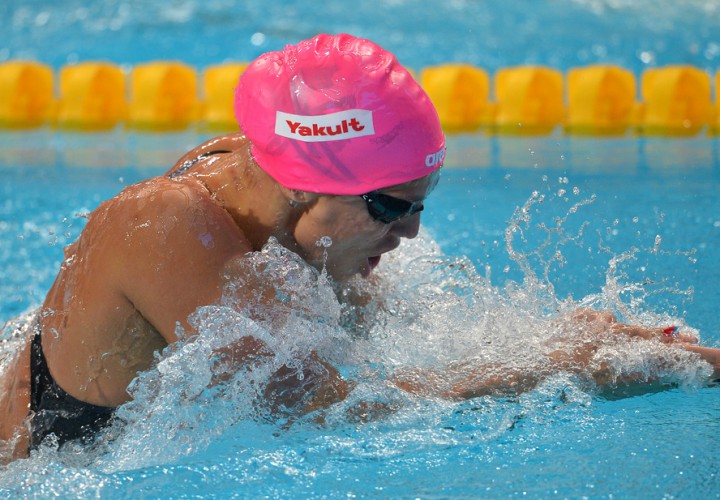 Photo Courtesy: R-Sport / Mia Rossiya Segodnaya

Editorial Coverage Sponsored By FINIS
Russia's Yuliya Efimova has been caught up in the rampant amount of positive tests for meldonium that has recently taken place among Russian sports stars since the drug moved to the prohibited list this year according to Russian media Sports Express.
Efimova, who already served a 16-month ban for a positive test for DHEA steroids, could face a lifetime ban after what is being reported to have been an in-competition positive test.
"The Federation is aware that Efimova tested positive for meldonium," the Russian swimming federation stated through a spokesperson.
This is not likely the last Russian swimmer to be named as one of the 100 cases that have tested positive for meldonium. There could be a lot more Russian swimmers named if rumors Swimming World has heard turn out to be true.
Today, the Russian Swimming Federation confirmed Efimova's temporary suspension, and pointed to the fact that many Russians swimmers have trained outside of Russia as the reason for the positive tests.
"In connection with the publication appeared in the media concerning Yulia Efimova, All-Russian Swimming Federation informs that it has received from the International Federation of FINA documents confirming the temporary suspension from competition athletes in connection with a possible anti-doping rule violation.

In order to obtain information with the explanation for this situation, the President of the WFTU, Vladimir Salnikov will meet soon with leaders FGBU "Center of sports preparation of national teams of Russia" and the Ministry of Sports of Russia. In September 2015, according to the approved individual plans, a number of swimmers was sent for training abroad. Ensuring the preparation of this group of swimmers has been fully taken FGBU "Center athletic training teams of Russia" and was appointed curator of the official of the group Sergey Ilyin."
Efimova swims for the Trojan Swim Club in Southern California here in the United States.
"I am obviously disappointed if the reports are true," Trojan Swim Club head coach Dave Salo told Swimming World. "Since coming to the United States to train there is an awareness that anyone training in the USA will be subject to regular testing unlike the circumstances almost anywhere else in the world. Yulia, like everybody else in my Trojan Swim Club, are subject to testing often by USADA/WADA on a nearly weekly basis.
This time around, Efimova is one of nearly 100 cases of athletes nailed for testing positive for meldonium since the drug moved from being controlled to prohibited this year.  The most visible case being tennis star Maria Sharapova, who failed a drug test for meldonium at the Australian Open.
Meldonium has been said to have been taken by Russian athletes as much as Vitamin C, according Olympic figure skating champion Evgeni Plushenko on the Russian-24 broadcast network
Efimova is an Olympic medal favorite this year.  She's the top ranked swimmer in the world in the women's 100-meter breast with a 1:05.70 from the Arena Pro Swim Series stop in Orlando. She's also ranked second in the world in the 200-meter breast with a 2:21.41 from that same meet.
Efimova already lost several world records as well as European championship victories from her previous suspension.
FINA imposed a 16-month competition ban retroactive to Oct. 31, 2013 when making the announcement in May 2014. That ban also included a loss of all results since Oct. 31, 2013 that includes four European short course titles and four world records.
The European short course wins trickle down to Lithuania's Ruta Meilutyte (50-meter breast along with her 100-meter breast win), and Rikke Pedersen Moeller (200-meter breast). Additionally, Germany finished with the mixed 200-meter medley relay victory for the team of Christian Diener, Caroline Ruhnau, Steffen Deibler and Dorothea Brandt. Also, Denmark's women's 200-meter medley relay earned gold with Mie Nielsen, Jeanette Ottesen, Pernille Blume and Pedersen taking home that win with Russia losing the world record in that event.
Overall, Efimova lost four world records. The women's 200-meter breaststroke record of 2:14.39 went back to Rebecca Soni's 2:14.57 from the Duel in the Pool. Russia also lost the mixed medley relay and women's medley relay records from Euro short course champs. Additionally, Efimova's 50-meter breaststroke record from the FINA World Cup tour was not ratified.
During her hearings with the FINA Doping Panel, Efimova plead ignorance stating that she had taken similar supplements containing L-carnitine since she was a teenager, and that a sales person at a local GNS store in Los Angeles told her that a product named Cellucor CLK was "doping-free."
Efimova then claimed that her lack of English skills helped lead her to the poor decision to take the supplement, instead of just not taking any L-carnitine at all, especially since DHEA was "clearly listed as an ingredient on the label of the product."