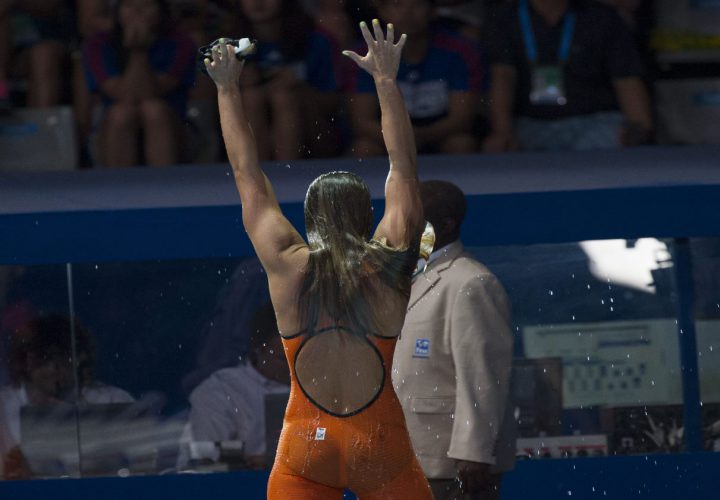 Photo Courtesy: Joao Marc Bosch

Editorial Coverage Sponsored By FINIS
With less than 24 hours to go until competition the question as to whether Russian Olympian Yuliya Efimova will be cleared to compete still remains.
It was ruled yesterday by the Court of Arbitration for Sport (CAS) that Efimova would not be eligible to compete in the 2016 Rio Olympic Games, however that decision was still pending confirmation by the review panel of the International Olympic Committee (IOC).
Russian news source TASS announced earlier today that she had won her case with the CAS and would be included on the Russian Olympic bid. Andrei Mitkov, Efimova's agent, explained to TASS that,
If Yulia has to undergo the process of matching the FINA and IOC selection criteria for the Olympics again, it is clear that she meets all these requirements and should be allowed to compete in the Olympics. Yefimova took the necessary number of doping tests – 14. All of them were taken outside Russia in the territory of the United States and were analyzed by the best US laboratories. — TASS
Russian sports minister, Vitaly Mutko, later joined the conversation by expressing his pleasure with the decision, stating, "I am glad that a reasonable and fair decision was made on Efimova."
Vladimir Salknikov, president of the Russian Swimming Federation, explained to R-Sport today that "FINA [swimming's governing body] said that it supports the rights of Efimova, Anastasia Krapivina, Mikhail Dovgaluk, Daria Ustinova and Nataliya Lovtsova to being allowed to take part in the Games and has sent its recommendation to CAS."
The final decision now rests with the IOC's three-member review panel according to Alexandra Brilliantova, lawyer of the Russian Olympic Committee, who noted "So far, no obstacles are seen."
Should Efimova be confirmed as cleared for competition she will swim in prelims of the women's 100 breaststroke on Sunday, August 7th, although she is still missing from the psych sheets.