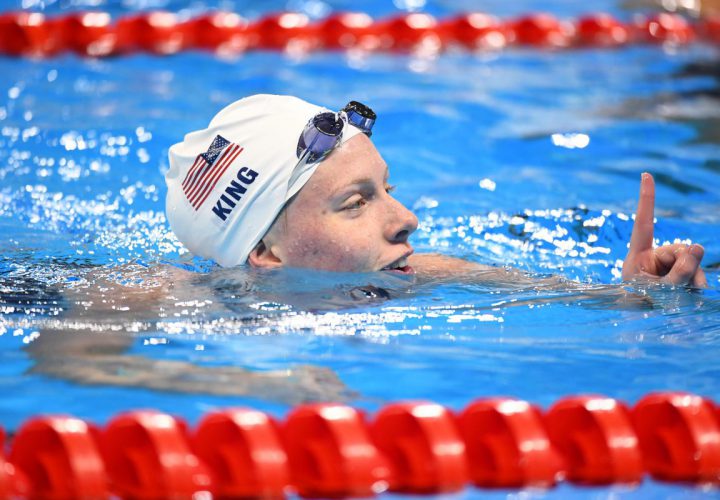 Photo Courtesy: Christopher Hanewinckel-USA TODAY Sports

Editorial Coverage Sponsored By FINIS
By David Rieder.
Lilly King and Yulia Efimova have yet to go head-to-head at the Olympics or at all this year—or even at any point since the 19-year-old King began her rapid ascension to the forefront of international breaststroke.
And up until the night before the swimming competition started at the Olympics, it didn't even appear the two would have a chance to race in Rio.
Efimova had been ruled out of the Olympics two weeks earlier after the release of the McLaren report, which had revealed incriminating details of Russian systematic doping. Any athlete who had previously tested positive was out, and Efimova served a suspension from 2013 to 2015 after testing positive for 7-Keto-DHEA.
But Efimova got back into the Games on a last minute appeals process. During the first two days of the Games, start lists have been continually edited as the seven originally-banned Russian athletes were returned to their lanes. Efimova, the second-fastest swimmer in the world in the 100 breast this year, drew heat 5, lane 6 for the event's prelims, before which she was thoroughly booed.
In each of the first two rounds of the 100 breast Sunday, Efimova posted the top time so far, and then watched King post a slightly quicker time in the next heat. King was the top seed out of prelims with a 1:05.78, just ahead of Efimova's 1:05.79. Neither swam much faster in the semifinals, with King clocking in at 1:05.70 and Efimova at 1:05.72.
After her semifinal, Efimova sped through the mixed zone, stopping only to say two words: "After finals."
King, however, fulfilled all her media obligations, and by the time King reached the section where the American press had set up, she was already the talk of social media in the U.S. after NBC cameras caught King wagging her finger at the television in the ready room as she saw Efimova finish.
King gave the entire backstory.
"This morning, I got done with my finish, and I kind of waved my finger a little bit, number one—because that's kind of how I am," King said. "Just now, Yulia got done with her swim, and she starts shaking her finger. So I look at the TV, and I start shaking my finger. I got done, and I beat her time, and I started shaking my finger again."
The world interpreted King's take on NBA Hall of Famer Dikembe Mutombo's signature gesture as calling out Efimova for her doping history. Was it?
"I don't mind if I am stirring it up," King said. "That's just my personality. I'm not the sweet little girl—that's not who I am. If I do need to stir it up to put a fire under my butt or anyone else's, that's what I'm going to do.
Even as she tried to skirt the issue of doping, King made abundantly clear that she's not on board with doping in swimming, and that she believes Efimova deserves to deal with the consequences of her record.
"It is unfortunate that that's going on in the sport right now," she said. "It was the IOC's decision [to allow Efimova to compete], and I'm going to respect that decision, even if it's something I don't agree with."
Of course, with King preparing to swim the biggest race of her life tonight, she naturally hopes to avoid any distractions from the task at hand. But she sees the Efimova situation as motivating, and she knows exactly what will be coming at her in the final.
In swimming almost identical times in the semis, King went out in 30.69 and came home in 35.01. Then there was Efimova, out in 31.86 and back in a ridiculous 33.86.
King knows exactly what will be going on behind her in the final, but she won't concern herself with anything out of her own control.
"I'm just going to stick to my race plan," King said. "I know that I have a great last 25. Hopefully get ahead, stay ahead—that's always been my tactic, so hopefully it works out."
King currently ranks first in the world at 1:05.20, a half-second ahead of second-ranked Efimova (1:05.70). But Efimova seems to have something left in the tank, and defending gold medalist and world record-holder Ruta Meilutyte will be looming in lane six.
"I want to go a 1:04," King said. "Felt pretty good [in the semifinal], so 1:04 is definitely in the tank for tomorrow. That's what I'm looking for."
Don't be surprised if it takes something that fast to win gold.
CLICK HERE TO VIEW MORNING RESULTS