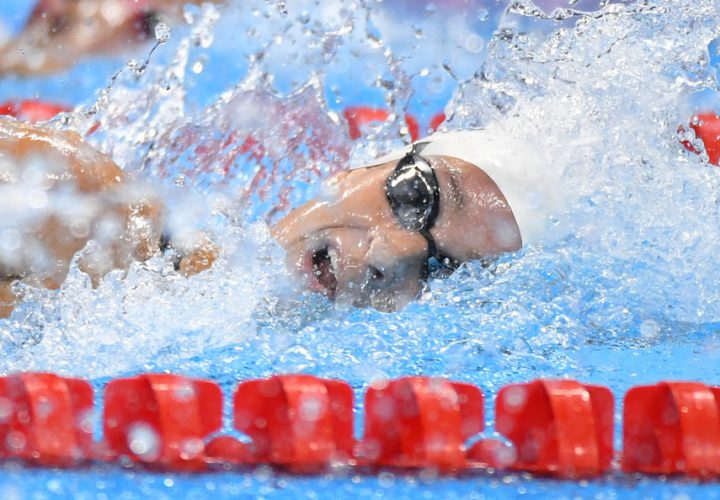 Photo Courtesy: Christopher Hanewinckel-USA TODAY Sports


Welcome to Swimming World's Set of the Week sponsored by Commit Swimming.com! This week's set is an approach to mile pace that lets your athletes reset their stroke technique at the beginning of each round before going into pace work.=
Each round of the set has two parts: the first is focused on drill work and lengthening out your swimmers' stroke while wearing a snorkel before descending into pace work. Use the drill and distance per stroke work with the snorkel as an opportunity to remind your athletes to stay long and finish every stroke, particularly when they are using paddles.
The second half of the set has some negative split pace work to gear up followed by a straight 300 at mile pace to end each round. Take a minute rest between each round to reset before attacking the next one. Each phase of the set is 1350 yards, making the entire set just short of 4000 yards. Take a look at the set below:
3 Rounds:
8 x 25 w/ snorkel, odd: drill/even: dps on :25
4 x 100 desc w/ snorkel and paddles on 1:15
Rest :30
3 x 150 swim, negative split 2nd 75 at mile pace @ 1:50
300 at mile pace on 3:30
1:00 rest between rounds

LEARN MORE ABOUT WORKOUTS FROM COMMITSWIMMING.COM
Commit Swimming's Mission
Commit Swimming builds innovative software for our sport, bringing 21st-century tech to swimming.
Every dang day Commit strives to improve technology in swimming, pushing the boundaries of what has been done before. For far too long swimming software has lacked creativity and simplicity. It is our goal to change that by delivering products that dazzle you with their simplicity and elegance.

All swimming and dryland training and instruction should be performed under the supervision of a qualified coach or instructor, and in circumstances that ensure the safety of participants.