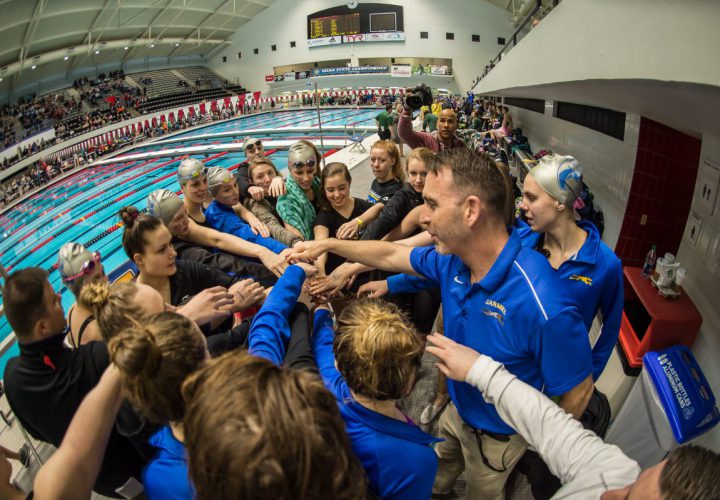 Photo Courtesy: Peter H. Bick
Agon is the proud sponsor of all high school coverage (recruiting, results, state championships, etc.) on SwimmingWorld.com. For more information about Agon, visit their website?AgonSwim.com.?National Records for High School Are Pending Application Verification.? Click Here to Learn More
By Guerby Ruuska, Swimming World College Intern.
There are 32 teams in the NFL. There are 32 national teams that have participated in each FIFA World Cup finals tournament since 1998. And now, the Carmel girls swim teams have accumulated 32 Indiana state championship titles.
Not familiar with Carmel's swimming history? Well, maybe you heard something about it back in 2015, when Carmel had a team of girls with enough speed and depth to have placed 4th at the NCAA D1 National Championship. Although Carmel has not had that same depth of talent since, they still manage to win state titles consistently– 32 straight to be specific.
But in the recent years, it's been less about Carmel's high school team and more about Carmel swimming as a whole. Carmel has become dominant in all aspects of their swimming– from age group state to senior state to the national level.
"The amount of thought and effort that goes into the Carmel Swim Club and Carmel High School swim team; success is not an accident," Carmel head coach Chris Plumb said. "The staff, parents, and athletes work together to make Carmel swimming a success."
You could call winning a state championship once or twice an accident but Plumb is correct when he says after winning 32 times (on the girls side), there's a magical recipe at work here.
That 2015 squad of Carmel girls are now making a huge impact in D1 swimming. Amy Bilquist is one of Cal-Berkeley's finest freestyle sprinters and backstrokers. The Burchill sisters – Sammie and Veronica – who now swim for the Georgia Bulldogs. Older sister Veronica has asserted herself as UGA's butterfly star. At the University of Texas, Claire Adams has turned herself into the team's most versatile swimmer. Alex Clarke went on to swim for Purdue and Emma Nordin is now competing for Arizona State University.
"They just made each other better because they all hated to lose," Plumb said. "There was some incredibly fast swimming in workouts"
But this was not just a special youth movement for Carmel, they continued to develop talent after talent after the graduation of the aforementioned standouts. The 32nd state title wouldn't have come without the help of junior Kelly Pash and senior Trude Rothrock. Rothrock, gearing up to swim off to the University of Tennessee, ended her high school career with 10 state championship medals. Pash won the 100 and the 200 freestyle events and helped Carmel take away victories in the 200 freestyle and 400 freestyle relays as well.
"We take the long view and develop talent and program over years and methodical development of our athletes," Plumb said regarding the program's consistency.
Plumb and his gifted staff are always looking for different ways to take Carmel swimming even further. This has resulted in putting more emphasis on the boy's team, which had experienced a dry spell a few years back.
"We recognized a few years ago we needed to put focus and energy into developing the boys and we did that in a variety of ways," Plumb said.
How did Carmel boys put themselves back on the top as the state's best? it was with the help of two move-ins. Now a Harvard freshman, Charles Vaughn, and Texas commit, Drew Kibler.
This past weekend at the IUPUI Natatorium in downtown Indianapolis, the stands were filled to see Carmel boys dominate the state meet, but people were not just there to see Carmel swimming, all eyes were on senior Kibler, who surged his way to two national records, leading his team to a 4th straight championship title.
The 2018 Carmel boys team is similar to the girls team of 2015. Carmel guys are back on top, which is not something a lot of people like to see.
"We are the least-liked team in the state of Indiana which just brings us closer as a team," Plumb commented. "And it allows us to choose the high road. It makes us better people and a better organization."
As with any sport, when there is a dominant team, they are often looked at as the "the enemy." And with one big enemy, you will always have teams motivated topple the kings and queens. Carmel Swimming is raising the bar in Indiana– their competitors are forced to chase them down and Carmel is determined to make themselves better so that they can uphold the dynasty.
"It makes me a better coach to be challenged in some many ways. I have to keep adding tools to my toolbox to make sure they keep getting better," Plumb said. "Carmel Swim Club believes in the pursuit of excellence as a pathway to both personal success and community development. Our program teaches youth and adults the values of courage, perseverance, and team. We develop outstanding people to be leaders and influential people in society."
All commentaries are the opinion of the author and do not necessarily reflect the views of Swimming World Magazine nor its staff.