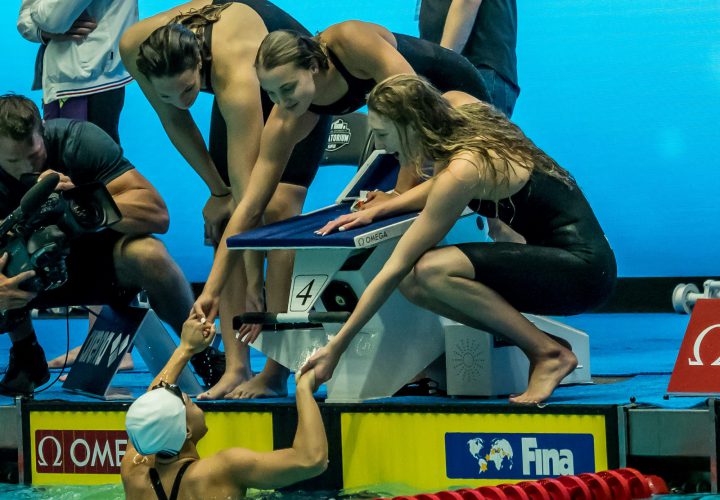 Photo Courtesy: Peter H. Bick
By David Rieder.
Taylor Ruck led off, and Penny Oleksiak went second. At the halfway point of the women's 400 free relay final, the Canadian women were already ahead by almost three seconds, a gold medal all but secured—even if Oleksiak hadn't swum quite as fast as she sometimes does.
The 3.5-second win marked Canada's fourth in a relay this week. Yes, the Canadians have entered four relays at the World Junior Championships, and they have won all of them.
Sure, Oleksiak and Ruck have been the catalysts behind this Canadian gold rush, just as they propelled their country to two free relay medals at the Olympics last summer. But look beyond their flash, and it's clear how much ripe young talent belongs to this Canadian women's team.
So far this week in Indianapolis, Canada's women have won eight individual medals. Oleksiak and Ruck have combined to win one of those—Ruck's silver in the 100 back.
The other seven medals? Those have come from the likes of Faith Knelson, Rebecca Smith, Kayla Sanchez and Jade Hannah. And it's not like these have been fluky swims or weak events—the times they've put up have been world-class, not just for their age.
Knelson won a silver medal in the 50 breast in 30.9, and two days later she won another silver in the 100 breast, posting a time of 1:07.47. That 100 breast moved Knelson into the top 30 in the world this year, and she ranks third among Canadians.
Oh, and she's 15 and coming off about as poor of a year health-wise one could have.
"I had two hip injuries, and I had mononucleosis for a month and a half, so honestly I didn't even think I would do well at our Trials," Knelson said. "I think I would owe it the most to my coach and my team—they've really just supported me throughout it. Being here with Team Canada, I wouldn't have been able to win it without them and all their support."
Sanchez, meanwhile, has won a bronze in the 50 free and a silver in the 200 IM—where her time of 2:12.64 would have been quick enough to make the semi-finals at the World Championships, while Smith picked up a bronze in the 50 fly
Those two have also been key figures on both of Canada's women's free relay wins along with Oleksiak and Ruck—and all of them swim together in Ben Titley's group at the High-Performance Center in Toronto.
For all the relay medals and all the individual success, the only major honor that had evaded Canada this week had been individual gold—until Jade Hannah tied for the top spot in the 50 back Saturday night.
Hannah, also 15, had broken 1:00 for the first time when she won bronze in the 100 back behind the USA's Regan Smith and Ruck, and she got to the wall in the one-lap race at exactly the same time as Japan's Natsumi Sakai: 27.93.
"It meant so much to me," Hannah said. "It was so exciting to be able to have the first (individual) gold medal for Team Canada."
Minutes after the 50 back win, Ruck, Oleksiak, Smith and Sanchez stepped up for the 400 free relay, and to the surprise of no one, they dominated.
After the women received their medals, they met Knelson under the diving towers. Knelson had swum on the relay in prelims before giving way to Smith in the final, so the four finals swimmers placed each of their medals around Knelson's neck and stuffed their flower bouquets into her hands.
Smith explained that this year's team is one of the smaller squads Canada has ever sent to the World Junior meet but that the group has developed a strong bond. Oleksiak added that the standard has been raised—medals, even gold medals, are the expectation rather than the exception.
"I think my favorite thing about this meet is, when someone doesn't win gold from Team Canada, they come back and they're annoyed," Oleksiak said. "I think it's because everyone here wants to do so well, and everyone wants to get the gold and represent Canada the best they can. Just seeing that they're getting disappointed from not being the best, it's pretty cool."
The standard was set with Oleksiak's Olympic gold medal in the 100 free in Rio and the other five medals the Canadian women won at that meet.
"We all want to represent Canada the best we can, and we all want to really show what we can do," Oleksiak said. "To have people on the podium is already crazy, and to have people winning is even better."
The Canadian women are not a massive squad that will overwhelm other countries with their depth in every stroke, every discipline, but they've developed some major strengths in key events.
Sanchez has reinforced a strong IM group that already included Sydney Pickrem and Erica Seltenreich-Hodgson, and Canada now has three sub-1:00 100 backstrokers with Ruck and Hannah joining world record-holder Kylie Masse in that elite group.
On the final day of World Juniors, Canada will roll out a medley relay team with Ruck swimming free or back, Oleksiak on fly and Knelson on breaststroke, and it would be no surprise to see that trio on a medal-contending medley relay at the next Olympics in Tokyo.
But it's the free relays that have become Canada's signature events, and the ascendance of Sanchez and Smith comes at a time when Brittany MacLean has retired and Chantal Van Landeghem and Sandrine Mainville have yet to commit themselves to training through Tokyo.
Oleksiak will still be the superstar, while Ruck has reminded the world how much talent she has, and Masse, you may remember, set a world record last month.
The Canadian women's team that shows up in Tokyo will surely include many of the names that have excelled in Indy this week, and those ladies have talent that could garner a large haul of Olympic medals.