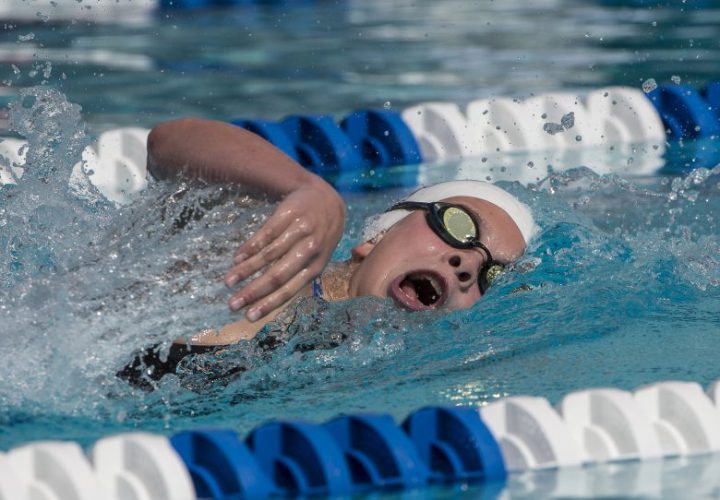 Photo Courtesy: Peter H. Bick
Agon is the proud sponsor of all high school coverage (recruiting, results, state championships, etc.) on SwimmingWorld.com. For more information about Agon, visit their website AgonSwim.com.
To report a college commitment, email HS@swimmingworld.com. Join Swimming World's Watch List
While a number of high school seniors will wait until the spring to make a college decision, a member of the Class of 2018 has already made her collegiate intentions know. Melissa Pish verbally committed to Duke University.
The high school junior is a huge pick up for the Blue Devils and will make a significant impact on the quickly rising Duke squad. Pish, who swims for Waves Bloomington-Normal YMCA in Illinois, is a strong freestyler across the board.
Her best times are (SCY/LCM):
50 Free: 23.80/ 25.48
100 Free: 50.36/ 55.91
200 Free: 1:47.13/ 2:00.58
500/400 Free: 4:45.87/4:13.56
1000/800 Free: 9:54.42/ 8:43.22
16500/1500 Free: 16:30.62/ 17:01.62
At Olympic Trials this summer, Pish won the first heat of the 400 freestyle in a lifetime best time of 4:13.56 to finish 24th overall. She also posted a personal best of 2:00.58 en route to a 26th place 200 freestyle finish. In addition to her Trials success she'll also arrive at Duke with some international experience under her belt, having represented the United States at FINA World Junior Championships. With some quick swims this summer and well over a year until she makes the move to Durham, Pish could be much faster by the time she enters the ACC.
With her best 200 freestyle time, she would have been a B finalist last year and Duke's top finisher in the 200 freestyle. Pish would also fall in that same range in the 500 freestyle and be a scoring miler, and the Blue Devil's fastest finisher.
The Duke women have been on the rise. Already this season the Blue Devils have three women faster than 1:50 in the 200 freestyle and four at or below 4:50 in the 500. Junior Verity Abel is setting the tone, leading the way in the distance freestyle events. Freshman Brittany Kampfer, who will be a junior when Pish arrives, is on Abel's toes.
Pish said of her verbal commitment, "I really like the positive, upbeat atmosphere of the team. The academics are unique…Overall, Duke felt comfortable, and a place where I will fit in and excel."
To report a college commitment email HS@swimmingworld.com.