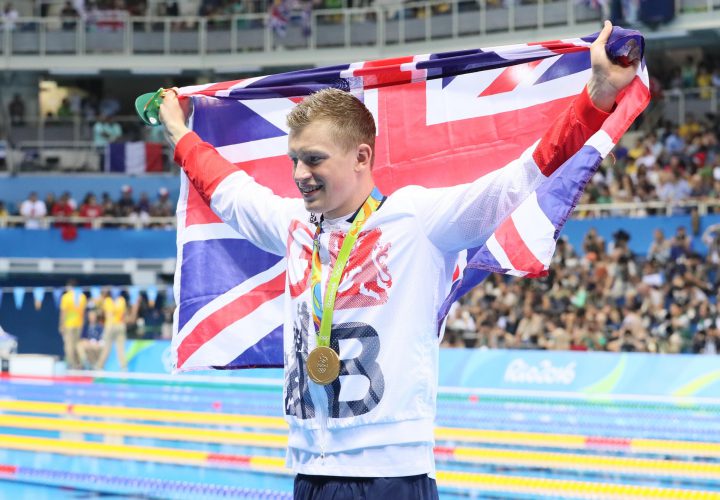 Photo Courtesy: David E. Klutho-USA TODAY Sports
World Record Holder Adam Peaty has been awarded, if possible, something even more prestigious than his Olympic gold medal in the 100 breaststroke at the 2016 Olympic Games.
While 2017 has still been a great swimming year for Peaty after winning two golds at the World Championships and breaking the legendary 26-second barrier in the 50 breast, he has now earned the honor of MBE.
The news was originally announced by British media in December of 2016. Peaty will receive the honor on Oct. 11:
According to Gov.uk, the Member of the Order of the British Empire (MBE) is given by the Queen. "[It is] Awarded for an outstanding achievement or service to the community. This will have had a long-term, significant impact and stand out as an example to others."
And it is clear that Peaty's achievements over the last four years will certainly have that lasting impression. In the pool, his impact is evident. After his successful run in Rio, his hometown threw him a parade to show their support.
Ever since, the British hero has truly been leading the British Men's National Team to international prominence. His leadership and impact on the Brits' medal haul is unique and only getting started.
To date, Peaty has contributed three Commonwealth Games, nine World Championship and two Olympic medals to his country. Oh, and the man doesn't know what it is like to get a breaststroke bronze medal on the international stage.
But Peaty has also contributed much more than fast relay splits and podium-topping races to Great Britain. He does a significant amount of charity work as well. In February of this year, Peaty became an ambassador for the Donna Louise Children's Hospice in Staffordshire.
"Like most people, I thought hospices were sad places, but the Donna Louise is a real surprise – full of colour and fun. The staff all work really hard to make special memories for the children while they are staying there and you can see how much they benefit from the support.
"I feel honoured to be a Donna Louise champion and look forward to supporting the charity in any way I can," Peaty said in February.
Peaty has also teamed up with his longtime coach Mel Marshall to raise money for underprivileged children in Africa. The pair, with a team of leaders, travel to Zambia to perform 50 hours of sport over a five-day span.
Up next? Peaty will head to the 2018 Commonwealth Games after his stop at Buckingham Palace. He will look to lead a strong men's squad to more golden opportunities.