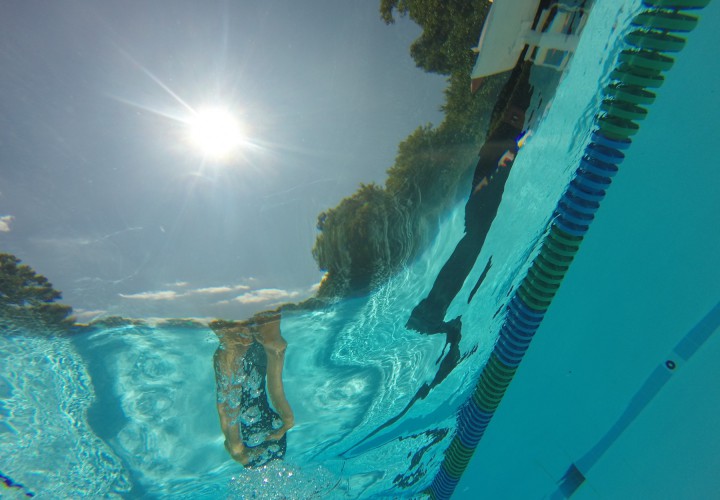 Photo Courtesy: Cathleen Pruden
By Rozann Kraus, Swimming World Guest Contributor
I swim to relax. A professional dancer, I jog for my heart, bike for transportation, take class, teach, choreograph and stretch. Every day. So when I've finished my daily triathlon, I ease in the pool to relax.  No gravity.  No honking horns or potholes. No gale force winds.
In my other life pursuits, I push, I work hard, I judge and evaluate. In the pool, I just swim. Mindless, mostly effortless.
I've done this for years. My dressing times often intersect with Masters swimmers' (even the name is intimidating). Flushed and breathless, they spend hours doing laps, watching the timers, tallying tenth of seconds.  They are also my friends.  I confuse them by not caring how fast I swim, or that I only do one stroke.
The love of my life has always been a swimmer. That's mostly why I learned how to float in a vaguely forward direction. We'd go the pool together; he'd work out with the team. I'd take the empty lane and do my damp meditation. I'd get a long shower and have time to dry my hair, spin my suit and get to know the desk monitors, while Dan finished his 5,000 (5 million?) yards at 90 percent.
Now in our 60s, the routine continues.  A couple of years ago, Dan found a Masters' team in an area where we often spend weekends.  Six lanes for the workout, two for me to do my mild back and forth. Not in a large city, this team was always eager for more members. Dan, the seriously good backstroker, was immediately welcome.  About a year after I began coming for my parallel swim time, I was greeted by the ever upbeat coach. Both social animals, we had been friendly in the halls and at a few non-swim events.
As I got my kickboard, he approached, "Hey, Rozann!  I was wondering; what're your times?" I glazed over, then recovered. "Well, I swim for 10 minutes, kick four laps, stretch for two minutes, take an 18 minute shower.  That makes… 34 minutes. Sometimes my shower is longer."
Still in his ever cheerleading mode, "No, I mean how fast do you swim?"
I honestly had no idea. Seems they needed someone my age for a relay race.  As prep, there was really informal alumni meet in a few weeks; I could just jump in and get timed.
"Only if it's one length. And I can't dive in." No problem. I was entered in the 25 yard open freestyle. No, I did not train. I respected the water and our cordial relationship.
I did a 25 and a 50 yard, both starting in the water.  Asked for my split, I thought they were talking about dancing.
The real race was a month away and I had yet to dive into the water. I was concerned my goggles would come off. Toes over the edge, I was told to keep looking at my feet. My second splat was better than my first, but that was all the time there was to learn.
"It's not really that different from the block." Right.
A week before The Meet, I discovered two (game-changing?) facts: to compete in relay, at least one other event must be swum; the course was measured in meters, not yards.
Between my rehearsal schedule, and the distance to the event, I had limited options.
The shortest race that day: 100-meter freestyle.  I knew I would die, but luckily, the race that 'needed' me, the 400 meter mixed medley, came first. Just showing up, I got points for the team. 
First meet, first time off the block, when do you dive in on a relay?? "No worries," from my teammates; wait until they touch the wall. I feel like an imposter. Bang! I'm third to perch. In I dive, off come my goggles, I swim and swim, get jumped over and somehow, we came in second place.  I have no memory.
Noticing my name wasn't on the roster, we ran to the main desk, while the other (real) swimmers adjusted their goggles.  As I verify my name with the lane monitors, the buzzer sounds. In go seven women.  I stand like a pre-schooler at the wrong bus stop.
"GET IN!!"  "SWIM!!"  Forty seconds later, I dive in. My goggles hold, I remember to breath after my first lap. My last lap, I actually passed two swimmers.  As I climb out, my pals are all hoots and fist bumps. By the hand-held stop watches, I did great.
"Disqualified!"  The meet's Commander in Chief addresses me. Why? For starting LATE? My first meet?
The official time got me a sixth place. My mates know what my real time was. For my next meet, I'm confident I'll dive in, goggles in place, starting with the clock. I'm still not sure about my splits.
Rozann Kraus is  Resident Choreographer at the Central Square Theater in Cambridge, MA.  Founder of The Dance Complex, she's an activist (irritant), a published author and poet as well as a dancer. Rozann's taught at many important places, all of which had swimming pools.