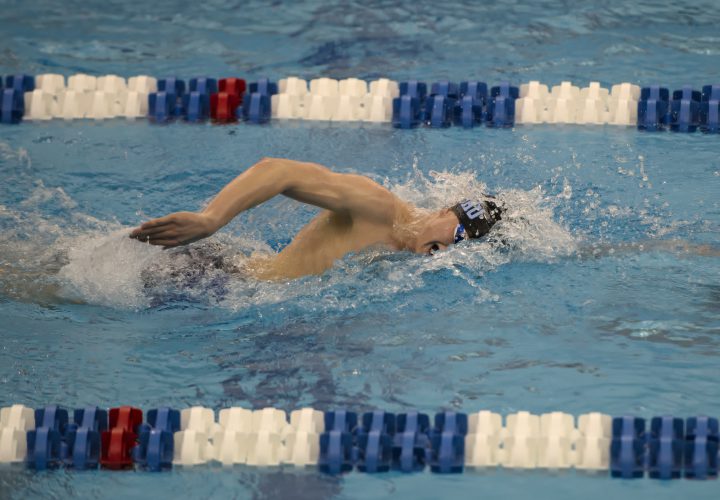 Photo Courtesy: James B Coon, JHU Athletics
NCAA DI editorial coverage is proudly sponsored by Adidas. Visit adidasswimming.com for more information on our sponsor. For all the latest coverage, check out our event coverage page.

CLICK HERE FOR LIVE RESULTS
The 2017 NCAA Division III Championships are quickly approaching. The meet will take place in Shenandoah, Texas from March 15-18. The official psych sheet can be found here while predictions for the 2017 Women's Division III Swimming and Diving Championships can be found here.
The men's meet will feature a strong group of veterans and NCAA record holders who are truly dominant in their races. The following is a list of a few men who may stand out by winning their respective individual events. But there is always a wildcard in the bunch as well, so here are the swimmers to keep a close eye on:
Night One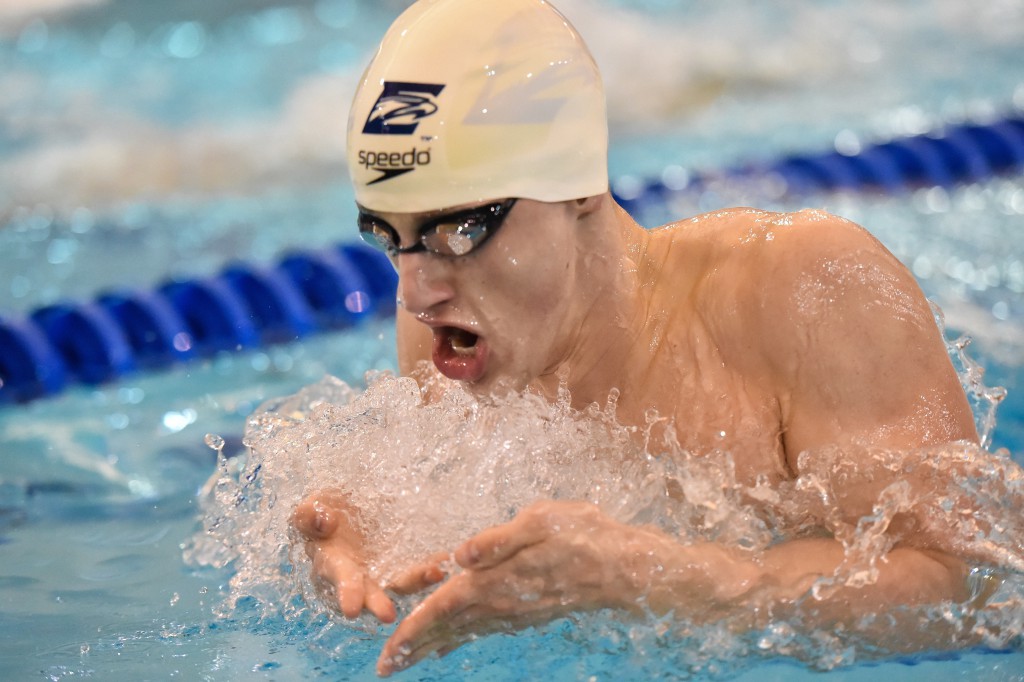 500 Freestyle
Champion: Arthur Conover – Kenyon
Team Conover, Team Baker, Team Greenhalgh…there are plenty of opinions out there on who will take the men's 500 this year. Greenhalgh is the NCAA record holder in this event from 2015 (4:20.60), and last year's finish went as follows: Andrew Greenhalgh (4:21.83), Arthur Conover (4:22.69) and Christian Baker (4:23.46). There is no doubt that these will be the top three finishers again, but in what order? Conover swims the same way every year– solid in December and four to eight seconds faster in March. There is always something left in the tank with Conover. And while he did have an incredible December meet, he should still have more in him to take this win. He comes in at the second seed with a 4:22.70. So if history repeats itself, expect Conover to scare the NCAA record and take this one. It will certainly not come easy, but he could finally earn top honors in this event.
Wild-Card: Christian Baker – Emory
Baker comes in as the top seed at 4:21.43, but has not had as dramatic of time drops at NCAAs as Conover. This is really the only reason why he should be considered the wild card here. Like many Emory men, he has continued to progress every season. As a senior in high school, Baker swam a 4:35.02. At Emory, he posted a 4:29.63 as a freshman and then raced to a third place finish at NCAAs with a 4:23.45 as a sophomore. Last year, he posted a 4:22.88 and finished third once again. Both times were to Greenhalgh and Conover. This distance trifecta of swimmers will provide some of the most intense races of the meet this weekend. But based on Baker's season so far, this could be his chance to finally beat one, or both, of these swimmers.
200 IM
Champion: Andrew Wilson – Emory 
Wilson claimed the NCAA record in this event in December standing at 1:45.57. This was a lifetime best for Wilson after posting a 1:46.23 at NCAAs in 2015. This has been a loaded event over the last four years, and with Wilson back in Division-III action this year is set to be the same way. After finishing fifth in this event as a freshman, he won the title as a sophomore. Last year, Denison's Jackson Lindell won the event in 1:46.00, but it will take more than that to win this year. Wilson will have an early challenge from Lindell, but no one will be able to hold off a charging Andrew Wilson in the back half.
Wild-Card: Evan Holder – Johns Hopkins
Holder is always the wild card in any event he swims at NCAAs. Last season, he took a trio of second-place finishes in the 200 free, 200 breast and 200 IM. While it is clear his path to an individual NCAA title would have been much easier if Wilson was not swimming this year, you cannot count him out. Lindell, Holder and Wilson will round out the top three, but expect Holder to be right in the mix. His 1:46.54 entry time is just one tenth off his lifetime best and is the fastest he has ever gone pre-NCAA. Holder also has a history of going faster at NCAAs as well, so keep an eye on his lane as well.
50 Freestyle
Champion: Oliver Smith – Emory
Smith is one of three swimmers who has broken 20 seconds so far this season. Smith holds a dominant top seed at 19.67 from December, which is just a tenth off his winning time from NCAAs last year. He came in to the meet at 19.92 last season, so it is clear that he is ready to defend his national title in this event. In this event, he should not be too challenged by any competitor in particular, but you can expect to see a handful of men under 20 seconds this year. Smith only took this event by exactly one tenth of a second last year, but he should win by a bit more this time around.
Wild-Card: Jesse Novak – Rowan
The closest challenger for Smith will be Rowan's Jesse Novak. He comes in with the second seed at 19.91. Close behind is Keene State's Ryan Boraski at 19.95. Novak won this event in 2015 with a 19.89 and finished third last year, again in 19.89. Novak knows how to go fast in chop, at night and at NCAAs, so he should have the experience to take runner-up honors here. It would not be impossible for him to take the win, clearly, as anything can happen in a 50. If he can break the 19.89 mark, it could be enough to re-claim his title.
Night Two
400 IM
Champion: Ian Rainey – NYU
Rainey, the transfer from the University of Michigan, comes in with the second seed at 3:52.08. He raced to a 3:45.61 at last year's Big Ten Championships, earning him a spot in the 2016 NCAA Division I Swimming & Diving Championships. His swim from UAAs a few weeks ago was his first short course 400 IM since this meet, so it is not completely surprising that he is still a ways off his lifetime best. He will need to come close to this swim if he wants to win, but he has an incredible amount of racing experience headed into this meet. Rainey should win this one if he has the swim he is capable of, which could go either way considering his change in training.
Wild-Card: Jackson Lindell – Denison
After a breakout meet at last year's NCAAs, Lindell is known to rest well and swim much faster in March than he has during the season. He could definitely take a run at defending his title after winning last year in a 3:47.63. He holds the top seed at 3:51.56, which is just off his seed from last year. He will be in the range of Rainey's best once again, so this one could come down right to the end. Either swim has the potential to break the NCAA record of 3:46.62 set by Kenyon's Harrison Curley in 2015.
100 Butterfly
Champion: Ben Lin – Williams
Lin earned runner up honors in this event last year with a 47.72. He has swam a 47.7 multiple times in his career, and will likely need to go just a bit faster to win this event. He holds the top seed at none other than 47.76 and by about three tenths over Johns Hopkins' Mark Wilson who finished twelfth last season. Lin has the speed and underwaters to take out this race; if he wins the 100 back and 100 fly, he will have the confidence he needs to take a stab at the 200 back title as well.
Wild-Card: Dallas Tarkenton – Mary Washington 
Out of the eight championship finalists in last year's 100 butterfly, six of them were seniors. That leaves Lin and Mary Washington senior Dallas Tarkenton for this year. Tarkenton raced to an eighth-place finish in a loaded field with a final time of 49.09 (48.55 in prelims). He made great improvements last year, and comes in at nearly the exact same seed time as last year. He will need to break 48 to win this event, as it will likely take between 47.3 and 47.7 to win this one. Tarkenton should have the confidence to go after this race.
200 Freestyle
Champion: Evan Holder – Johns Hopkins
If he does not quite put together the necessary 200 IM, Holder may have his chance at victory in the 200 free. It will definitely not come easy, but this looks like it will be his best shot at an individual NCAA title. His entry time of 1:36.93 is a full second ahead of the next closest competitor, and is just three tenths off the NCAA record held by Dennis Mulvihill of Kenyon since 1988. Holder has been at the 1:37 mark for a while, so his 1:36 leadoff was a big swim. He finished second last year and fourth in 2015. In the past, he has swam similarly in this event in December and March, so this is a good sign for him to come close to the NCAA record and earn his first individual NCAA champion honors.
Wild-Card: Christian Baker – Emory
While Baker holds the third seed in this event at 1:38.09, his best is 1:37.83 from leading off the 800 free relay at NCAAs last year. Despite seven other swimmers coming in at 1:38, he is the only other swimmer who has broken 1:38, so he should be the best chance at making a move here. He placed third in this event in 2016 and fifth in 2015, so it is safe to say that he will improve on these finishes this year.
Night Three
200 Butterfly
Champion: Christian Baker – Emory 
Baker will switch over from the freestyle show to go after the 200 butterfly on night three. His 1:48.48 from December was a lifetime best and has earned him the second seed headed into the meet. He has never competed this event at NCAAs, so it will be a new experience for him as he normally competes the 1,650. His chances of winning this event are much greater than the mile, so this is definitely a smart move for Baker considering Emory's goal of winning the team title. He will surely have the back half to finish the race so if he plays his cards right he could be a contender in this event.
Wild-Card: Jonathon Zimdars – Kenyon
Zimdars, who holds the third seed at 1:48.50, was one of the few swimmers entered to make the A final in this event last season.He finished seventh but with a 1:50.13. His entry time is a lifetime best and is a full second faster than his seed time last year. It will take under 1:48 to win this event as it did last year, so Zimdars could be in the mix as well if he continues his progression.   
100 Backstroke
Champion: Ben Lin – Williams 
Like a few other swimmers and races at this meet, Lin is the NCAA record holder in this event. His time of 47.03 broke the mark in 2015, and he then followed up with a second-place finish last year. A senior, Lin will certainly be looking to re-claim his national title in this event. His entry time of 47.56 is the fastest seed time he has ever come in with, and is faster than what he posted in the final last year. This could be a good sign of what's to come for Lin here; his efforts should earn him the win, NCAA record or not.
Wild-Card: Matthew Williams – CMS
Last year, Lin was touched out by Williams who won the event in 47.57. Similarly to Lin, his seed time of 48.69 is fast for him. Despite being third coming in, his seed last year was a 49.11. If this is any indication of his ability to go fast in March, he could take a shot at the title once again. Whether it is Williams the school or Williams the athlete, one of these two will take the win; if you want to watch a close race between two athletes battling to defend their national title, this is it.
100 Breaststroke
Champion: Andrew Wilson – Emory 
At 51.14, Wilson heads into NCAA competition with the NCAA record and top seed by three full seconds– which is a bit unheard of in a 100. In 2015, Wilson won the 100 breast in 51.72. So after a year of outside focusing and training, it is likely that there is still room to go for Wilson in this event. He could be the first Division-III swimmer to break the 51-second barrier, and could take a shot at claiming the fastest time in this event throughout all three divisions of swimming this year. Unless Wilson misses his race, there are no challengers, veterans or wild cards in sight. Andrew Wilson will be putting on a show in Shenandoah; don't blink or you might miss it.
Night Four
1,650 Freestyle
Champion: Arthur Conover – Kenyon
As the only swimmer to break 15:00 so far this season, Conover is to the mile what Wilson is to the 100 breaststroke – he is just not going to lose. The NCAA record holder, Conover comes in as the top seed with a 14:56.44. The question here is not if Conover will win, but by how much? And will he re-break his NCAA record? Following the same pattern as his 500, he has always gone significantly faster in March than he did in December. While Greenhalgh took this event last year, Conover will have the upper hand this time around. His best mile before this year was from 2015 where he swam a 15:01.24 at NCAAs and a 15:09.48 in December. While it is always possible that his current time is the best he can do, it would be very surprising if he does not go faster in Texas. 
Wild-Card: Andrew Greenhalgh – Johns Hopkins
While Greenhalgh has his experience in this event – second as a freshman and sophomore and the champion as a junior, it does not look like he will have enough to run down Cononver. He currently holds the second seed at 15:22.32, a ways off his best of 15:04.63 from 2015. But this is not unordinary for Greenhalgh, who has posted 15:22 and 15:25 seeds in previous years. There is no doubt that he will at least take runner-up honors this year, but it would legitimately take the swim of his career to win this one.
100 Freestyle
Champion: Jesse Novak – Rowan
Novak comes in as the top seed and the only swimmer currently under the 44-second barrier. He placed second in this event last year, losing only to Thomas Thetford of Washington & Lee who did not qualify for this year's meet. This makes his road to the top much easier, although there is still a group of tough competitors close behind him. Novak has posted a 43.8 twice this season, and comes in pretty much with the exact same seed time he did last year. It took a 43.41 to win last year, and this year's race should take around the same or a tenth or so slower. Regardless, Novak knows how to make it happen on this stage, as he was the 50 freestyle National Champion in 2015.
Wild-Card: Ryan Boraski – Keene State 
Boraski definitely has the potential to take this race after finishing third as a junior last year in 44.24. He posted a 44.23 in December and followed up that performance with an unrested 44.10 100 free at last weekend's NEISDA Championship. This will give him the second seed behind Novak in this event. While he has not broken 44 seconds quite yet, he is on track to do so since he is about a half a second faster coming into the meet than he was last year. Boraski will be out fast and has the chance to win the race if he takes advantage of this opportunity.
200 Backstroke
Champion: Ben Lin – Williams
Lin will be the top seed this time around at 1:45.88, which is already a bit faster than what it took to win last year. Lindell took the crown in 2016 with a 1:46.10 while Lin failed to make either final heat. Before this, Lin finished third and fourth in this event as a freshman and sophomore, respectively. He will not be able to take it too easily in the morning as the top nine swimmers are all 1:47 or better. But Lin has been this fast, achieving a best by almost a full second last weekend. It looks like his 200 is ready to race once again, so he will be in the mix for sure.
Wild-Card: Jackson Lindell – Denison 
Lindell will be looking to defend his national title in this event. He is the third seed at 1:46.68, which is a solid swim for him coming into NCAAs. This is a much faster entry time than he has achieved in the past, so he too, is on the right track here. His swim, unlike Lin, is from December indicating that he has been training straight through and will be ready to put together a fast rested swim in Texas. Lin and Lindell swim two entirely different races; Lin will be out fast while Lindell will push the last 75 to come home. If he can stay within reach, he has every chance of defending his title.
200 Breaststroke
Champion: Andrew Wilson – Emory
Once again, Wilson will sweep up some valuable points for Emory in his final race. His entry time of 1:51.15 is the top seed by over eight seconds and of course, is the NCAA record. He won the event two years ago in 1:52.97 and has executed much faster in-season 200 breaststrokes this season than in 2015. He swam a 1:54.11 at the recent UAA Championships and will keep the hype going for Emory headed into the final 400 freestyle relay.
Wild-Card: Ian Reardon – Kenyon
While it is clear that Wilson will take this one, some credit should be given to second-seed Ian Reardon of Kenyon. Last year's champion at 1:57.78, he comes in this year with a 1:59.27. This is much faster than is 2:00.20 seed from last year so he is looking to improve on his lifetime best in Shenandoah as well. He will be challenged in the race by Jacob Ball of Denison and Michael Lagieski of Wash U. – MO. Lagieski was third in this event last year and second in the 100 distance.
All commentaries are the opinion of the author and do not necessarily reflect the views of Swimming World Magazine nor its staff.