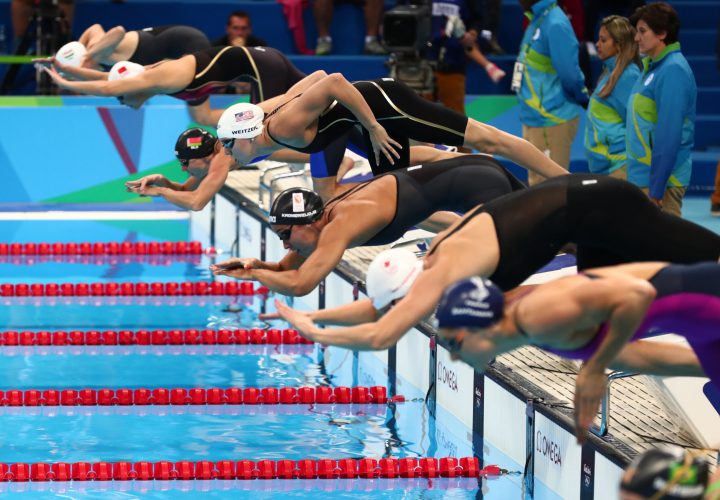 Photo Courtesy: Rob Schumacher-USA TODAY Sports

Editorial Coverage Sponsored By FINIS
Everything you need to follow along live with day seven finals of the 2016 Rio Olympic Games. Competition begins at 10 p.m. local time (9 p.m. EST/6 p.m. PST) Hit refresh for all the latest coverage.
View the full heat sheets here. Check out Swimming World's predictions for tonight's action here.
Full results can be found here. 
Scheduled Events:
Women's 50 Free FINAL
Men's 1500 Free FINAL
Women's 400 Medley Relay FINAL
Men's 400 Medley Relay FINAL
Women's 50 Free FINAL:
The torch for Olympic 50 Freestyle Champion has once again passed as Denmark's Pernille Blume continued to dominate the women's 50-meter freestyle ending the swift sprint with a gold medal. The Netherlands' Inge Debruijn is the only woman to defend her own Olympic title in the 50 free with gold medals in both 2000 and 2004. Blume led the event from prelims into semi-finals and through the last stroke of finals cultivating in Denmark's third ever Olympic gold medal at a time of 24.07.
Finishing second was the USA's Simone Manuel, who on night six made history by becoming the first African-American woman to win a gold medal in swimming, with a final time of 24.09.
Aliaksandra Herasimenia, 2012 silver medalist in this event, picked up the bronze medal with a quick 24.11.
The close times just continued as Great Britain's Francesca Halsall posted a 24.13 for fourth, just ahead of Australia's Cate Campbell's 24.15.
2012 Olympic champion Ranomi Kromowidjojo slid to sixth with a 24.19, while Bronte Campbell of Australia turned in a 24.42 for seventh.
Hometown favorite Etiene Medeiros wrapped up the top eight with a 24.69 finish.
Men's 1500 Free FINAL:
The final of the men's 1500 free was the final individual event on the docket for the 2016 Rio Olympic Games, continuing the excitement of the previous nights. Italy's Gregorio Paltrinieri charged ahead of the World Record pace for the large majority of the race, falling off pace in the only in the final 100-meters. Paltrinieri stopped the clock at a swift 14:34.57 to earn gold and become the first Italian to ever win the 1500 free at an Olympic Games.
USA distance ace, Connor Jaeger, battled for the remaining two spots on the podium throughout much of the race with Italy's Gabrielle Detti, fellow American Jordan Wilimovsky, and Australia's Mack Horton. Jaeger pulled ahead of the competition to finish second in American Record fashion with a 14:39.48, lowering his own record of 14:41.20 from last summer's World Championships.
Detti picked up the bronze medal just over a second behind Jaeger with a 14:40.86 earning Italy their first bronze medal in the 1500 free.
Wilimovsky grabbed fourth place with a final time of 14:45.03, giving him a nice competitive edge heading into the 10K Open Water competition coming up.
Horton finished fifth overall with a 14:49.54, just ahead of Canada's Ryan Cochrane's 14:49.61.
France's Damien Joly turned in a 14:52.73 for seventh, while Norway's Henrik Christiansen was eighth with a 15:02.66.
Women's 400 Medley Relay FINAL:
The women of the USA successfully continued their reign as Olympic Champions of the 400 Medley Relay but not without a challenge. Australia, Russia, and Denmark all kept a tight race throughout the 250-meter mark, but a dominant butterfly leg from Dana Vollmer separate the USA from the competition.
Simone Manuel built upon Vollmer's lead with a dynamic freestyle leg, splitting a 52.43 to secure USA's tenth gold medal in this event, and USA's 1,000th gold medal in Olympic Summer Games history. Kathleen Baker (59.00), Lilly King (1:05.70), Vollmer( 56.00), and Manuel (52.43) delivered a combined time of 3:53.13 to win the final women's race of the 2016 Rio Olympic Games.
The race for second was won by the Australian relay team of Emily Seebohm (58.83), Taylor McKeown (1:07.05), Emma McKeon (56.95), and Cate Campbell (52.17) who stopped the clock at a 3:55.00.
Denmark blew by Canada in the final 25-meters to pick up the bronze medal. Mie Nielsen (58.75), Rikke Moller Pedersen (1:06.62), Jeanette Ottesen (56.43), and Pernille Blume (53.21) posted a combined time of 3:55.01.
China squeezed ahead in a dominant freestyle leg for fourth with a 3:55.18, while Canada took fifth overall with a 3:55.49.
Russia finished sixth with a time of 3:55.66, ahead of Great Britain's 3:56.96.
Italy was eighth with a 3:59.50.
Men's 400 Medley Relay FINAL:
After a dominating win by the USA women in finals of the 400 medley relay, the men of the USA followed suit to bring home Olympic gold once again. Since the 400 medley relay was added to the schedule of events in 1960 the USA have won gold every single Olympic Games, with the exception of the boycotted 1980 Moscow Games where Australia took home the prize.
Ryan Murphy surged ahead of the competition in the backstroke leg, downing Aaron Piersol's 2009 World Record of 51.94 with a split of 51.85. Murphy's lead was crucial to the USA's success as Great Britain's Adam Peaty, World Record holder in the 100 breast, would give Cody Miller a run for his money in the breaststroke leg.
Peaty quickly closed the gap the USA created splitting a 56.59 for the fastest breaststroke split ever recorded in the history of the 400 medley relay over Miller's 59.03.
A quick exchange from Peaty to James Guy had Great Britain leading at the start of the butterfly leg, but Michael Phelps dove in to quickly close the gap, edging ahead to give Nathan Adrian a solid lead. Adrian hit the water, holding off strong freestyle legs from Great Britain's Duncan Scott and Australia's Kyle Chalmers for another USA gold.
Murphy (51.85), Miller (59.03), Phelps (50.33), and Adrian (46.74) posted a combined time of 3:27.95 to down the USA's own Olympic Record of 3:29.34 set at the 2008 Beijing Games.
Great Britain's Chris Walker-Hebborn (53.68), Peaty (56.59), Guy (51.35), and Scott (47.62) finished second with a time of 3:29.24, also under the previous Olympic Record, for Great Britain's first silver medal in the men's 400 medley relay.
Mitch Larkin (53.19), Jack Packard (58.84), David Morgan (51.18), and Chalmers (46.72) turned in a final time of 3:29.93 for a close third.
Russia picked up fourth with a final time of 3:31.30, just ahead of Japan's 3:#1.97.
Brazil finished sixth with a time of 3:32.84, while Germany took seventh with a 3:33.50.
China's relay team was disqualified.