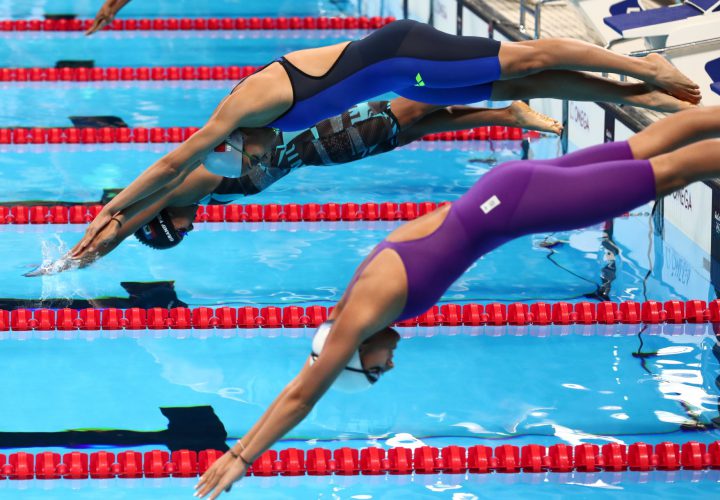 Photo Courtesy: Rob Schumacher-USA TODAY Sports

Editorial Coverage Sponsored By FINIS
Everything you need to follow along live with day seven finals of the 2016 Rio Olympic Games. Competition begins at 10 p.m. local time (9 p.m. EST/6 p.m. PST) Hit refresh for all the latest coverage.
View the full heat sheets here. Check out Swimming World's predictions for tonight's action here.
Full results are available here.
Scheduled Events:
Women's 200 Back FINAL
Men's 100 Fly FINAL
Women's 800 Free FINAL
Men's 50 Free FINAL
Women's 50 Free Semi-Finals
Women's 200 Back FINAL:
When the women of the 200 back final walked out on deck for their final swim many believed that Hungary's Katinka Hosszu was about to bag her fourth and final Olympic gold medal of the meet.
Hosszu was quick off the start, powering her way to a decisive lead with more than half a second separating her from the USA's Maya DiRado and Canada's Hilary Caldwell at the 100 turn. With 25-meters left to go DiRado gained on Hosszu, powering to the wall to out-touch Hosszu by .06 seconds with a 2:05.99.
The "Iron Lady" settled for second with a time of 2:06.05, while Caldwell took third with a 2:07.54.
Russia's Daria Ustinova delivered a final 2:07.89 to pick up fourth, while Australia's Belinda Hocking took fifth with a 2:08.02.
Kirsty Coventry of Zimbabwe picked up sixth with a 2:08.80, ahead of China's Liu Maxine's 2:09.03.
Iceland's Eyglo Gustafsdottir rounded out the top eight with a 2:09.44.
Men's 100 Fly FINAL:
The 2016 Rio Olympic Games has seen many countries receive their first Olympic swimming medals ever and the men's 100 fly final followed suit. As Michael Phelps of the USA strove to make history by posting yet another four-peat in an individual event, Joseph Schooling of Singapore was seeking his country's first Olympic medal.
Schooling dove in for finals with a purpose, leading at the 50 with the only sub-24 second split. Phelps, Laszlo Cseh of Hungary, and Chad le Clos of South Africa powered ahead, trying to gain on Schooling but it was to no avail. Schooling stopped the clock at a 50.39 to not only down the existing Olympic record of 50.58, set in 2008 by Phelps, but to earn Singapore their first Olympic medal–and gold at that!
The history didn't stop there as Phelps, le Clos, and Cseh simultaneously stopped the clock at 51.14 for a three-way tie for silver.
China's Li Zhuhao delivered a 51.26 for a close fifth place, while France's Mehdy Metella picked up sixth with a 51.58.
Tom Shields of the USA finished seventh with a 51.73, just ahead of Russia's Aleksandr Sadovnikov's 51.84.
Women's 800 Free FINAL:
History continued into finals of the women's 800 free final where Katie Ledecky was poised on the edge of a historical sweep as she walked onto deck for finals. Ledecky entered the meet in the 200, 400, and 800 free looking to repeat Debbie Meyer's 1968 sweep of the three events, a feat that only Meyer had achieved before this year's Olympiad.
Ledecky dove in the water, pulling ahead to a decisive start challenging her own World Record as she continued to pull farther and farther away from the crowd. It was clear after the first 50 that the two fights of the race would be between Ledecky and her world record and the rest of the field for second.
Basically pulling her way through the first half of the race Ledecky kept edging further and further past her world record of 8:06.68 to lower both the World and Olympic records to an 8:04.79.
After Ledecky stopped the clock Swimming World received a message from Meyer congratulating Ledecky, commenting, "Welcome to my world Katie!!!"
An astonishing 11.38 seconds separate Ledecky from the rest of the field as Great Britain's Jazz Carlin dueled Hungary's Boglarka Kapas for the silver medal. Carlin took second with a final 8:16.17 just ahead of Kapas' 8:16.37.
2012 silver medalist Mireia Belmonte of Spain delivered a final time of 8:18.55 for fourth.
Australia's Jessica Ashwood and the USA's Leah Smith posted close times of 8:20.32 and 8:20.95 for fifth and sixth respectively.
Denmark's Lotte Friis finished seventh with a 8:24.95, while Germany's Sarah Kohler was eighth with a 8:27.75.
Men's 50 Free FINAL:
Sixteen years after tying for gold in the men's 50 free with Gary Hall Jr., Anthony Ervin of the USA is back and has splashed and dashed his way to gold once again.
The splash and dash is famous for it's unpredictable results and when the men dove in for the final everyone knew it could be anyone's game. Florent Manaudou of France was quick off the blocks but Ervin and Nathan Adrian of the USA were close behind. Ervin drove into the wall with a strong kick, out-touching Manaudou 21.40 to 21.41.
Adrian posted a close third with a final time of 21.49 to pick up the bronze.
Great Britain's Ben Proud finished fourth overall with a time of 21.68, while Ukraine's Andrii Govorov was fifth with a 21.74.
Hometown favorite Bruno Fratus and South Africa's Bradley Tandy tied for sixth with matching 21.79s.
Lithuania's Simonas Bilis was eighth with a 22.08.
Women's 50 Free Semi-Finals:
The women's 50 free was the only semi-final of a night highlighted by historical finals. Denmark's Pernille Blume maintained her spot atop the leaderboard with a decisive 24.28 finish in heat two.
Recovering from an unexpected loss in the women's 100 free final, Australia's Cate Campbell returned to tonight's semi-finals with a purpose, churning out a 24.32 to pick up the second place seed going into tomorrow's final.
Reigning Olympic champion and the Olympic record holder for the event, Ranomi Kromowidjojo of the Netherlands, turned in a third place finish in heat two to qualify third overall with a 24.39.
Leading heat one was Great Britain's Francesca Halsall, stopping the clock at a 24.41. Close behind was Australia's Bronte Campbell with a 24.43.
Simone Manuel of the USA finished sixth in semi-finals with a 24.44, just ahead of Brazil's Etienne Medeiros' 24.45. Medeiros' time lowers her own Brazilian National record of 24.55 by .10.
Belarus' Aliaksandra Herasimenia squeezed in as eighth with a 24.53.