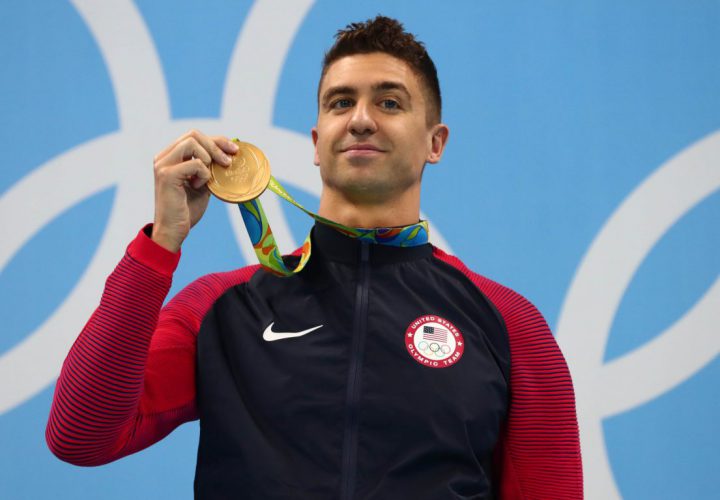 Photo Courtesy: Rob Schumacher-USA TODAY Sports

Editorial Coverage Sponsored By FINIS
By David Rieder.
Two of the biggest stars of the Rio Olympics had been upset. A third had just wrapped up a sweep of three freestyle races unseen at the Games in 48 years, all while clobbering her own world record by two seconds.
After three straight dramatic finals, the Olympic Aquatic Stadium took a brief moment to breathe, cheer and cry as an emotional Maya DiRado accepted the gold medal for her efforts in a gutsy final race of her career.
Only one final remained on the evening's program, the men's 50 free, where surely, Florent Manaudou would capture his second straight Olympic gold. After all, he won last year's World title in the event in 21.19, winning by a whopping three tenths of a second over runner-up Nathan Adrian.
The crowd stood and roared as the finalists walked out in hopes of inspiring Brazil's own Bruno Fratus, even if he was a longshot to win a medal and end the home country's medal drought in the pool that stretched back to this race at the London Olympics when Cesar Cielo got the bronze.
Whoever ended up filling out the podium, Manaudou was sure to dominate as he had in the semifinals, when he posted a 21.32 to lead the way into the final by a massive 0.14. In the final, he would undoubtedly swim faster, beat everyone by an even wider margin.
But what if Anthony Ervin won gold?
One writer made that suggestion in the mixed zone while waiting for Katie Ledecky to arrive to speak. Laughter was the response, since surely one final on the night would pass without a major upset or new world record—right?
Of course, the notoriously slow-starting Ervin promptly nailed his takeoff and entry and pulled up alongside Manaudou. Three lanes away, Adrian, Ervin's uber-consistent former training mate, was coming on strong as he always does, but this one would come down to a touch between Manaudou in lane four and Ervin in lane three.
It was almost déjà vu, Ervin swimming in lane three in an Olympic 50 free final and coming into the wall almost dead-even with the 25-year-old gold medal favorite right next to him. Of course, the last time he had been in that situation was the last time the Games were held in the Southern Hemisphere, 16 years ago in Sydney—and Ervin was 19 years old.
Ervin tied for the gold that day with training partner Gary Hall Jr. as both touched in 21.98. Ervin went on to win World titles in both the 50 and 100 free a year later, but his promising career stagnated as distractions outside the pool caught up to him.
Ervin was retired for a tumultuous eight years before the sport drew him back in. Ervin never made an Olympic team while in his 20s, but in 2012 he finally got back to the Games when he was the runner-up behind Cullen Jones in the 50 free at Olympic Trials. He went on to finish sixth in the event in London.
By the time the 2013 World Championships in Barcelona rolled around, vintage Ervin was back. He again swam in the 50 free final at the World Championships and contributed a key leg on the American 400 free relay that won a silver medal.
But then, slated to swim the same events two years later in Kazan, Ervin flopped.
The American men did not make the final in the 400 free relay at that meet, and Ervin took much of the blame with his 49.69 split, more than two seconds slower than his time from Rome. He tied for eighth in the 50 free and then lost a swim-off to Russia's Vladimir Morozov, and his meet was over.
Would Ervin, in the second act of his career, once again fade away?
Ervin picked up and left Cal, his training base since his comeback began in 2011, and headed south to train with Dave Salo at USC. Soon after, he headed cross-country to Charlotte, not far from his parents' home in Rock Hill, S.C., to train with SwimMAC and coach David Marsh.
"I got some great training when I was in LA, but moving to SwimMAC with David Marsh, he didn't tell me this until later, but he could tell my confidence was lacking—there was something missing there," Ervin said.
"He found a way to nurture that, to bring me out, to allow me to be myself more in the water instead of being something that I've not."
His mental game sharpened, Ervin knew not to panic when Manaudou got out ahead in the 50 free final. Ervin's in-pool quickness is unmatched, and he reeled in the field coming down the stretch.
16 years ago in Sydney, the men in lanes three and four touched the wall at the exact same time. This time, lane three came in one one-hundredth ahead.
Ervin's time was 21.40, his lifetime best by two one-hundredths and more than a half second faster than the 21.98 he swam in 2000.
Standing on top of the podium, the American flag went up just as it had in Sydney—but for Ervin, just about everything else was different.
"More than anything the perspective changes—it's not just me up here," Ervin said. "37 strokes, it took an enormous amount of people that loved me, wanted to see me succeed and be happy through it. Thinking of all the friends and family that supported me through all the highs and lows, that's what got me here."
Ervin became the oldest man to ever win an individual Olympic gold medal in swimming, and the only swimmer ever to win gold medals in the same individual event 16 years apart.
The previous record for longest gap between golds had been held by Michael Phelps, who won golds in both the 200 fly and 200 IM in Rio after doing the same 12 years earlier in Athens.
Phelps, the only other member of the U.S. team from 2000 still competing in the Rio Games, has vowed that he will retire after Rio and stay retired. But Ervin has done retirement before, and he's not ready to deal with that again. But four more years? He will have to wait and see.
"I can guarantee you'll see me in Tokyo in 2020," he said. "But whether I'm in a suit, cap and goggles or a suit and tie I can't tell you yet."