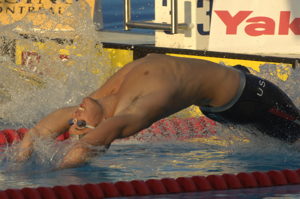 By John Lohn
Photos by Peter H. Bick
MONTREAL, Canada, July 25. HE'S the undisputed king of the event, a distinction made possible by his status as reigning Olympic and world champion and as the current world-record holder. So, it came as no surprise to see the United States' Aaron Peirsol qualify first in the semifinals of the 100 backstroke. Peirsol covered the distance in 54.46, but was followed by a logjam of athletes.
American Randall Bal and Japan's Tomomi Morita shared the second-fastest qualifying effort, as each touched the wall in 54.49. Meanwhile, Hungary's Laszlo Cseh and Russia's Arkady Vyatchanin tied for the fourth-fastest time heading into the final, with identical swims of 54.52. While Peirsol is expected to pull away in the championship heat and, perhaps, challenge the 53-second barrier, the fight for silver and bronze is wide open.
Greece's Aristeidis Grigoriadis was sixth in 54.69 and the seventh position went to Austria's Markus Rogan, the Olympic silver medalist. Rogan produced a time of 54.75 and was followed in eighth by Blaz Medvesek of Slovenia, who navigated through the water in 54.88. Australia's Matt Welsh, a longtime standout in the event, was ninth in 54.89 and just missed the final.