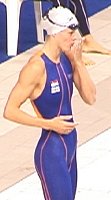 By Phillip Whitten
FUKUOKA, Japan, July 24. THIS is our preview of the events to be contested tomorrow, Wednesday, July 25, at the World Championships in Fukuoka.
Five finals are up for grabs, including one of the meet's undoubted highlights: the 200 meter freestyle re-match between Olympic champion Pieter van den Hoogenband and WR-holder Ian Thorpe.
Women's 100 meter Freestyle
What a difference a year makes! At Sydney last year, the battle among Holland's Inge De Bruijn, Sweden's Therese Alshammar and the USA's duo of Dara Torres and Jenny Thompson was one of the most eagerly anticipated of the Olympic Games. And it did not disappoint.
This year, only Inky is back. Alshammar has withdrawn due to a recurring urinary tract infection and Torres and Thompson have retired. That lessens the excitement level but opens the door to some other competitors, both veterans and rookies.
Inky should have no trouble repeating her Olympic triumph, though her WR of 53.77 is probably safe. Germany's Sandra Volker has the world's fastest time this year (54.53) and China's 17 year-old Xu Yanwei – the only woman in the field under the age of 22 – is close behind (54.68). But we like the way Slovakia's multi-talented Martina Moravcova has been swimming, and see her as the likely silver medalist. The third spot is up for grabs.
Our picks:
1. Inge De Bruijn (NED)
2. Martina Moravcova (SVK)
3. Sandra Volker (GER)
Could place as high as second: Xu Yanwei (CHN), Elena Poptchenko (RUS), Katrin Meissner (GER)
Men's 200 meter Freestyle
This is the baby – or, one of the babies – everyone has been waiting for: the rematch between the Flying Dutchman and The Thorpedo. And it will be a beaut!
Last year, Hoogie upset the favored, but tired, Thorpe in front of his shocked countrymen, setting a world record. This year, the 18 year-old Aussie phenom regained that record with the first sub-1:45 effort in history (1:44.69). In the 4×100 free relay two days ago, Hoogie anchored the Dutch team in 47.02, the fastest split in history, while Thorpe responded with a swift 47.87.
In the 200 semis, Hoogie posted a Championship record 1:45.80, while Thorpe, his eyes fixed on his impending 800 meter battle with Grant Hackett, cruised a 1:47.26 to qualify second.
So both men are fit and ready, with the Dutchman – the 100 meter WR-holder – having the edge on speed, and the Aussie – the WR-holder at 400 meters – the edge on endurance. This will be a colossal battle with a 1:43 not beyond imagination. We're going to go out on a limb and pick Hoogie to win, shattering Thorpe's dream of seven gold medals, but it could easily go the other way.
There will be another battle for the bronze, featuring the USA's Klete Keller and possibly Scott Goldblatt, and Italy's Emiliano Brembilla, who swam very well in the 400.
Our picks:
1. Pieter van den Hoogenband (NED)
2. Ian Thorpe (AUS)
3. Klete Keller (USA)
Challenging for bronze: Emiliano Brembilla (ITA), Scott Goldblatt (USA), William Kirby (AUS)
Women's 200 meter Breaststroke
This is another high-powered race that is very hard to pick. It's further complicated by the youth of the field – four of the competitors are 16 and one just 15.
On paper, the nod should go to China's 16 year-old WR-holder, Qi Hui (2:22.99). But Qi has not been impressive in prelims and semis, swimming 2:31 and 2:27. Does she have the jitters, or is she sandbagging, swimming just fast enough to advance to the next round? Despite her youth, Qi has a good deal of international experience, so we're inclined to think she's been saving herself for the finals.
She'll need to, as she'll be going up against Olympic champion, Agnes Kovacs of Hungary, at 19 one of the older swimmers in this event.
The two oldest women – Romania's Beatrice Coada-Caslaru, 26, the top qualifier in a PR 2:25.00, and the USA's Kristy Kowal, the Olympic silver medalist – will also be very tough, though we believe Caslaru will not improve on her time in the final.
Qi's teammate, Luo Xuejuan, who won the 100 meters, went 2:25.86 last year and appears ready to improve on that time. Australia's Leisel Jones may also have a medal-winning performance in her. Russia's Olga Bakaldina (2:25.41 last year) and Austria's 15 year-old, fast-improving Mirna Jukic, definitely should not be counted out.
Oh, what a lovely war!
Our picks:
1. Agnes Kovacs (HUN)
2. Qi Hui (CHN)
3. Kristy Kowal (USA)
Definite medal potential: Luo Xuejuan (CHN), Beatrice Caslaru (ROM), Olga Bakaldina (RUS), Leisel Jones (AUS), Mirna Jukic (AUT)
Men's 50 meter Backstroke
Another toss-up event with almost any of the eight finalists capable of winning. We give the edge to Germany's Thomas Rupprath, with the USA's Randall Bal and 100 meter champ Matt Welsh battling for silver.
Our picks:
1. Thomas Rupprath (GER)
2. Randall Bal (USA)
3. Matt Welsh (AUS)
Capable of sneaking in: Riley Janes (CAN), Stev Theloke (GER), Mariusz Siembida (POL), Josh Watson (AUS)
Women's 4 x 200 meter Freestyle Relay
This relay should go down to the wire, with any of at least four – and possibly, six – nations capable of taking the gold.
The USA was hurt by Lindsay Benko's accident and will go, as it did in the sprint relay, with a team short on international experience.
Germany was the upset winner of the 4×100 free relay, and they should be equally strong at twice the distance. Britain, which tied the US for second in the shorter relay, is also quite good at 800 meters, with three swimmers under two minutes. Australia smells blood and would like nothing better than to knock the Yanks out of the medal picture.
China and Japan are longer shots.
We could see four teams under the 8-minute mark.
Our picks:
1. Germany
2. Great Britain
3. Australia
Could finish anywhere from first to fourth: USA
Looking to upset: Japan, China