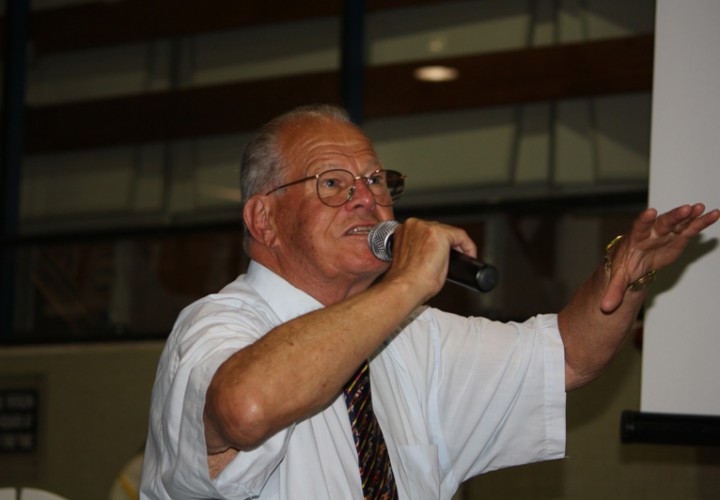 Photo Courtesy: Long Beach High School
Woody Davis passed away Friday evening after battling pancreatic cancer at 81 years old. Davis was a celebrated coach in New York state, having coached at Long Beach High School for 50 years.
Davis' legacy was recently memorialized, as the pool where he guided thousands of swimmers was renamed in his honor on the campus of Long Beach High School.
"There was no teacher in this school who has given my life more meaning than Woody," said former swimmer and school board trustee Roy Lester at the pool dedication. "He changed my life and he changed this school. We were all there for one reason – for Woody."
Though Long Beach High School never won a New York state swimming and diving team title, the squad lived and breathed the motto "Win With Woody," and the team placed as high as second statewide in 2008. According to the school website, Davis helped dozens of athletes win individual titles and guide 14 of them to All-America status. The boys and girls teams won 15 county championships and 54 conference team titles during Davis' reign.
In 1986, Davis received national acclaim when he was awarded the National High School Athletic Coaches Association's Region I Swim Coach of the Year. He celebrated a milestone in coaching, winning his 500th dual meet in December 2006.
Before his tenure at Long Beach, Davis also coached at Olympia High School in Washington state for three years. By his side for his entire coaching career was his wife, Ginny, who had received praise as well whenever her husband was singled out for an accolade.
Many of the swimmers in Davis' early years put their children on the Long Beach team to learn from the coach. John Skudin was a swimmer on the team in the 1970s and served many years as an assistant coach while watching his own son, Mike, grow on the team.
Donations can be made in Woody Davis' honor to:
Woody Davis Scholarship Fund at LBHS, 322 Lagoon Dr. West, LB, NY 11561 Attn: Ilene Ratner
Donations will also be accepted through The Pancreatic Cancer Action Network.