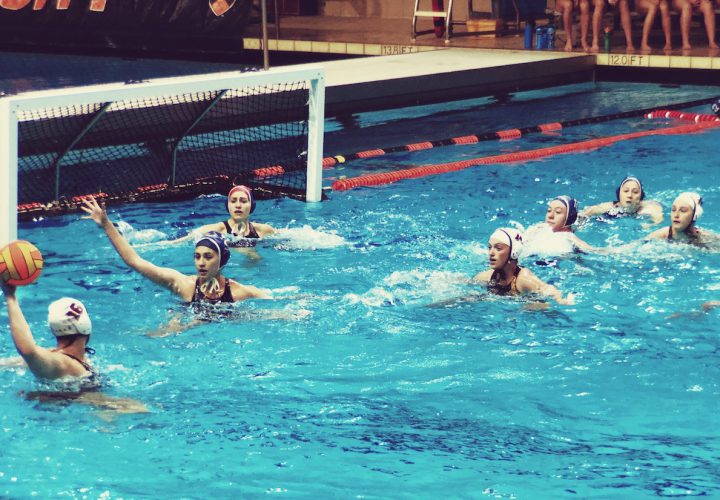 Iona attacking the George Washington defense at Princeton. Photo Courtesy: James Chang
By Michael Randazzo, Swimming World Contributor
PRINCETON, NJ – Abrupt coaching changes are never a good indicator of an athletic program's long-term health, but in the case of George Washington University's men's and women's water polo programs, the arrival a scant seven months ago of Barry King has been a godsend. Last fall, King took the men's team—inherited when Adam Foley unexpectedly resigned in May—to its first-ever NCAA berth, where the Colonials pushed favored Harvard to the limit before dropping a thrilling 15-13 overtime decision in the opening round of the 2017 NCAA Tournament.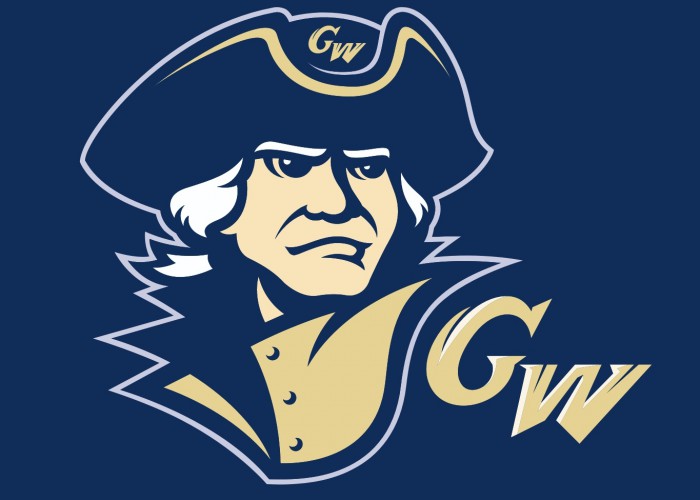 This season, King is producing even more impressive outcomes with a relatively inexperienced women's squad. At the recent Princeton Invitational, the Colonials produced a 2-2 record to continue a strong start to their season. With a starting line-up that features four freshmen, George Washington has already captured five wins following a late season collapse in 2017, when the Colonials dropped their final 15 matches, hastening Foley's exit.
In a highly entertaining match Friday night against Iona, King's squad overcame a heroic six-goal effort by the Gael's senior star Hannah Schultz, taking a 14-12 overtime decision on the strength of 11 goals generated by four freshmen. Jaleh Moaddeli, of Newport Beach's Corona del Mar High School, led the Colonials with four goals, while Grace Heck (Santa Barbara, CA) and Alana Ponce (Gig Harbor, WA) knocked in three goals apiece and Dara Bleiberg (Simi Valley) contributed a goal and an assist to complete the quartet of first-year player.
The achievements represent a break with a past that has seen relatively little success for water polo in Washington, D.C. Eagerly evaluating the action of their daughters—and their new team—from the stands of the DeNunzio Pool were Dave Bleiberg, Dean Heck and Rito Ponce, who traveled from the opposite coast. Not only were they impressed by what King has accomplished just a few weeks into the 2018 season, they collectively are excited for the future of Colonial polo as it fights its way up the rungs of the Eastern establishment.
An unexpected coaching change
Bleiberg, Heck, Moaddeli and Ponce—along with Katherine Atherton and Hannah Hathaway—were recruited by Foley to join a GWU squad anchored by seniors Jacqueline Bywater and Scarlett Hallahan, two of the best players in program history. By the close of her final season in D.C., Bywater, currently first in program history in steals (252), second in goals (202), third in assists (114), and third in total points (316) should hold many of the major records in the Colonial record book. Whatever records she doesn't own will belong to Hallahan, who is first in the school's history in goals (222), second in assists (116), and second in points (338)
But, as Foley knew, fielding two great players simply wasn't enough to counteract almost two decades of futility; GWU has recorded 13 straight losing seasons and has had only four winning campaigns in 18 years of competition. By relying on freshmen, King has taken the program in a different direction, which the assembled dads clearly agreed with.
"I think Barry's doing a great job," said Dean Heck, whose daughter was sold on the school as much as the polo program when she committed more than a year ago.
Quizzed about the coaching change, Rito Ponce, who traveled East two weeks ago to follow his daughter, said he and Alana were puzzled by the move but decided to stay the course.
"I told Alana you have an opportunity to go to a different venue but you've already chosen George Washington, and it's a good pick," he said in the stands overlooking the pool. "I felt that she would get more playing time here as opposed to other schools that might have recruited her."
Not only did Alana agree, she's thrived (a team-leading 19 goals) in her new circumstances.
"She's a leader and can make things happen," Ponce continued. "She's aware of the whole pool and can tell you at any point [in a match] where the ball or [specific] the players are… she reacts to each of those situations very well."
Heck, a club coach in his native Santa Barbara, trusted in the advice of friends in encouraging his daughter to stay the course. "I wasn't sure about this guy—didn't know him—but had recommendations from some good friends in Santa Barbara that knew him from Northern California and said he's a really good coach."
This advice has paid off for his daughter as well; Grace Heck has 15 goals on the year, tied for second on the team with Bleiberg, who just happens to be a long-time friend from the California club scene.
"The whole idea of going to college should be about academics, about a new experience," Heck added. "Grace wanted all of that by going to the East Coast.,"
Colonial new-found success born in SoCal
Like most successful East Coast teams, the Colonials' success has been bred in the West. Hallahan and Bywater (11 goals each in 2018) are both from California—San Diego and Riverside, respectively—while Bleiberg, Heck, Moaddeli and Ponce all played club ball in the Golden State.
Dara's father Dave pointed to this as a key factor in both present and future Colonial success.
"It's lucky that we've got four really good freshmen that came to the school from Southern California; it makes a big difference," Bleiberg said. "They played at such a high level in California, that they're able to contribute big minutes."
Heck, who has coached age group polo at Westside Aquatics in Santa Barbara, pointed out that success now will beget more success later.
"There are more East Coast team that are competitive," he said. "When they play USC or UCLA, it's not so pretty, Michigan's in the top ten. If they get a few more of those types of schools, I think the East Coast can slowly grow."
For Bleiberg, it's a matter of time and recruiting for George Washington to succeed, especially when trying to topple mighty Michigan. The Colonials' rival in the Collegiate Water Polo Association, the Wolverines are on target for a third straight NCAA berth.
"They're going to have to recruit some more good players," he said of the Colonial's path to an NCAA berth.  "Michigan's a great school with a great coach and great players. It's going to be tough for George Washington. If they can stay close, that will be a huge step in the right direction to maybe get more players being recruited who will want to come to D.C."