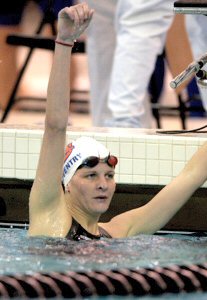 By Dan Mihalik
WEST LAFAYETTE, Indiana, March 18. BEING almost two seconds ahead of the rest of the field after the prelims in the 400 Individual Medley, you wouldn't think Kirsty Coventry could do better.
But she did.
Coventry crushed the rest of the field, beating second place Emily Mason of Arizona by 3.59 seconds. Coventry's time of 4:04.48 was not only a pool record, but was the second fastest of all-time.
"Honestly, this race was painful, but it went well," Coventry said. "Winning was the plan. My back kick spun at times, but this still was a good race for me, and I'm happy about my time."
Leah Retrum of Florida, who finished third, was competitive early in the race but faded like the rest of the field once Coventry, the reigning Olympic champion in the 200 meter backstroke, began the backstroke leg.
Retrum's teammates, Joanna Maranhao and Katie McCann, finished the race in fourth and seventh, respectively. Adrienne Binder of Auburn finished in fifth, more than two seconds behind Maranhao. Katie Carroll of Notre Dame was sixth, while Liz Lavell of Maryland was eighth.