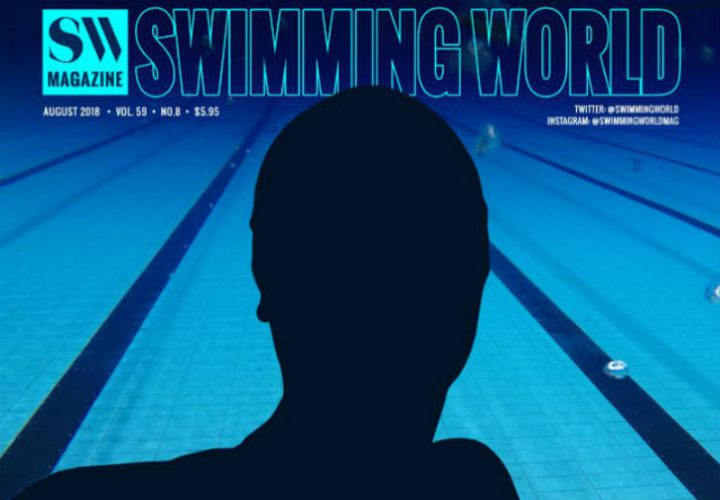 Every year Swimming World highlights the top Male and Female High School Swimmers of the Year in the August issue. In anticipation of the release of the August issue we at Swimming World would like to take a look back at previous winners.
New! 1-Year Digital Only Subscription for just $29.95 Order Now!
Non-Subscribers Can Download This Issue For Only $4.95
2017 Winners: Reece Whitley and Morgan Tankersley
Reece Whitley completed his junior year at William Penn Charter High School (Pa.) in amazing fashion. The 6'8″ 17-year-old topped the rankings in both the 100 breast and 200 IM, while also posting a new national record in the 100 breast. He was a key athlete to watch at the 2016 Olympic Trials and has been named Sports Illustrated's SportsKid of the Year. Whitley returned to William Penn for his senior year, nabbing record-breaking titles in the 200 IM and 100 breast once again. He also lent his verbal commitment to join the men's team at the University of Cal-Berkeley.
Morgan Tankersley had a very successful senior season while swimming for Plant High School in Tampa, Florida. At the Florida Class 4A State Championships, she set three new state records and earned top rankings in the 200 and 500 yard freestyles, as well as a third place finish in the 100 freestyle. Throughout all of her success, Tankersley has remained a positive light and decided to spread that light to Stanford, where she will join the Cardinal this fall.
| Year | Girls | Boys |
| --- | --- | --- |
| 2017 | Morgan Tankersley, Plant High School, Florida | Reece Whitley, Penn Charter High School, Pennsylvania |
| 2016 | Beata Nelson, Mount Hebron, Wisconsin | Grant Shoults, Rancho Margarita, California |
| 2015 | Katie Ledecky, Stone Ridge, Maryland | Andrew Seliskar, Thomas Jefferson S&T, Virginia |
| 2014 | Katie Ledecky, Stone Ridge, Maryland | Caeleb Dressel, Clay, Florida |
| 2013 | Olivia Smoliga, Glenbrook South, Illinois | Ryan Murphy, Bolles, Florida/Jack Conger, Our Lady of Good Counsel, Maryland |
| 2012 | Missy Franklin, Regis Jesuit, Colorado | Jack Conger, Our Lady of Good Counsel, Maryland |
| 2011 | Rachel Bootsma, Eden Prairie, Minnesota/Jasmine Tosky, Palo Alto, California | David Nolan, Hershey, Pennsylvania |
| 2010 | Dagny Knutson, Minot, North Dakota | Vlad Morozov, Torrance, California |
| 2009 | Dagny Knutson, Minot, North Dakota | Tom Shields, Edison, California |
| 2008 | Mary Beck, Austin Westlake, Texas | Jimmy Feigen, Winston Churchill, Texas |
| 2007 | Mary Beck, Austin Westlake, Texas | Austin Staab, Westerville Central, Ohio |
| 2006 | Kate Ziegler, O'Connell, Virginia | Ricky Berens, South Mecklenburg, North Carolina |
| 2005 | Jessica Hardy, Long Beach Wilson, California | Alex Righi, Brophy, Arizona |
| 2004 | Jessica Hardy, Long Beach Wilson, California | Kyle Bubolz, Waukesha North, Wisconsin |
| 2003 | Kara Lynn Joyce, Ann Arbor Pioneer, Michigan | Matt Grevers, Lake Forest, Illinois |
| 2002 | Christina Swindle, Gulliver Prep, Florida | Mike Cavic, Tustin, California |
| 2001 | Christina Swindle, Gulliver Prep, Florida | Jayme Cramer, St. Xavier, Ohio |
| 2000 | Janelle Atkinson, The Bolles School, Florida | Alex Lim, The Bolles School, Florida |
| 1999 | Kristen Woodring, Wilson, Pennsylvania | Alex Lim, The Bolles School, Florida |
| 1998 | Natalie Coughlin, Carondelet, California | Patrick Fowler, Seattle Prep, Washington |
| 1997 | Misty Hyman, Shadow Mountain, Arizona | Nate Dusing, Covington Catholic, Kentucky |
| 1996 | Misty Hyman, Shadow Mountain, Arizona | N/A |