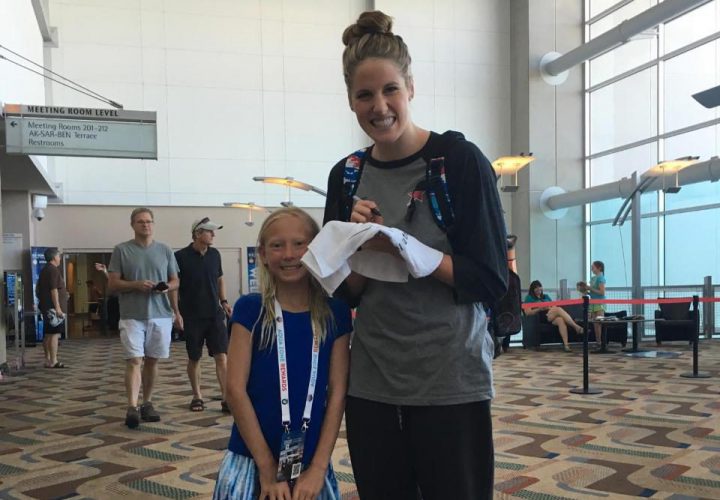 Photo Courtesy: Chad Dennis
Editorial Coverage provided by

By Michael J. Stott
Just up the street a five-minute walk from the CenturyLink Center, home of this week's U.S. Olympic Trials, is a 40-foot, two-lane pool. It is in the basement of the Courtyard Marriott. For the last two afternoons nine-year-old Caroline Dennis of Parker, Co., has been doing a multi-stroke workout notable for its energy and considerable variety.
Caroline is here with her dad, Chad. The two left the Denver area on Thursday, drove 550 miles and arrived in time for the night's finals. They are here because Chad supports Caroline and her interest in the sport.
Like many of more than 1700 swimmers in Omaha, Caroline began swimming summer league—in her case at age four. After lessons and appropriate progressions, she began organized club swimming at the Denver Swim Academy. These days she trains under the watchful eye of Tori Trees Smith, a 1984 Olympian and individual national champion in the 200-yard backstroke.
Caroline is lean and nimble. She is quick from a dive and her mechanics fundamentally sound. She executes her laps with persistence, purpose and precision. Her favorite stroke is back and given the height in the family it appears that she could eventually present the ideal tall physique found in many dorsal swimmers.
Watching Caroline work out, one can easily discern how much she enjoys swimming and that she is in the water for sheer pleasure. She did not use a pace clock Saturday, but she seemed to have an internal clock urging her on and performed sets that appeared to employ interval training. At the end of her latest Marriott workout Caroline joined two other youngsters and splashed around for some preteen frolicking, surface diving and general aquatic pleasure.
"She really finds the sport fun, enjoys being able to track her Improvement and the camaraderie with fellow swimmers. As parents we love to see the values swimming creates: hard work, self-confidence, time management and much more," said Caroline's father, Chad Dennis.
"We have really enjoyed the purity of the Olympic Swimming Trials and how genuine and approachable most of the athletes have been. They are very good role models and we are fortunate that she has chosen them as role models."
While in Omaha Caroline and Chad paid an obligatory visit to the Aqua Zone and got an autograph from her favorite swimmer, Missy Franklin. Why Franklin? "Because she is from Denver, is an amazing swimmer and has a great positive attitude," said Caroline, who trains in the St. Regis pool where Franklin has logged so many hours.
Saturday night, the world will watch as Franklin go for an Olympic berth in her signature event. Caroline Dennis will be with Missy every meter of the way. At the end of the night Caroline and Chad will head west to Denver while Franklin prepares for Rio.