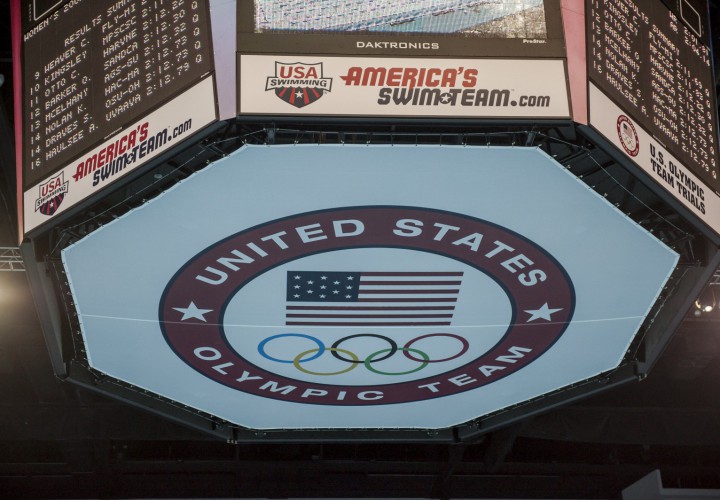 Photo Courtesy: Peter H. Bick
Editorial Coverage provided by

NBC has announced the television schedule for the 2016 U.S. Olympic Trials, taking place in Omaha, Neb., June 26-July 3.
NBC Press Release:
NBC Olympics will present eight consecutive nights of swimming Trials action in primetime, including seven primetime telecasts on NBC. NBC and NBCSN's 15.5 hours of coverage commences on Sunday, June 26, and runs through Sunday, July 3. Seven nights of live primetime coverage will air on NBC, with primetime coverage on Saturday, July 2, airing from 8-9 p.m. ET on NBCSN. NBCSN will also telecast daily qualifying heats.
Team USA hopes to build off of its dominant performance in London, where it won a total of 31 medals. Michael Phelps will look to add to his total of 22 Olympic medals, the most in Olympic history, while Ryan Lochte aims to add to his 11 total medals. Missy Franklin won four gold and five total medals in her Olympic debut in London, and nine-time world champion Katie Ledecky looks to add to her medal count after stunning the field by winning gold in the 800m free in 2012.
| | | | |
| --- | --- | --- | --- |
| Date | Coverage | Network | Time (ET) |
| Sun., June 26 | Qualifying Heats – Men's 400m Free, Men's & Women's 400m IM* | NBCSN | 6 p.m. |
| | Finals – Men's 400m Free, Men's & Women's 400m IM | NBC | 8 p.m. |
| Mon., June 27 | Qualifying Heats – Women's 100m Back & Breast, Men's 200m Free* | NBCSN | 6:30 p.m. |
| | Finals – Women's 100m Fly & 400m Free, Men's 100m Breast | NBC | 8 p.m. |
| Tues., June 28 | Qualifying Heats – Women's 200m Free & 200m IM, Men's 200m Fly | NBCSN | 7 p.m. |
| | Finals – Men's 200m Free & 100m Back, Women's 100m Breast & 100m Back | NBC | 8 p.m. |
| Wed., June 29 | Qualifying Heats – Men's 100m Free & 200m Breast, Women's 200m Fly | NBCSN | 7 p.m. |
| | Finals – Women's 200m IM & Free, Men's 200m Fly | NBC | 8 p.m. |
| Thur., June 30 | Qualifying Heats – Women's 100m Free, Men's 200m IM & Back* | NBCSN | 6:30 p.m. |
| | Finals – Men's 100m Free & 200m Breast, Women's 200m Fly | NBC | 8 p.m. |
| Fri., July 1 | Qualifying Heats – Men's 50m Free & 100m Fly, Women's 200m Back* | NBCSN | 6 p.m. |
| | Finals – Women's 200m Breast & 100m Free, Men's 200m IM & Back | NBC | 8 p.m. |
| Sat., July 2 | Qualifying Heats  – Women's 50m Free, Men's 1500m Free | NBCSN | 5 p.m. |
| | Finals – Women's 200m Back & 800m Free, Men's 50m Free & 100m Fly | NBCSN | 8 p.m. |
| Sun., July 3 | Finals – Women's 50m Free, Men's 1500 Free | NBC | 7 p.m. |
*coverage may include additional events