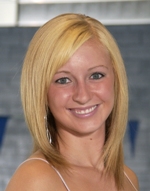 NEW WILMINGTON, Pa. November 22. THE Westminster College men's and women's swimming teams each opened Presidents' Athletic Conference (PAC) dual meet action on a winning note tonight by sweeping visiting league rival Washington & Jefferson College.
The women's finish was one for the ages, as the Lady Titans trailed by eight points and needed a first and third place finish in the final event (400 freestyle relay) to win the dual meet. Westminster (2-1, 1-0 PAC) got the victory when the Lady Titans edged W&J by .01 (3:45.93 to 3:45.94) for the top spot, followed by a third-place WC finish to clinch the 103-102 win. On the men's side, the Titans (2-0-1, 1-0 PAC) remained unbeaten with a 110-95 decision over the Presidents.
The Lady Titans were paced by junior Megan McLaughlin (Wooster, OH/Wooster H.S.), who captured both the 200 (1:59.38) and 500 freestyle (5:26.96) before swimming the anchor leg and touching for the .01 win in the 400 freestyle relay. Junior Britt Thomas (Bethel Park/Bethel Park H.S.) and sophomore Steph Peters (Finleyville/Peters Township H.S.) also posted individual wins in the 1000 freestyle (11:25.10) and 100 freestyle (55.55), respectively.
Leading the Westminster men was junior Ryan Trunk (Brookline, MA/Cheshire Academy H.S.) (photo attached), who touched first in both the 100 (47.87) and 200 freestyle (1:47.97) while also anchoring the victorious 400 medley relay team (3:40.89). He was joined on the winning 400 medley relay team by freshman Chris Lehberger (New Wilmington/Wilmington Area H.S.), who also took first in the 200 breaststroke (2:19.85).